Humankind: a Radical New History of Our Species
June 17, 2020 @ 6:30 pm

-

7:30 pm
How To Academy presents…Humankind: a Radical New History of Our Species with Rutger Bregman In Conversation with Richard Curtis.
Richard Curtis meets Rutger Bregman, one of the greatest young thinkers of our time, to hear a new story of human nature that places our capacity for kindness, not selfishness, at its heart.

It's a belief that unites the left and right, psychologists and philosophers, writers and historians. It drives the headlines that surround us and the laws that touch our lives. From Machiavelli to Hobbes, Freud to Dawkins, the roots of this belief have sunk deep into Western thought. Human beings, we're taught, are by nature selfish and governed by self-interest.
In this free livestreamed conversation with award-winning film director and humanitarian campaigner Richard Curtis, the bestselling Dutch historian and viral superstar Rutger Bregman makes a new argument: that it is realistic, as well as revolutionary, to assume that people are good.
Taking us through 200,000 years of human history, from the real-life Lord of the Flies to the Blitz, a Siberian fox farm to an infamous New York murder, Stanley Milgram's Yale shock machine to the Stanford prison experiment, Bregman shows how believing in human kindness and altruism can be a new way to think – and act as the foundation for achieving true change in our society.
It is time for a new view of human nature. Fans of Yuval Noah Harari, Steven Pinker and Jared Diamond ought not to miss this conversation with one of the most acclaimed and original thinkers of the 21st century so far.
This event takes place at 6:30pm British Summer Time.

Praise for Rutger Bregman's Humankind: A Hopeful History:

'I greatly enjoyed reading Humankind. It challenged me and made me see humanity from a fresh perspective.' Yuval Noah Harari
'Every revolution in human affairs – and we're in one right now! – comes in tandem with a new understanding of what we mean by the word 'human'. Bregman has succeeded in reawakening that conversation by articulating a kinder view of humanity (with better science behind it).' Brian Eno
'An extraordinarily powerful declaration of faith in the innate goodness and natural decency of human beings. Never dewy-eyed, wistful or naive, Rutger Bregman makes a wholly robust and convincing case for believing – despite so much apparent evidence to the contrary – that we are not the savage, irredeemably greedy, violent and rapacious species we can be led into thinking ourselves to be. Hugely, highly and happily recommended.' Stephen Fry
Rutger Bregman, a historian and writer at the Correspondent, is one of Europe's most prominent young thinkers. His last book, Utopia for Realists, was a Sunday Times and New York Times bestseller and has been translated into thirty-two languages. He lives in Holland.
Richard Curtis is a writer, director, co-founder of Red Nose Day and UN Sustainable Development Goals Advocate. Responsible for films such as Four Weddings and a Funeral and Love Actually, he has co-produced the 16 live Red Nose Day nights for the BBC since 1988; the charity has made over £1.33 Billion for projects internationally during that time.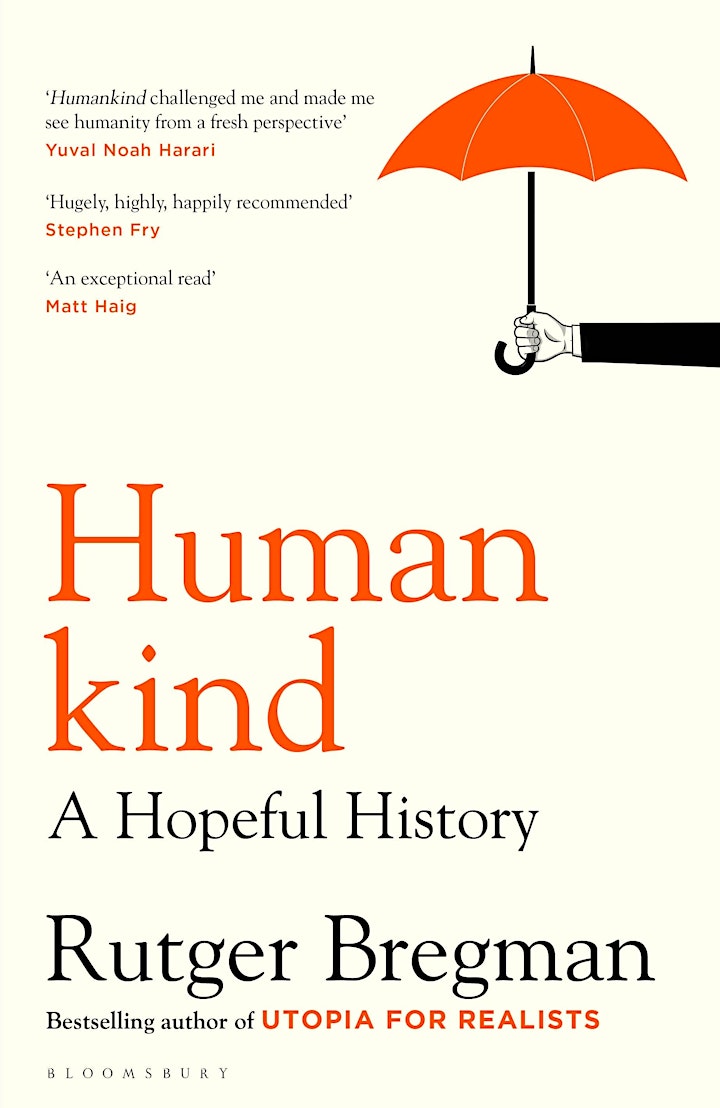 Related Events