OHP Presents: DANCE WITH FRIENDS!
May 27 @ 7:00 pm

-

2:00 am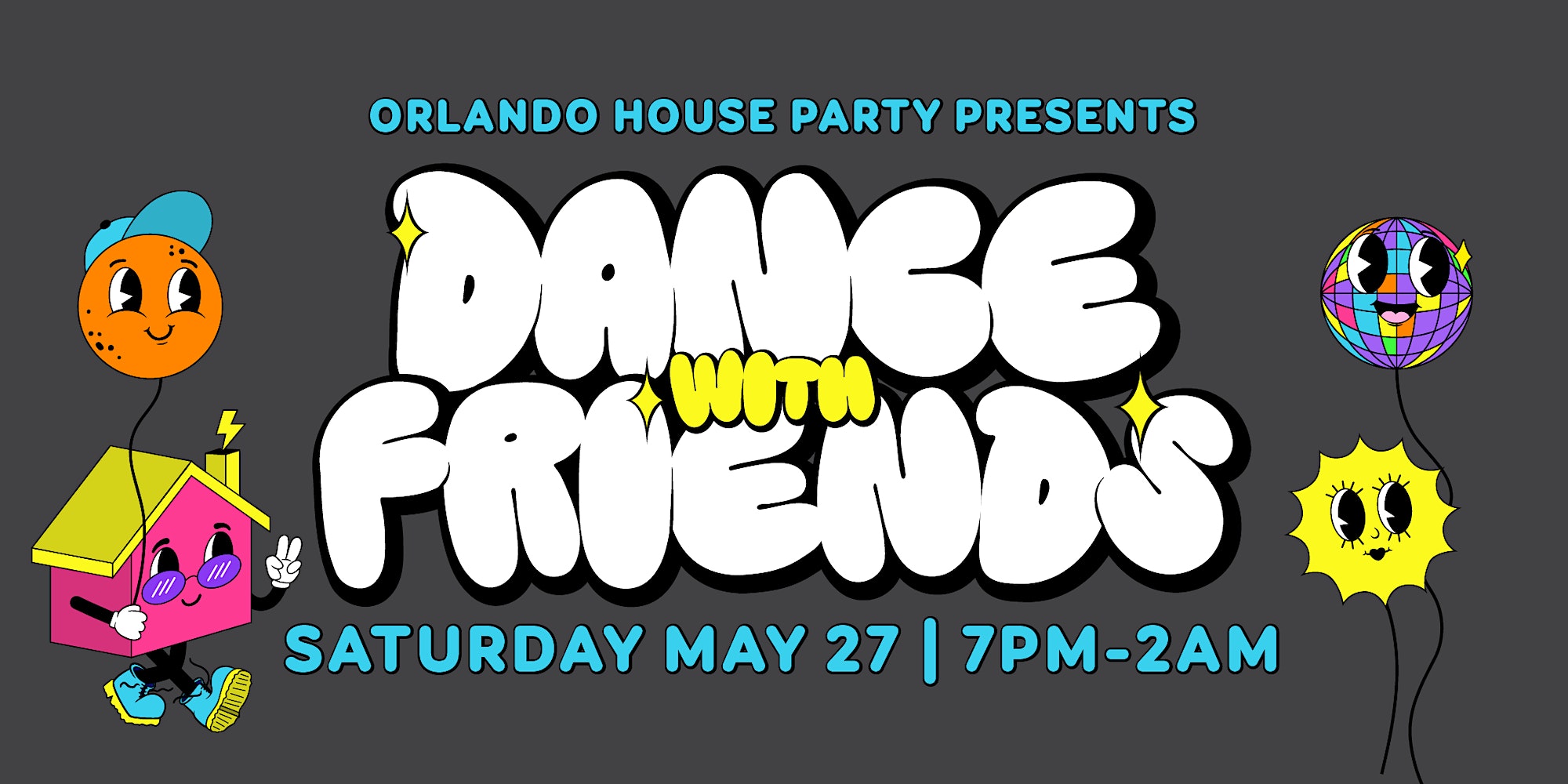 OHP Presents: DANCE WITH FRIENDS!
We invite you to continue the fun with Season 4 and our last DANCE WITH FRIENDS of the year! Saturday, May 27th come party under the best covered patio in Orlando, Grape & The Grain, in The Mills 50 Neighborhood! This is going to be a special one because we have a "One Of A Kind" DJ line up for you! Making their OHP debut we have 2 talented individuals that will for sure make us Dance With Friends!
DJ/Producer DJ Flashdrive! DJ Flashdrive is the alias of Gonzalo De Castro. A DJ + Producer who has quickly taken dancefloors through a whirlwind of jour- neys since 2018. Flashdrive has a musical pallet that pays homage to the roots of electronic music with sets that explore underground dance music spanning decades. Since 2020, DJ Flashdrive has released an EP with Groove Estate records that charted on beatport + a number of singles, edits, re- mixes online ranging in genres from indie dance, house, techno. and jungle. All these releases come together to expose the sound he has been cultivating as an artist. Check out his Boiler Room recap video down below!
We have MR. BITCH! A queer and trans DJ making his debut in the Miami queer nightlife – spinning most recently at @witchesofmiami and @proibidae. Growing up in the NY queer scene helped him cultivate his unique, cunty, and polyrhythmic sound. Ranging from jungle, amapiano, vogue, balie funk, jersey club to dancehall, his sound is definitely giving global in all the ways you'll be grateful for. When asked what kind of music he plays, he says "that shit that makes your ass bounce."
They will be joining SADO SMOOTH, DENNIS MERO and a SURPRISE GUEST for an evening where we have no rules for music, just a promise to keep you vibing, dancing and be taken on a musical journey. You just make sure to wear your comfy shoes and come to DANCE WITH FRIENDS!!
POWERED BY GOOD VIBES⚡
21+ – EVENT IS OUTDOOR – COVERED PATIO WITH FANS
RAIN OR SHINE, WE PARTY!
NO OUTSIDE PHOTOGRAPHY/VIDEOGRAPHY IS ALLOWED
BEER & WINE
RUM & VODKA CUTWATER SELTZERS
ONDA TEQUILA SELTZERS
20% GRATUITY IS INCLUDED FOR ALL GRAPE & THE GRAIN PRIVATE EVENTS
ALL SALES ARE FINAL!!
TICKET TIERS:
The difference between the Tiers is the limited amount of discounted tickets available. Once a tier is sold out the following Tier will be available for purchase. The earlier you can purchase your ticket the lower the Tier price you will be able to find. There is a possibility the price may go up the day of the event depending on capacity. Purchasing your ticket ahead of time will give you priority getting in the party versus the people buying their ticket at the door.
CAPACITY:
Doors open at 3pm sharp! We encourage you to come as early possible as we will be limiting the amount of guest entering the party and there might be a bit of a wait to get in. Please plan ahead and buy your tickets in advance. Buying a Pre-Sale ticket will give you priority getting in the party versus buying your ticket at the door.
FOOD: MULATA ARTISAN PIZZA, CRAVE GRAZING
ORLANDO HOUSE PARTY GUIDELINES AND MORE INFO…
• Orlando House Party is an inclusive experience where everyone is welcome. We ask that you look out for and be kind to each other. Any racist, classist, sexist, ableist, body shaming, homophobic or transphobic behavior or harassment of any kind will not be tolerated and is basis for dismissal from the event.
• We keep things sexy at Orlando House Party, and consent is sexy. Always ask before getting intimate with another person on the dance floor and remember – only yes means yes.
• Should you feel unsafe or uncomfortable at any point during an event, please notify an OHP team member, any Shield Staff member at the doors or on the dancefloor, or an employee of Grape and the Grain. We are here to help you.
• Our events are meant for you to come and enjoy the music and the vibes we provide. We are not a "Take Requests" type of party. Just come prepared to dance and have a good time with an amazing community.
• If you are not OK with any of these guidelines, this might not be the event for you.
• There will be tickets for sale at the door starting at 7pm, available on a first come, first served basis. People with tickets and guest list have priority getting in versus the people buying their tickets at the door. Tickets are for immediate entry only and re-entry will be available if capacity allows it.
• There is 1 indoor space with 2 genderless bathrooms, 1 outdoor patio where you will find our party, food vendor and our Disco Potty (additional bathroom).
• We ask everyone to take note of safety exits as you enter the event space.
• Travel together when possible.
• Outside photography / videography is NOT ALLOWED.
• Outside drinks are prohibited.
What Is Orlando House Party?
The goal of Orlando House Party is to create a space where we can disconnect from the rest of the world and all that matters is the present.
At Orlando House Party, community is our heart and life is always celebrated.
We believe that Music, Dance, Art, and Creativity can inspire and heal us.
No matter who you are, where you're from, or who you love…
you are always welcome at our house!