Orlando's Massive Mardi Gras Celebration!
February 18 @ 4:30 pm

-

February 19 @ 2:00 am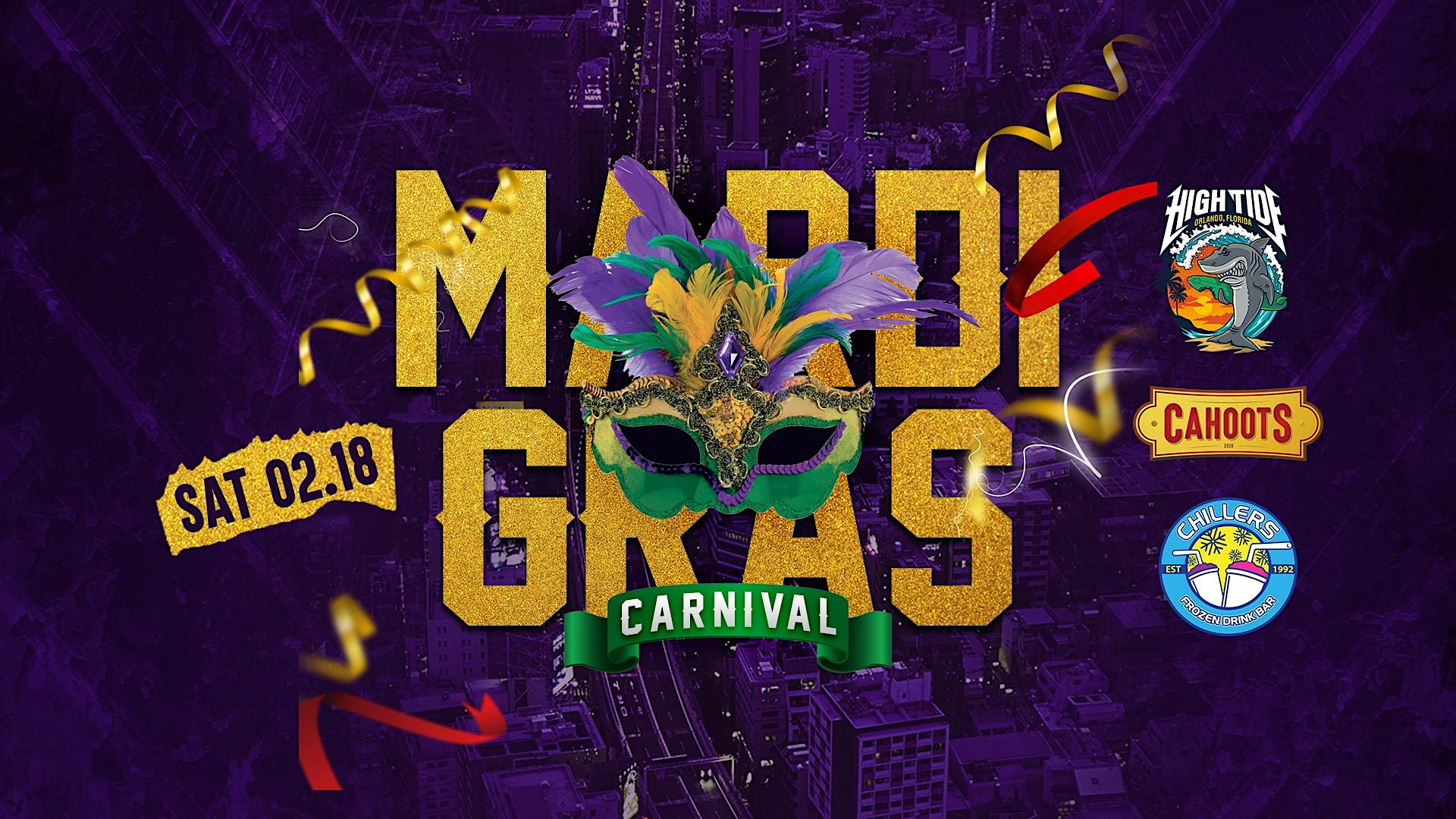 Join us at our THREE DIFFERENT VENUES for ONE UNIQUE NIGHT OF MARDI GRAS PARTYING!
Get ready to experience the ultimate Mardi Gras celebration in Orlando! This year, Chillers, Cahoots, and High Tide are joining forces to bring you an unforgettable night of partying in downtown Orlando. Whether you're a seasoned Mardi Gras veteran or a newcomer to the festivities, you will want to attend this exciting event.
Join us as we celebrate the rich history and traditions of Mardi Gras, New Orleans style. Our expert event planners have worked tirelessly to create an experience that will transport you to the heart of the French Quarter. From the vibrant colors and sounds of the parades to the savory cuisine and drinks, you'll feel right in the middle of the action.
This Mardi Gras event is even more remarkable because it takes place in THREE different venues. That's right; you'll have the opportunity to explore and party in three other locations all in one night! This means you'll always have things to see and do, and you'll always have a new adventure.
With three different venues to explore, you're sure to have a night you'll always remember. The atmosphere is electric, the music is lively, and the drinks are flowing. You'll be surrounded by like-minded people who are there to have a good time, and you'll leave with a new appreciation for the rich traditions of Mardi Gras.
We promise that this Mardi Gras celebration will be unlike anything you've ever experienced. So get your friends together, put on your dancing shoes, and get ready to party like it's Mardi Gras in the French Quarter! So come join us at Chillers, Cahoots, and High Tide for an unforgettable night of partying in downtown Orlando.
This event is for 21+
*Disclaimer: arrive at the event no later than 7 pm to collect your party favor.