Plaza Talk: Race and Place
July 22, 2020 @ 5:00 pm

-

6:30 pm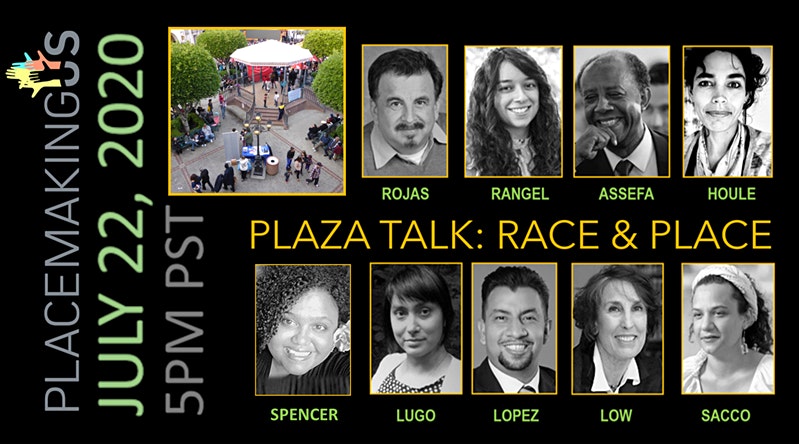 Understanding the meaning of the plaza gives us a starting place to unpack the contents of many central ideas and values in Latino urbanism.
Latinos are transforming the US landscape. How then are urban design guidelines, zoning codes and perceptions of placemaking changed to accommodate these transnational populations and their needs of space and feelings of place? By grounding this dialog on Race and Place in the central the metaphor of "The Plaza" we discover a physical space and metaphor for this urban transformation.
The Plaza has been a central feature of the built environment in Latino cities and cultural traditions for centuries. For many Latinos and non-Latinos, the plaza is a place of joy, steeped in historical, social, and economic traditions. Understanding the meaning of the plaza gives us a starting place to unpack the contents of many central ideas and values in Latino urbanism and provides a better understanding of how the design of our cities are shaped by Latino memories, needs, and aspirations in a changing the majority/minority context.
We will hear from a variety of speakers from activists, urban planners, scholars, artists, and elects, on the challenges and opportunities, do they face in trying to codify this evolution of US public space?
PANELISTS
– Madeleine Spencer , Depth Community, Liberation, Ecopsychologist from the depth-psychological tradition, a scholar, activist, and place manager in the city of Santa Ana, CA a dense city in the center of Orange County with the largest expatriated Mexican population in the world outside of Mexico.
– James Rojas, Latino Urban Planner, Community Activist and artist and founder of Place It! In Oakland, CA. Rojas is also one of the few nationally recognized urban planners to examine the U.S. Latino cultural influences on urban design and sustainability.
– Christina Patino Houle lives along the US/ Mexico border in Brownsville, Texas, and is Director of Strategy and Co-Founder for the art collective Las Imaginistas. Houle does community engagement work along the border.
– Jennifer Rangel works in Dallas on land use issues in Black and Brown Communities. She graduated from North Carolina Chapel Hill. She has a great story. Her parents came from Mexico to Texas and they lived in a garage conversion like so many Latinos. She facilitates the Place It workshops in Texas.
– Paul Lopez is the senior-ranking member of Denver City Council and is Emeritus President Pro-Tem. Lopez's leadership spurred civic participation, ushering in the long-overdue efforts to transform the Westside's long-ignored streets, sidewalks, bridges, and parks.
– Adonia Lugo is an urban anthropologist and mobility justice strategist based in Los Angeles. I am also the Interim Chair of the MA in Urban Sustainability (USMA) at Antioch University Los Angeles. Lugo started learning about "human infrastructure" (the need for diverse social networks to promote sustainable cultural transformation) through studying bicycle advocacy.
– Samuel Assefa is the Director of Seattle's Executive Office of Planning & Community Development (OPCD), an office responsible for developing and implementing planning policies and programs to support Seattle's current and future growth as envisioned in the City's Comprehensive Plan.
– Crista Sacco is a Liberation Psychologist, Community Researcher, Theater Artist, and Educator who is passionate about research, projects, and community-led interventions that focus on disrupting the legacy of colonialism, white supremacy, and racism throughout the world by building communities of resilience, hope, and healing with a vision that is anti-colonial and liberatory. Sacco's research has centered on disrupting the cultural and discursive marginalization of people in the sex industries.
– Setha M. Low is a former president of the American Anthropological Association, a professor in environmental psychology, and the director of the Public Space Research Group at the City University of New York. Low also served as a Conservation Guest Scholar at the Getty Conservation Institute. In 2000, Low wrote a book entitled On the Plaza: The Politics of Public Space and Culture and has since written a book entitled Spatializing Culture: An Anthropological Theory of Space and Place.
Related Events