Shifting Gaze Book Release & Final Week Celebration
January 12, 2019 @ 11:30 am

-

1:00 pm

$35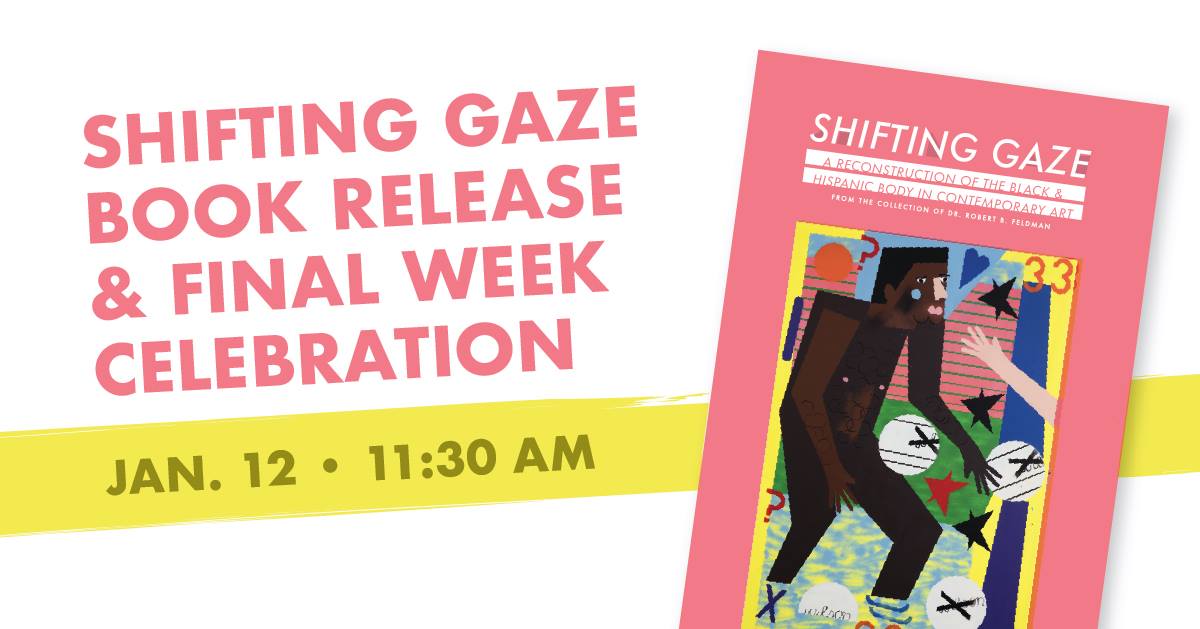 Please join collector Dr. Robert B. Feldman and Executive Director & Curator of "Shifting Gaze", Shannon Fitzgerald, for a wine reception on January 12, 2019, celebrating the release of a 98-page, full-color publication that includes an essay by Shannon Fitzgerald & Katherine Navarro, interview with Dr. Feldman, artists' plates and bios.
PLEASE RSVP BY ATTENDING THIS EVENT ON FACEBOOK OR BY EMAILING JESSI VANPELT AT [email protected]
________________
Special Catalog Price for All Attending
$35.00 (regularly $40.00)
Catalog Price for Mennello Museum Members
$36.00
________________
Join us for the last week of the extraordinary exhibition, "Shifting Gaze: A Reconstruction of The Black & Hispanic Body in Contemporary Art, featuring the renowned artists:
Nina Chanel Abney | Farley Aguilar | Radcliffe Bailey | Yoan Capote | Nathaniel Donnett | Mark Thomas Gibson | Luis Gispert | Clotilde Jiménez | Jennie C. Jones | Samuel Levi Jones | Titus Kaphar | Nate Lewis | Kyle Meyer | Lavar Munroe | Toyin Ojih Odutola | Ebony G. Patterson | Lamar Peterson | Wanda Raimundi-Ortiz | Paul Henry Ramirez | Jamel Shabazz | Vaughn Spann | Shawn Theodore | Mickalene Thomas | Hank Willis Thomas | Carlos Vega | Lynette Yiadom-Boakye | Nate Young
"Shifting Gaze: A Reconstruction of The Black & Hispanic Body in Contemporary Art" from the Collection of Dr. Robert B. Feldman opened October 19, 2018, and continues through January 13, 2019.
The exhibition presents a selection of works from Dr. Robert B. Feldman's extensive collection of contemporary art. The artists have all drawn upon art history, American history, and popular culture to create powerful works that, independently and collectively, present a broad range of concepts about identity, beauty, belonging, and religion, as well as work with deep gravitas around poignant issues of race, sexuality, violence, displacement, vulnerability, erasure, and visibility.
View all of the Mennello Museums upcoming events at www.mennellomuseum.org/events