Sketching around Orlando: Universal Citywalk
September 12, 2020 @ 6:00 pm

-

8:30 pm

FREE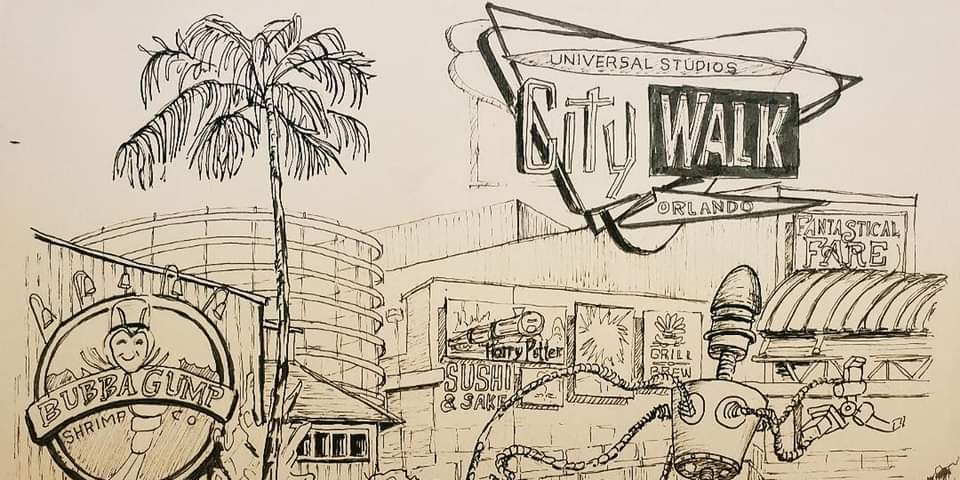 Let's capture City-Walk's vibes in a Sketchwalk
With great measures of caution supported by USk guideline, we offer our first sketchout in our series; Sketching around Orlando, recommencing by that the Orlando urban sketching group activity that was put on hold in the past months due to the Covid-19. While the pandemic is still a threat to the public we ask then that you visit our Safety guideline on our Eventbrite page and carefully read the Disclaimer below before deciding on joining our group activity.
-WHEN: Saturday, September 12, 2020
-MEET UP TIME: 6:15 PM
-WHERE: CityWalk Orlando
-PARKING: FREE Parking after 6:00 PM at the Universal Studios Parking garage
-MEET UP LOCATION: At the open Plaza next to the Universal AMC Cineplex
-Short introduction
-Sketchwalk to locations of personal desired scenes around the lake
-8:30 PM – THROWDOWN: Down at the lake at the open amphitheater plaza (across from Hard Rock Cafe)
In this on-location sketch outing, we are looking to capture in sketches different angles to stories we witness in the open-air compound of Universal Studios CityWalk. The iconic CityWalk's landmarks and beautiful architecture will be the perfect background to stories we draw of our community life.
Bring your travel set of colors, pens, and travel brush. No easels, please! Pack light on sketching gear so as to allow you to move easily and spontaneously from one location to another.
The spacious open public area will allow us to spread out around the park, to choose sceneries of personal desire to sketch with the intention to keep proper and safe distance form visitors as well.
As far as we know, temperature checks are conducted at the security point by CityWals personal. Wearing masks is mandatory!!! We cannot ensure ones of not getting exposed to the virus. We are taking precautious measures and so should you. Please join our pledge to care for each other while attempting to bring back a measure of normality into our life.
* This sketchout meeting does not include sketching demonstration or teaching. Admission is Free.
*** If you are interested in submitting your urban sketching art sketched at CityWalk to the upcoming Orlando CityArts Urban Sketchers Exhibit, we suggest bringing single sheets of drawing and painting paper to sketch on. Sketchbooks will not be displayed at the November gallery show.
*************************************************
DISCLAIMER: By participating in any events organized by the Urban Sketchers (USk) Orlando Chapter, you agree to the following:
USk Orlando events are provided with no special warranty either express or implied. You assume all risks while participating in the event. All participants must use care and good judgment in our efforts to prevent Covid-19 virus transmission from one to another.
USk Orlando reserves the right to reject any misbehaving participant causing disruption of activities during the event or suspected to be sick.
USk Orlando, including but not limited to the organizers, committee members, volunteers, sponsors, supporters, etc., assume no liability for any loss, theft, damage, or injury to property or persons, including death, whether arising in contract, negligence, equity, or otherwise.
USk Orlando reserves the right to post on social media any pictures and videos taken during the events without asking permission of each individual presenting the material. (Discretion will be applied, where appropriate.)
PLEASE READ CAREFULLY: BY PARTICIPATING IN URBAN SKETCHERS ORLANDO EVENTS, YOU ARE GIVING UP ANY LEGAL OR EQUITABLE CLAIMS THAT YOU MAY HAVE AGAINST THE ORGANIZERS.
* Find the CityWalk map in the Discussion tab here. Print the CityWalk Map and bring it along to find your way around
Related Events