Star Wars Party With Sci-Fried
December 17, 2016 @ 7:00 pm

-

December 18, 2016 @ 2:00 am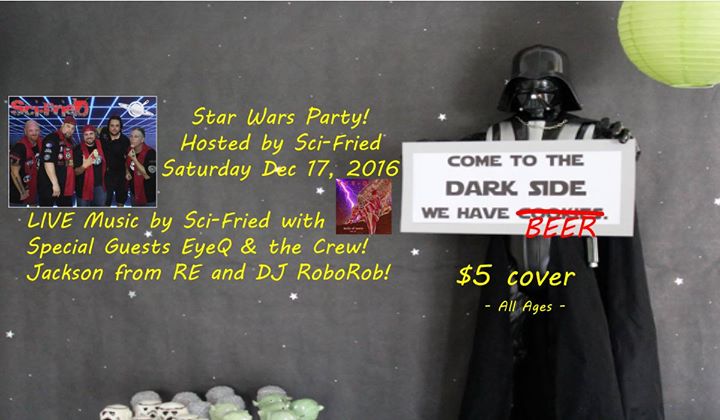 MAJOR UPDATE — NOV 16, 2016! –
The line up will be – Jackson RE from Random Encounter, EyeQ and the crew, Sci-Fried and closing the evening with a long set will be RoboRob Robert Anderson! Coming from Dallas to jam and party with everyone from Orlando.
So here is the set up for the evening:
Join us for our Second Annual Star Wars Party! Hosted by Dr. Vern of Sci-Fried and Nerdy.FM. Will have LIVE music from the bands with lots of Star Wars flavor starting out with Jackson RE doing a solo accordian act with LOTS of Star Wars songs! So come check out Sci-Fried's new line up with the addition of Daniel Dolan to Sci-Fried. Most of you know him from Captain Dan and the Scurvy Crew! It will be a fun evening with lots of NEW music from Sci-Fried and EyeQ as well. Robrob has some new projects in the works so come out and hear what he's been working on.
Before Roborob's set we will do the Star Wars costume contest! Sci-Fried and the other acts will be throwing in some CDs and stuff and there will be a few special items from Charles Silver's personal Star Wars collection. There will be prizes for 1st, 2nd and 3rd! So find your craziest Star Wars costume and come out for a night of fun with Star Wars and NEW music from Sci-Fried!
There wil be a $5 cover charge for the show for the artists. Thanks for all your support!
Related Events