Sun Screens Movie: "The Florida Project"
May 20, 2018 @ 2:00 pm

-

4:00 pm

$8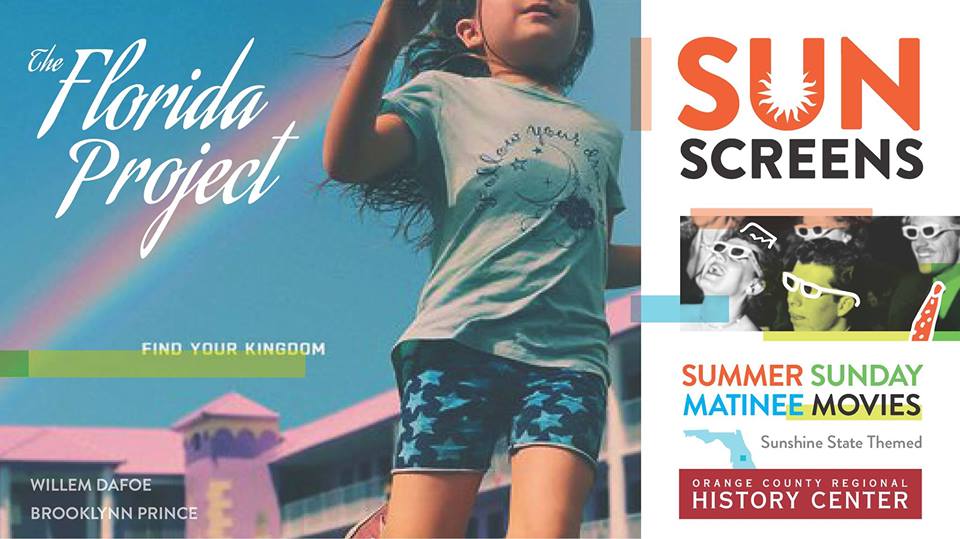 At our Sun Screens Film Series, we'll supply the popcorn, along with fascinating facts about each film, hosted by Joy Wallace Dickinson of the Orlando Sentinel's Florida Flashback feature. After the movie, we'll also have the opportunity for a short behind-the-scenes discussion with an expert about the subject of each film.
There's nothing like seeing a movie the old-fashioned way: with a group of fellow movie fans. The series is free for members!
After the movie, join Scott Billue of Matthew's Hope, a faith-based homeless outreach ministry in west Orange County, to talk about the issues raised by "The Florida Project" and opportunities to make a difference.
Our debut feature, director Sean Baker's "The Florida Project," has been lauded as one of the best movies of 2017. Set on a stretch of highway outside Walt Disney World, the story follows six-year-old Moonee (Brooklynn Prince of Winter Springs) and her rebellious mother, Halley (Bria Vinaite), over a single summer as they live at the Magic Castle, a budget motel managed by Bobby (Willem Dafoe), whose stern exterior hides a deep reservoir of compassion.
• Best Supporting Actor nominations for Willem Dafoe for the Oscars, Golden Globes, and more.
• Winner of the Intergenerational Award from AARP's Annual "Movies for Grownups" Awards.
"What makes Baker's film such a transcendent experience is that he took a subject full of despair, as well as lives of desperation, and spun them into a powerful film that pulses with life, joy and natural beauty."
– Mary Kaye Schilling, Newsweek
Note: Many Sun Screens selections are family friendly, but we may include R-rated titles. "The Florida Project" is Rated R and is recommended for mature audiences. No one under the age of 17 will be admitted without parent or guardian.
Popcorn and beverages will be provided.
Members FREE; Nonmembers $8.
Other scheduled films this summer include:
• July 8: The Yearling (1946)
• July 29: Creature from the Black Lagoon (1954)
• August 26: Apollo 13 (1995)
Related Events