Tampa Zine Fest VII
July 6, 2019 @ 6:00 pm

-

10:00 pm

Various prices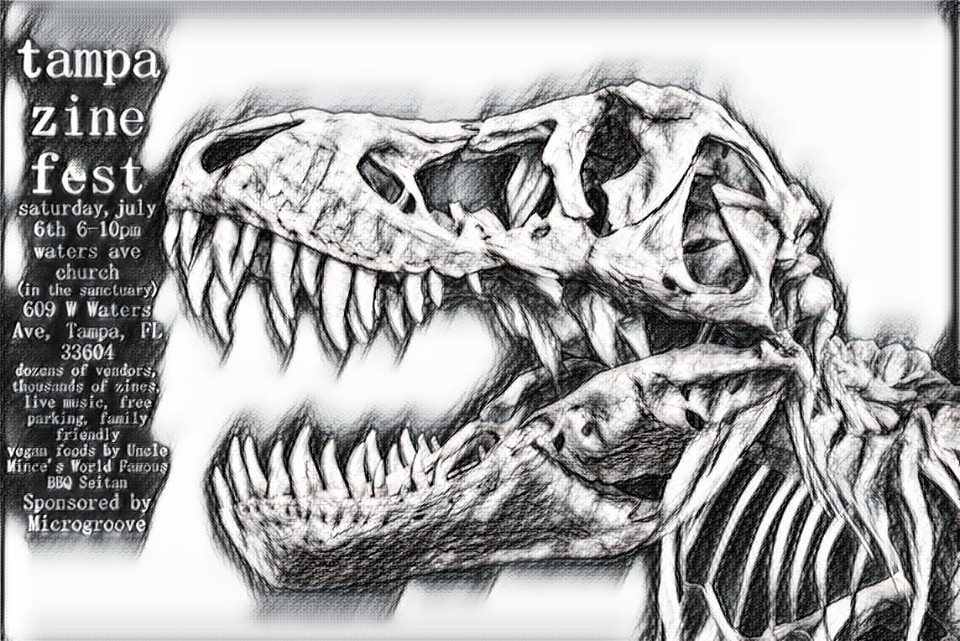 TZF is gearing up for our 7th annual Festival of all things DIY sponsored by Microgroove and Seminole Heights Community Acupuncture!
FREE ENTRY/FREE PARKING/FAMILY FRIENDLY
Vendors/Performers/Workshops/Food for Zine Fest VII on July 6th!
Invite friends to this free, annual, family-friendly celebration of everything DIY! Local artists, local musicians, local food vendors, local zine makers, local independent shops!
Dozens of tables, thousands of zines, pop-up record store!
Also happening in the church space from 8 to ten is the Conscious Party open mic night! The space will be alive with local performers, artists, poets and musicians!
TAMPA ZINE FEST VII LINEUP!
Vendors
Microgroove Records (with pop up record store) *Sponsor*
Seminole Heights Community Acupuncture *Sponsor*
The In-Between
Dennis Amadeus, spoken word poet
Rebel Hearts Publishing
drivebyshootingmia
Recycled Hearts Records
Tampa Food Not Bombs
GVVL Graphics
Stripped Music Diary
Bonk!
44:16
Love Has No Borders
Jen Sandwich
Ethan Edward
Sorella Lark
SpOoOoky Steve
Josh Comics
Mutual Aid Disaster Relief
Gainesville IWOC
Tiny Rain Bows
Sex Worker Solidarity Network
TBDSA
Pretty Anonymous Art
Cody Saporito
Clicks and Echoes
Organizim
Dream Defenders
Workshop:
Zine Making and Q&A by David S. Wallens, editorial director for the two biggest sports car magazines in the u.s. (25 years with Grassroots Motorsports)
Ask an editor anything!
Finding a voice* style* taking that first step* freelancing opportunities* overcoming writer's block* interview tips* networking* promotions and events* distribution* Printing and Logistics* GWAR with David S Wallens, 30 years professional editorial experience, graduate of Georgia University of Journalism school. Zine-ster since mid 80s. Publisher 44:16 zine, mediocre bassist
(@6:30 pm)
LIVE PERFORMANCES BY::
Blestian
Funeral Guy
Dylan Houser
Dennis Amadeus, spoken word poet
Penny Grune-Fae
burghergirls
Vegan Goods by:
Uncle Mince's World-Famous Seitan
Looking forward to another year!