The Relationship Between Light and Plants- October Native Plant Month Kick-off Program
October 1, 2019 @ 7:00 pm

-

9:00 pm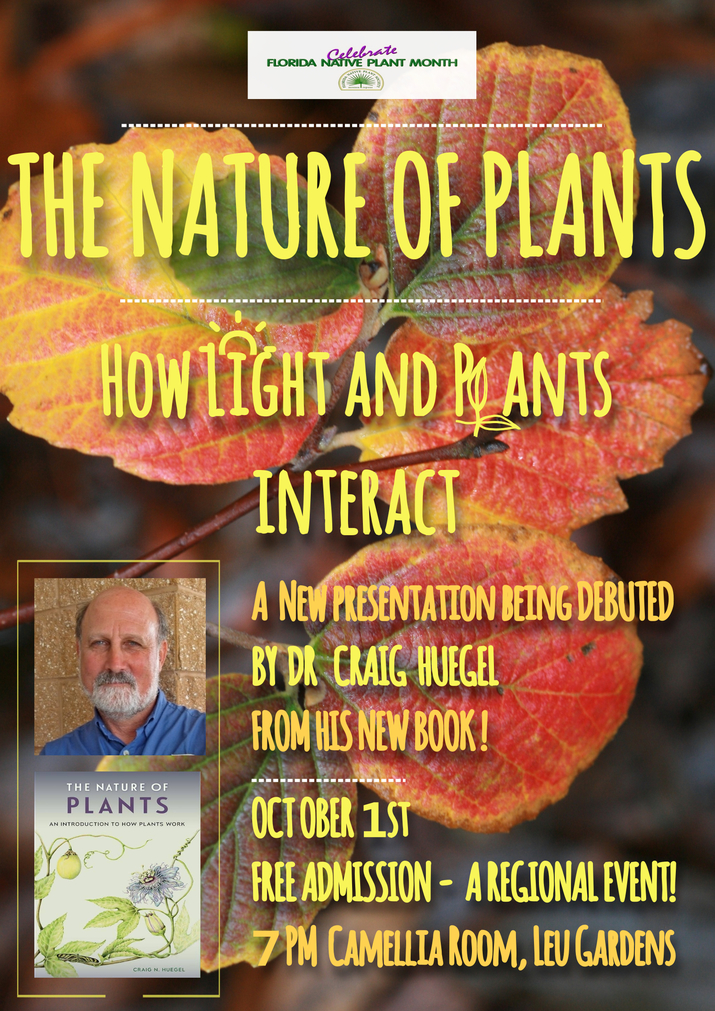 This program is part of the regional kick-off meeting celebrating several Florida Native Plant Society (FNPS) chapters and organizations coming together!
Please be on the lookout for the AFTERNOON portion of the kick-off meeting- A 'mini-conference' – more information coming soon!
MAIN PROGRAM PRESENTATION:
Biography
Dr. Huegel is an ecologist/educator with extensive training and experience in wildlife and plant ecology, natural lands management, upland and wetland restoration, and the impacts of urbanization on natural systems. His career also has been focused on environmental education and nature interpretation. After graduation from Iowa State University, he founded the Wildlife Cooperative Extension program at the University of Kentucky and then co-founded the Urban Wildlife Cooperative Extension Program at the University of Florida. Dr. Huegel served as the Administrator of Pinellas County's Environmental Lands Program for 12 years, has worked as an environmental consultant and now focuses his time as an Adjunct Professor at St Petersburg College and the University of Tampa, teaching in the Biology Departments.
Dr. Huegel has written six books for the public on native plants and wildlife, lectures to groups throughout Florida, operates a small wildflower nursery, Hawthorn Hill, from his home in Pasco County, and writes several popular blogs dedicated to Florida native plants.
Abstract
The Relationship Between Light and Plants
Plants feed on sunlight. For more than a billion years, the relationship between the sun and photosynthetic orqanisms has been evolving and this relationship has become a very intricate. Though the miracle of photosynthesis is the first part of this relationship and the one most of us recognize, it is much deeper than this. Sunlight drives most every aspect of a plant's life history. In this lecture, Dr. Huegel will explore the many-faceted relationship plants have with sunlight.