X_X, OBNOX, GOLDEN PELICANS, AUTARX
January 15, 2016 @ 9:00 pm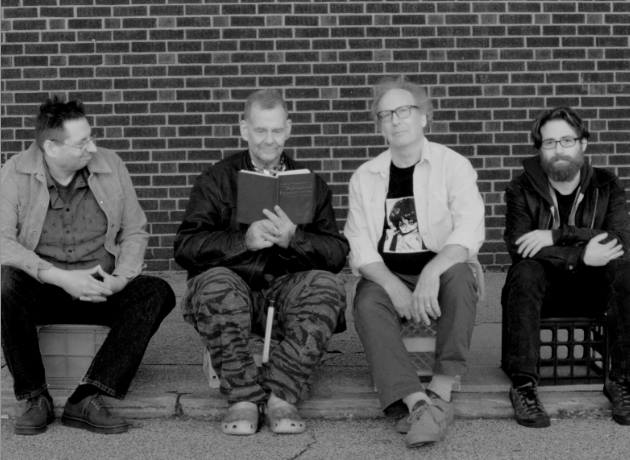 ANOTHER STELLAR SHOW FOR THE BOOKS. CAN'T BELIEVE THIS IS COMING TO ORLANDO.
X_X (Cleveland ex- Electric Eels, Rocket From The Tombs)
X_______X' (pronounced "Ex Blank Ex")[1] was a no wave band formed in 1978 by Cleveland musician and artist John D Morton.[2] Morton is perhaps best known as the leader and founder of protopunk band electric eels. Original members of X_______X were Morton on lead guitar & vocals, Anton Fier (née Tony Fier) on drums, Jim Ellis on bass & Andrew Klimeyk on rhythm guitar & vocals.
The name X_______X was designed to be mutable—a pictogram—to mean whatever one wanted at any given moment. Mutations included Ex Blank Ex, X Charlie Manson and the Family X, and for their archival vinyl album release in 2014, X The Rolling Stones X. It is Morton's Dada-esque tendencies that lie behind the decision to name the band something that is so malleable and, therefore, so difficult to search for on the internet. "This artistic antagonism, inspired by an affinity for the Dadaist movement, has been at the heart of Mr. Morton's work — both as a musician and a visual artist — for the better part of four decades.".[3] Subsequent to this release, the band has been playing shows since with Morton (vocals/guitar) and Klemyk (vocals/guitar) joined by Craig Bell of fellow Cleveland legends Rocket From The Tombs (bass), and Matthew Harris (percussion). A post-reunion album "Albert Ayler's Ghosts live at the Yellow Ghetto" has been recorded and will be released in November 2015 by Smog Veil Records.
X_______X flashed like a supernova in the turbulent rock scene of the late seventies, lasting only six months in their original incarnation. The band was formed at Morton's 25th birthday party. Morton, knowing he would be shortly moving to NYC said, "Hey! Let's form a band that last six months!" Attendees, Jim Ellis and Andrew Klimeyk were recruited on the spot. The first infusion included Mirror's drummer Michael J. Weldon and electric eels singer Dave E. McManus. After Dave and Michael quit, Anton (who suggested to name the band "Golden Palominos"—a name that was summarily rejected by Morton) was conscripted and Morton took over on vocals: "It made me a better musician to sing and play guitar at the same time . . . I couldn't be looking at my fingers all the time. I had to look at the mic!"
OBNOX
Coming at you direct from Cleveland, Ohio, Lamont "Bim" Thomas has transitioned seamlessly from journeyman sticksman in some of the state's finest bands (This Moment In Black History, Unholy Two, Puffy Areolas, Bassholes, etc.) to the full-on phenomenon known as Obnox. From a foundation of dirt-level garage punk, Thomas sculpts deep cuts out of blown-out beats, redline guitar damage, and soulful singing, as if your local gospel choir had been raised on a steady diet of The Pagans and Back From the Grave comps.
The man has been beyond prolific in the past four years, releasing 6 albums, two 12″s, and 7 45″s since 2011. As if this line up didn't have enough Ohio punk royalty Obnox is joined by Steve Mehlman (Pere Ubu) on drums for this tour
GOLDEN PELICANS
AUTARX