Past Events
Events Search and Views Navigation
June 2021
The final collaboration between Rodgers & Hammerstein was destined to become the world's most beloved musical. Featuring a trove of cherished songs, including "Climb Ev'ry Mountain," "My Favorite Things," "Do Re Mi," "Sixteen Going on Seventeen" and the title number, The Sound of Music won the hearts of audiences worldwide, earning five Tony Awards and five Oscars. The inspirational story, based on the memoir of Maria Augusta Trapp, follows a postulant full of joie de vivre who serves as governess…
Find out more »
Virtual Magic Show: Jimmy Ichihana x Hellcats USAJoin magician Jimmy Ichihana for a 50-minute online interactive magic show broadcast live from Hellcats USA in downtown Winter Park, FL.Jimmy has performed magic on the TV shows Penn & Teller: Fool Us and America's Got Talent, and has traveled the country to perform at Hollywood's Magic Castle and the Chicago Magic Lounge. Now he's bringing his magic to Hellcats and you can join the show from the comfort of your home!Hellcats USA…
Find out more »
Wetland clean up in partnership with IDEAS For Us and Central Florida ReconJoin Central Florida Recon and IDEAS For Us for a wetland clean up at LaCosta Urban Wetlands. This area is often polluted with trash creating an unhealthy habitat for wildlife and polluted water supply. We are working to solve this by mobilizing volunteers with a clean up!Please wear sunscreen, closed toed shoes and a mask! We will have trash pickets, buckets, gloves and bags but if you have…
Find out more »
Join an all-star line up of local chefs for a family style, incredibly indulgent Brunch. With 2 seatings, you pick your time and table size to enjoy a socially distanced meal with a "bubble" of people you trust in the beautiful Emeril Lagasse Foundation Kitchen House & Culinary Garden. Mimosas are included and vegetarian dish options will be available! 11 AM Seating $80/person Table for 4 - $320 Table for 6 - $480
Find out more »
Emergence Dance will be presenting it's first LIVE concert of the 2020-2021 season in Orlando, FL, June 6, 2021 at 6pm and 8pm at Me Theaters! This show is entitled Live, Love, Dance, and will showcase the company's most enticing pieces from the 2020-2021 season along with introducing new pieces from director Cindy Heen and guest choreographers. Live, Love, Dance serves as a reflection of our experiences in celebration of life and the freedom dance brings. The concert will also…
Find out more »
LGBTQ NIGHT!  Come celebrate Pride US at ROOM 22! Door proceeds' are going to the Zebra Coalition.
Find out more »
We're partnering with Matt Heafy, lead singer of the Grammy-nominated metal band Trivium and a top Twitch streamer, to host the world's first-ever BolderX competition. The BolderX Among Us Intergenerational will be held on June 10, 2021, live on Twitch. Ten teams made up of one person over the age of 50 and one person under the age of 50 will compete in a tournament for bragging rights and an epic prize package.
Find out more »
Grab your furry friends and head over to Woof Gang Bakery June 10th from 6-8pm!Grab your furry friends and head over to Woof Gang Bakery June 10th from 6-8pm! There will be in store discounts and amazing raffle baskets!Woof Gang will be providing yummy goodies for the four legged pups and there will be wine and small bites for their wonderful owners.We can't wait to wine and wag with you!
Find out more »
There is no better way to heal your soul than with music and dance. Join HÄOS and Hamburger Mary's outside on Church St to honor and remember our 49 and give thanks to our First Responders and the people of The City Beautiful. "TO WATCH us DANCE is to HEAR OUR HEARTS SPEAK." And so we dance with DJ SCOTT ROBERT (PULSE ORL) in celebration of the love and light of the Orlando Community. Proceeds go to One Pulse Foundation…
Find out more »
This film is a part of our Popcorn Flicks series, which takes place in Central Park, Winter Park once a month and it's FREE and open to the public! Presented by Computer Business Consultants, Inc. Advanced registration is requested. Check back here for the RSVP link to reserve your free, socially-distanced, 10'x10′ movie space. Up to 6 people per party: https://www.eventbrite.com/.../city-of-winter-park-parks... Attendees are encouraged to participate in the Curbside To-Go program to grab a meal to enjoy in the park during the…
Find out more »
Join us for a closing night reception of Young at Heart and other exhibits on Friday, June 11, 6pm - 9pm. Meet Jay Geeker and other artists and purchase some art while you are here. ___________________________________ An embellished giclee print of "Falling For You" will be available to win through a raffle. $5 single ticket and $20 for an arm. ___________________________________ If you don't want to take your chances with the raffle, you can order the limited edition giclee of…
Find out more »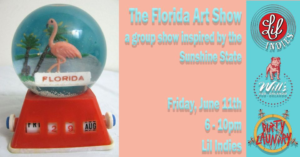 Lil Indies is proud to host another group show : The Florida Art ShowThis is a showing of art inspired by anything to do with the good ol' Sunshine State.Artists include, but not limited to:RAMOKelly BerryMegan StewardBankyColleen FalcoJames HandThe NaysayerInspired by:Florida ManOrangesThe SpringsTheme ParksThe BeachesCitiesPeopleMalortetc.Lil Indies is a 21 and up establishmentSmoke-free environment that boasts a curated, ever-changing cocktail menuThis art event, as always has no cover charge to attendStay late for DJ BMF at 10pmThank you for supporting art…
Find out more »
Queer wrestler Effy, who you may know from Mayhem on Mills, has assembled his gay wrestling fam for a crazy evening of blood and muscles.
Find out more »
A special Father's Day outdoor pop up market you won't want to miss! Just a few blocks from all the goodies at East End Market...make it a Saturday shopping local in Audubon Park! Concurrent with our weekly Hidden Treasures Thrift Boutique 9am-2pm. Keep a look out for some of the vendors and items coming soon!
Find out more »
Join us at the First United Methodist Church of Orlando as they toll their bells 49 times in honor of those taken at the Pulse tragedy.On June 12, 2016, a gunman entered the Pulse nightclub in Orlando, Florida killing 49 innocent people and injuring dozens more. The Pulse tragedy is one of the largest mass shootings in U.S. history and those victimized were primarily members of the LGBTQ+, Latinx and Black communities.As the one-year remembrance of the tragedy approached, mothers…
Find out more »
+ Export Events