3rd Thursday Gallery Hop: CityArts April 2022
April 21 @ 6:00 pm

-

9:00 pm
Join us for 3rd Thursday at CityArts. Check out the seven new exhibitions and meet the artists!
3rd Thursday Gallery Hop
Opening Night Reception
CityArts (39 South Magnolia Avenue)
Thursday, April 21, 2022
6:00 p.m. – 9:00 p.m.
CityArts is a proud partner of the newly expanded 3rd Thursday Orlando: Arts. Making. History.
____________________________________________________
ADD ON: ($10) 3rd Thursday Orlando Wristband
Support DAD and City District Main Street by purchasing a wristband for event night discounts on food and drinks from neighborhood favorites. Complete list of specials included at: https://citydistrictorlando.com/thirdthursdays/
PARKING
CityArts provides parking validations for the Plaza Parking Garage ONLY. The validation reduces the parking fee to $4.
The Library Parking Garage is closer, but CityArts does not provide parking validations for that garage.
____________________________________________________
Featured exhibitions at CityArts include:
Austin Commercial Gallery
Closed to the Public. Revelation Renaissance will open on Saturday, April 23, 2022. For more information about the exhibition's grand opening event, visit www.revelationgala.eventbrite.com.
Upstairs Signature Gallery
Art Meets Medicine
Proceeds from Art Meets Medicine exhibit will benefit the Cancer Support Community at the Orlando Health Cancer Institute.
The Mahesh Chaddah Family Trust Spotlight Gallery
Solo Exhibition by Jaime Parra
Side Gallery
Art-ivism
Curated by Alexis Kayla Creations
Orlando Magic Young Artists Gallery
Redefine Gallery
CityArts Cafe Gallery
____________________________________________________
After you visit the Gallery Hop at CityArts, make your way over to the History Center (Heritage Square) for the 3rd Thursday Makers Market and FREE ADMISSION to the History Center!
Makers Market (65 East Central Boulevard)
Stroll Heritage Square and shop 15 businesses and local artisans. Be sure to also check out the live music and performances presented by the Dr. Phillips Center for the Performing Arts and local food trucks.
History Center (65 East Central Boulevard)
Explore 4 floors of Central Florida History at the Orange County Regional History Center which is open and free to the from 6-8 p.m. on event nights.
Thank you to our event partners:
Dr. Phillips Center for the Performing Arts
City District
Bazaar Botanica
Orange County Regional History Center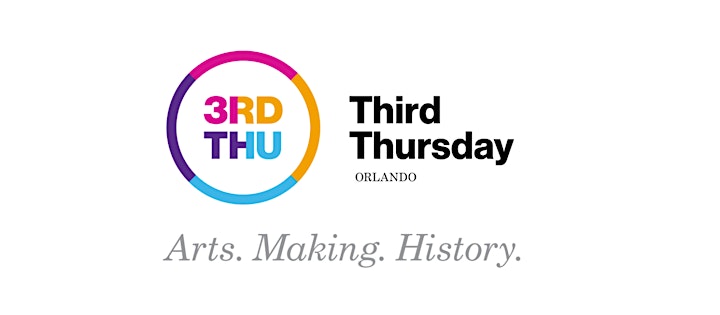 Related Events