AMERICAN AUTHORS and MAGIC GIANT – Band of Brothers Road Show
January 24 @ 6:00 pm

-

9:00 pm
AMERICAN AUTHORS and MAGIC GIANT Band of Brothers Road Showwith special guest Public
American Authors
Each seasonal cycle informs, impacts, and inspires growth. American Authors translate those cycles of change into genre-blurring alternative anthems, bordering pop ambition and rock spirit undercut by a rhythmic hip-hop boom. Touting airtight songcraft and sonic adventurousness, the Brooklyn-based four-piece—Zac Barnett , James Adam Shelley , Dave Rublin , and Matt Sanchez —push forward and progress yet again on their 2018 third full-length, the aptly titled Seasons .
It distills a near-decade journey into a dynamic, distinct, and definitive offering for the quartet.
"The biggest thing is the change American Authors went through to get here," Zac exclaims. "We had to go through all of these experiences and moments of experimentation to reach this body of work, which is the most genuine and pure thing we've ever done. It encompasses every season of our music: the ups, the downs, the highs, the lows, and everything in between. We let go of where we started, fell into the place of writing from the heart, and captured what came out naturally."
Since their 2012 emergence, American Authors have set the stage for such evolution. By 2018, the guys impressively generated over 1 billion global streams on a string of alternately striking and soaring smashes. Their inescapable and instantly recognizable breakthrough "Best Day of My Life" earned a triple-platinum certification from the RIAA and vaulted to #11 on the Billboard Hot 100 in addition to receiving countless film, television, video game, and sports syncs. Their 2014 full-length debut, Oh, What A Life, achieved gold status, while the follow-up What We Live For, spawned another Top 20 hit, "Go Big or Go Home," in 2016. Along the way, they sold out shows around the globe and ignited stages at festivals, including Lollapalooza, Firefly Music Festival, BottleRock Napa Valley, Reading Festival, and Leeds Festival, to name a few. As early as March 2017, the group commenced writing their next chapter.
Rather than tread familiar territory and record in Los Angeles or New York, they retreated to a mountainside studio twenty minutes away from downtown Nashville. Surrounded by woods and overlooking nature, they quite literally experienced all four seasons of Tennessee weather from winter snow to summer sun. Simultaneously, they embraced formative nineties influences, spanning alternative stalwarts such as Weezer and Nirvana and West Coast rap a la Tupac. Beyond embracing analog synths, they proudly incorporated "more guitar." Settling into this mountain hideaway, they wrote 40-plus songs in between "watching the leaves turn, clouds roll in, and hawks in the sky," as Matt recalls.
Collaborating alongside producers Cason Cooley and Trent Dabbs, the band leveled up their signature sound.
"It was so inspiring," the drummer continues. "We put our emotions and visions through this distillation process as the weather changed right before our eyes. As far as production goes, Carson and Trent have this way of pulling things out of us that make it all cohesive. Sonically, it's our most ambitious work to date for sure."
Dave adds, "Thematically, it felt like we were accepting life for what it is as well as taking responsibility for both the positive and the negative. That was a big common thread. You're seeking reconciliation for times of being down and out and rediscovering old friends. The music is like our beacon to everybody announcing, 'This is who we are. We're not afraid to go into the world and talk about it'."
That conversation started with initial tracks "Deep Water" and "I Wanna Go Out" paving the way for the record's arrival. By the close of 2018, they shared yet another album anthem—the stomping gospel-infused "Say Amen" . Culminating on a steeple-size refrain, its rustling guitars and gritty duet between Zac and Billy proves equally heavenly and hypnotic. Meanwhile, the upbeat and energetic first single "Neighborhood" delivers a sincere, yet bittersweet message via nostalgic lyrics such as "Goodbye, so long to my neighborhood…and I know that I'll see you again, because I'll always come back to my neighborhood."
Elsewhere, "Stay Around" charges forward on a handclap-driven beat augmented by a groundswell of synths, echoing guitars, and unshakable falsetto on the hook, "I hope you stay around…when you see me at my worst." "It's about calling on friends and loved ones in your life to help you get out of tough times," says Zac. "It's really difficult for me to open up and let others in my life as far as my troubles and problems are concerned. You've got to be able to confide in those closest to you though. On the song, I'm opening up and admitting I'm not perfect, but showing I can be better."
The powerful piano chords of "Calm Me Down" uphold a confessional and catchy admission on the chorus. "You're telling somebody that you need them," adds Matt. "It's not easy to do, but it's important."
In the end, Seasons shows American Authors at their purest and most powerful.
"I want people to see a different side of American Authors," Zac leaves off. "I hope they realize there's a message of hope, but it's transmitted in a new and more exciting way for our band. Growing up, listening to my favorite artists helped me through so many hard times. It was the best therapy. I've seen fans take that away from our music in the past, and I hope they continue to do so. That's the ultimate goal for us."
For more info visit: http://www.weareamericanauthors.com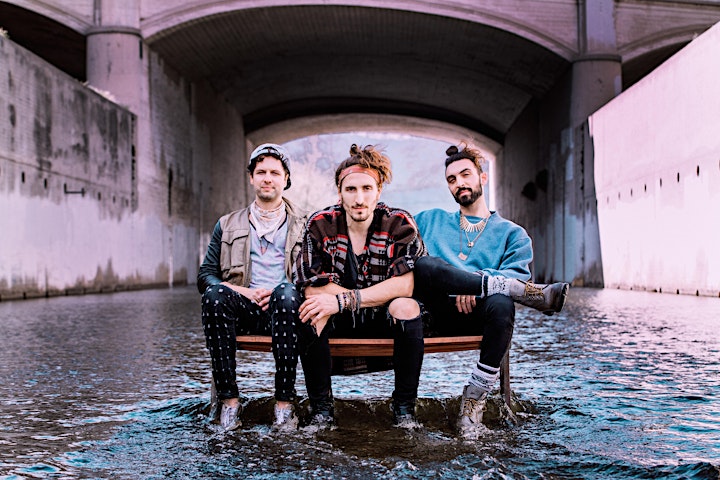 MAGIC GIANT
Coming off of a blazing set at Coachella, with Billboard singling them out as one of "10 Awesome Bands" playing this year's massive fest, and LA Weekly calling them "Cool as Folk," LA-based MAGIC GIANT has been thrilling growing crowds at every stop along its 70-city North American and European tour, celebrating the release of its debut album In The Wind (Concord Records) and its acoustic album counterpart.
With appearances on the Today Show and in Rolling Stone as one of "10 Artists You Need to Know," the group has toured with acts ranging from The Revivalists to Mike Posner; played shows with bands such as The Lumineers, Mumford & Sons, X Ambassadors, Vance Joy, and Foster the People; performed to thousands at festivals ranging from Firefly in Delaware to Electric Forest in Michigan; and was recently tapped as one of the bands to join headliner Bruno Mars at Bottlerock in Napa this spring.
DuJour has proclaimed Magic Giant "the most festive band in the festival circuit, quickly becoming a must-see." Its style has been described by NPR as "upbeat, passionate indie-folk" and by Billboard as inspiring "mass dance-alongs." Its initial single "Set on Fire" broke the top 25 on the US Alternative chart and top 5 on Spotify's US Viral chart; its current single "Window" leaped into the Top 40 on Billboard's Hot AC and Adult Pop charts; and the new acoustic album debuted in the iTunes Alternative top 25.
The trio, comprised of Austin (lead vocals), Zambricki (viola, banjo, harmonica), and Zang (acoustic guitar, cello) weaves together a musical quilt of alternative, pop, and folk on its LP, uniquely recorded from their solar-powered mobile recording studio while traveling throughout the US.
Related Events