AUDITIONS: "Fairy Tale Courtroom", a comedy by Dana Proulx
March 26, 2016 @ 11:00 am

-

2:00 pm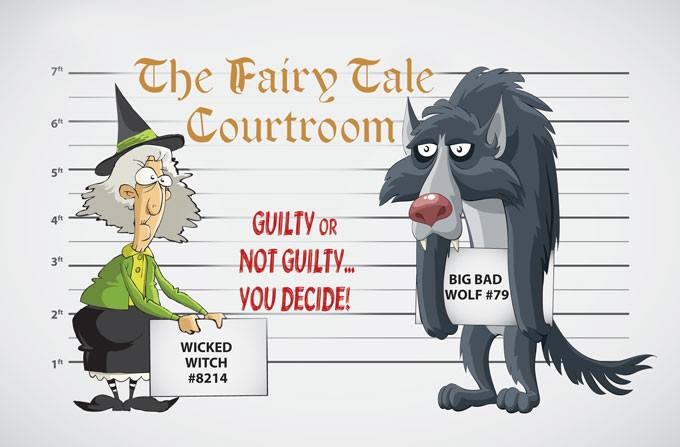 The Breakthrough Theatre of Winter Park will hold auditions for the Dana Proulx comedy, "Fairy Tale Courtroom", on Saturday, March 26, from 11 a.m.-2 p.m.
The play will be directed by Wade Hair.
This comedy shows the other side of several familiar fairy tales when two of their biggest villains, the Big Bad Wolf and the Wicked Witch, are brought to trial. Both the Wolf and the Witch have been frolicking from fairy tale to fairy tale wreaking havoc as they try to prevent the general public from living happily ever after. Hear the personal accounts of what happened, told in testimonies and flashback sequences, from characters such as Snow White, Dorothy, Sleeping Beauty, the Three Pigs, Little Red Riding Hood and many others, including the Witch and the Wolf themselves, as each trial unfolds. The audience is the jury, so each trial has two endings depending on the verdict.
I am adding songs, so I need both actors AND singers.
Show Dates and Times:
April 29-May 2 and May 6-9, 2016
Fridays, Saturdays, and Mondays at 8 p.m., and Sundays at 3 p.m.
I am casting elementary, middle, and high school students only, and auditions will consist of cold readings from the script.
*Optional: sing 16-32 bars of an upbeat song. If you've perfomed in a Breakthrough musical before, you do NOT have to sing.
Please bring a headshot (or face picture) and a resume if you've never performed in a Breakthrough show.
Rehearsals (may change at the discretion of the director):
Tuesday-Thursday, March 29-31, 7-9 p.m..
Saturday, April 2, 11 a.m.-1 p.m..
Tuesday-Thursday, April 5-7, 7-9 p.m.
Saturday, April 9, 11 a.m.-1 p.m
Wednesday-Thursday, April 13-14, 7-9 p.m.
Wednesday-Thursday, April 20-21, 7-9 p.m.
Saturday, April 23, 11 a.m.-1 p.m.
Monday-Thursday, April 25-28, 7-9 p.m.
ALL ROLES AVAILABLE::
*each actor will play one character in act 1 and a different character in act 2.
Characters in BOTH plays:
JUDGE
DISTRICT ATTORNEY
BAILIFF
CLERK ( a hand only)
Other Characters:
CLERK
WOLF
PIG #1
PIG #2
PIG #3
LITTLE RED RIDING HOOD
BOY WHO CRIED WOLF
GRANDMOTHER
BADGER
SHORT ORDER CHEF
DEFENSE ATTORNEY
SCARECROW
FLYING MONKEY
DOROTHY
WITCH
HANSEL
GRETEL
SLEEPING BEAUTY
PRINCE
SEVERAL DWARVES