Blaque Dynamite Trio with EarthTonez
March 8 @ 7:00 pm

-

11:00 pm
Blaque Dynamite Trio with EarthTonez
Blaque Dynamite Trio with EarthTonez
Monday, March 8th, 2021 at Will's Pub in Orlando
Limited capacity, masks required, and socially distanced.
7PM Doors – 21 Plus Event – Presented by Montgomery Drive
— Read More Below —–
The Blaque Dynamite Trio will be featuring Mike Mitchell on Drums, Brad Miller on Bass, & Special Guest on Keys
Blaque Dynamite, aka Mike Mitchell, has given validity to the cliche that age is nothing more than a number. He began drumming at age 2…played in his first live recording session at the ripe young age of 7 and had acquired a roster of drum company endorsements by the time he turned 11 years old.  
"A young drumming phenom!" Vic's Drum Shop – Chicago, IL 

Young Dynamite gained his early development and exposure to music in a church setting. At an early age, he began to create his own music which evolved into a relentless passion and respect for the drum instrument. Inevitably, he had become very adamant in the pursuit of expanding his knowledge of music and honing his craft. At twelve, he embarked upon the study of drum music theory. At fourteen, he found himself in the hallways of the renowned Booker T. Washington High School for the Performing and Visual Arts in Dallas, Texas in 2009. The school also fostered the amazing talents of Norah Jones, Erykah Badu and the late great, Roy Hargrove. Simultaneously, Dynamite took full advantage of attending workshops, master classes and clinics at colleges and universities all over the country during the summer breaks and amid tours. 
"…a Jazz Drumming Prodigy…he is a powerhouse behind the kit!" – The Dallas Observer.
Being gifted to play all genres, Dynamite has been the recipient of a host of accolades and prestigious awards. He has received 14 DownBeat Music Awards and his impressive performance credits include Grammy award-winning artists Christian McBride, Erykah Badu, Thundercat, Michael McDonald, Bob Mintzer, Chrisette Michele, Terell Stafford, and The "Legendary" Clark Sisters.  In 2012, he was selected to perform on a global stage at the inaugural International Jazz Day Celebration with one of the most influential jazz artist of all time, the iconic Herbie Hancock. Shortly after, Dynamite was reigning the drum throne for the living legend, virtuoso bassist, composer and producer, Stanley Clarke. Then, he graduated high school! (Class of 2013) 
Fast forwarding, the Grammy nominated artist Blaque Dynamite has toured five of the seven continents of the world.
In 2015, he released his debut album entitled "WiFi" with Dallas-bred band, Rache'. His collaboration with the artistry of Christian Scott, Derrick Hodge, Doobie Powell, Kierra Sheard, Willow Smith, Ruth B., and Jon Bap has been the catalyst in the making of the new bandleader. On November 10, 2017, Blaque Dynamite released his sophomore project, craftily entitled, "Killing Bugs" on Ropeadope Records.
https://blaquedynamite.com/
Most recent album:
https://open.spotify.com/album/3rjYj4BkuWfXrsmjY1ZMXB?si=JpwEeSYrTyyeOybkna3nng
Live performance footage :
Interview :
————————————————————————
Brad Miller :
Brad Miller's trademark bass grooves are setting him apart as "one to watch" in the NYC music scene. At just 26, he has played with BIGYUKI, Adam Rogers, James Francies, Oz Noy, JD Beck and Domi, David Binney, Mike Mitchell (Blaquedynamite), Ari Hoenig, Wayne Krantz, Grammy winners Thomas Pridgen, Charles Altura, Jon Secada, Fabian Almazan, Othello Molineaux and others and has held residencies at NYC's top jazz venues including 55 Bar, Blue Note, Black Cat, Nublu, Smalls and abroad. Brad is currently endorsed by Moollon Instruments, Serek Basses and La Bella Strings.
Interview –
————————————————————————
Earthtonez music collective, is an eccentric fusion of jazz, hip hop and soul. Based in Orlando, FL, this group of musicians takes its listeners on a musical journey, experimenting with blending sound and color bringing to its audience a vibrant element. Drawing influence from pioneers who stretch the music and don't adhere to the norm. Earthtonez adds to the legacy of hip hop jazz fusion, even incorporating those elements into top 40 hits. Earthtonez Music Collective isn't just a band, it's an experience immersed in rich flavorful sounds. Join the Frequency!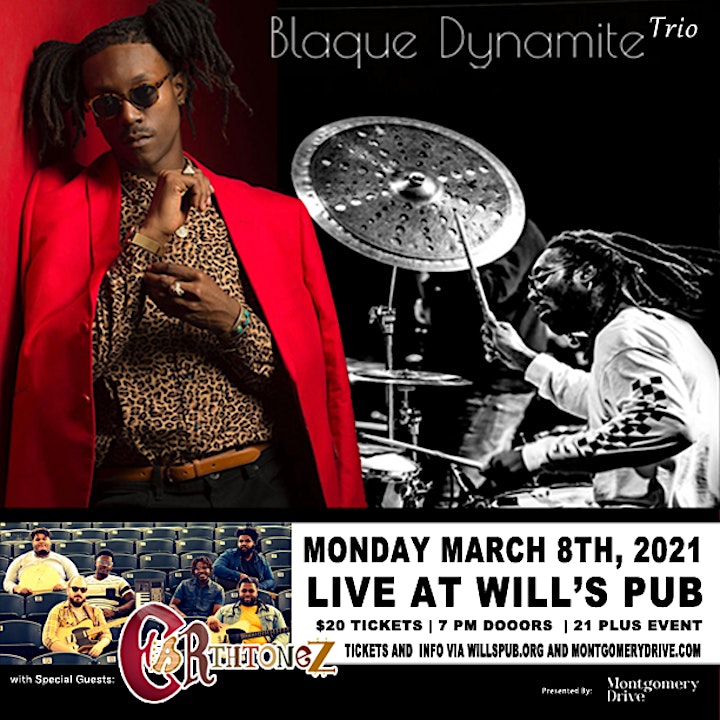 Related Events