Brechner Series: "Oh, Florida!" with Craig Pittman
April 8, 2018 @ 2:00 pm

-

4:00 pm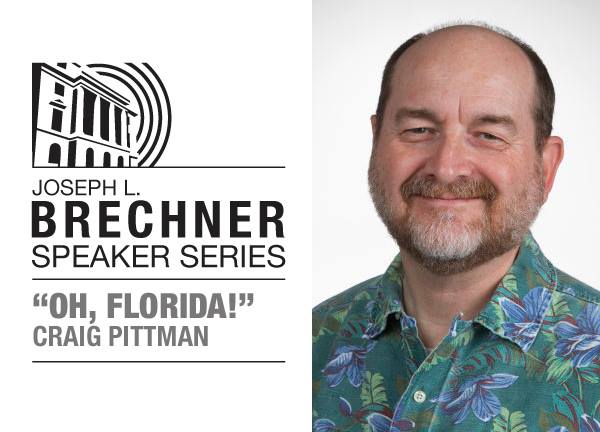 Oh, Florida! That name. That combination of sounds. Three simple syllables, and yet packing so many mixed messages. To some people, it's a paradise. To others, it's a punchline. As author and journalist Craig Pittman shows, it's both of these.
Craig Pittman is a native Floridian. Born in Pensacola, he graduated from Troy State University in Alabama, where his muckraking work for the student paper prompted an agitated dean to label him "the most destructive force on campus." Since then he has covered a variety of newspaper beats and quite a few natural disasters, including hurricanes, wildfires and the Florida Legislature. Since 1998, he has covered environmental issues for Florida's largest newspaper, the Tampa Bay Times. He has won the Waldo Proffitt Award for Distinguished Environmental Journalism in Florida four times, and twice won the top investigative reporting award from the Society of Environmental Journalists. He is the author of four books: Paving Paradise: Florida's Vanishing Wetlands and the Failure of No Net Loss, co-written with Matthew Waite (2009), Manatee Insanity: Inside the War Over Florida's Most Famous Endangered Species (2010), The Scent of Scandal: Greed, Betrayal, and the World's Most Beautiful Orchid, (2012); and Oh, Florida! How America's Weirdest State Influences the Rest of the Country (2016), which just won the gold medal for Florida non-fiction from the Florida Book Awards. He lives in St. Petersburg with his wife and children.
Named in honor of the late Joseph L. Brechner, an award-winning journalist, community leader, and freedom-of-information advocate, this new series of speaker programs focuses on the media in Florida's history. All programs take place from 2 to 4 p.m. at the History Center and are free.
Sponsored in part by the State of Florida, Department of State, Division of Cultural Affairs and the Florida Council on Arts and Culture.