EYEWITNESS
October 15 @ 7:00 pm

-

10:00 pm
A Retrospective Exhibition of Photojournalist RED HUBER
Snap! Downtown presents EYEWITNESS | A Retrospective Exhibition of Orlando Sentinel's Celebrated Photojournalist RED HUBER.
Concurrently, Snap! Downtown's OG1 and OG2 galleries present 'AS SEEN IN FLORIDA,' showcasing works by photographers Matt Roberts, Steven Benson, Lauren Mitchell, and Frank Day.
EYEWITNESS represents Huber's 46 year career documenting Central Florida, from the Space Shuttle program, to the Pulse tragedy, capturing moments in a 'raw, real, and respectful' way. When Red Huber walked through the doors of the Orlando Sentinel for the first time in 1972, the paper was printed mostly in black and white. The Sentinel wanted to infuse more color. Red was a 22-year-old color technician and photographer back then. Red's calling was to tell complicated and powerful stories with a single image. Red Huber was named "Photojournalist of the Year" by Florida's Society of Professional Journalists, in late 2018. Red retired in 2018, and this will be his first retrospective showcase.
Exhibitions curated by Patrick & Holly Kahn. Free to the public. On view through January 22, 2022. 420 E. Church St, Orlando 32801. Gallery hours, Mon-Sat. 11 AM-6 PM. Info: www.snaporlando.com or email [email protected] 

This project is funded in part by Orange County Government through the Arts & Cultural Affairs Program. Sponsored by The Orlando Sentinel, Sam Flax, The Mall at Millenia, Harmon Photo, Orlando Magazine, The Bougainvillea Clinique.
…………………………………………………………
** EVENT DONATIONS**
Suggested donation on opening night to support Snap! Cultural Events.
…………………………………………………………
** EVENT CDC PROTOCOL**
Guests are required to wear a face covering.
** PLEASE READ **
By registering you acknowledge that you voluntarily assume the risk that I may be exposed to or infected by COVID-19 by attending the exhibition opening at SNAP! Downtown. You understand that the risk of becoming exposed to or infected by COVID-19 at Snap! Downtown may result from the actions, omissions, or negligence of yourself and others. You voluntarily agree to assume all of the foregoing risks and accept sole responsibility for any injury, illness, damage, loss, claim, liability, or expense if I become ill with COVID-19 in connection with you attendance at Snap! Downtown. You hereby release, covenant not to sue, discharge, and hold harmless Snap! Orlando and its employees, agents, and representatives, of and from all liabilities, claims, actions, damages, costs or expenses of any kind arising out of or relating thereto.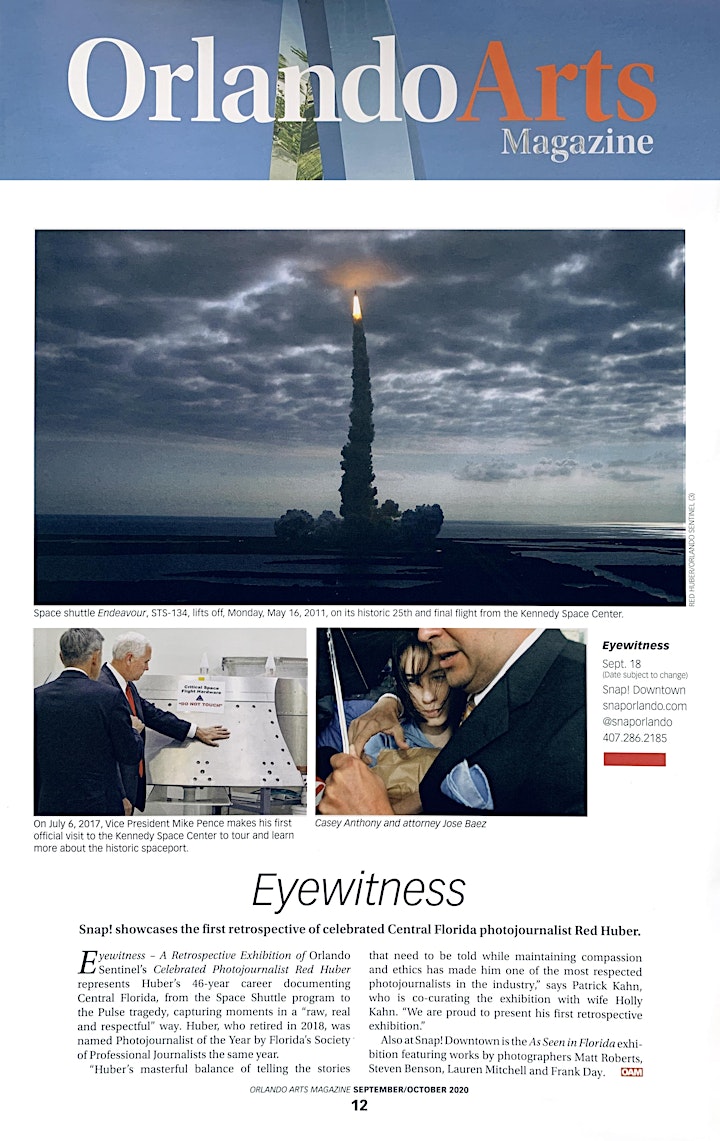 Related Events