[FREE MASTERCLASS] Are You Mad Like The JOKER?
September 21, 2020 @ 8:00 pm

-

9:00 pm
Are you mad like the Joker?
CHECK DETAILS & REGISTER HERE 👇https://webinar.novelphilosophy.academy/joker2
Although you may not wear white face paint, green hair, or walk around in a pair of oversized clown shoes to work — believe it or not, you're more like the Joker than you think.
What if I told you that your life shares many similarities to the life of the Joker?
Like the Joker, we all want to find meaning and happiness in life. Typically, we are taught that the path to finding fulfilment can only be achieved if our purpose in life is bigger than ourselves.
Similarly, Arthur Fleck was told that his purpose in life was to spread joy and laughter to the world. His mother always told him to smile and put on a happy face.
It sounds like harmless advice, doesn't it?
Unfortunately, despite his hardest efforts, Arthur couldn't give to others what he didn't have.
This is precisely the seemingly harmless advice which has the power to destroy our lives, the same way it destroyed the life of the Joker.
More than ever, we need to be cautious about what advice we are exposed to. The only way to achieve this is by becoming better at asking the right questions.
In our upcoming online masterclass, you will discover the right solutions to your problems by thinking like a detective.
Here are some of the key things you will learn:
• The surprising similarities between your life and the life of Joker, and how this can help you deal with everyday challenges better.
• How some of the self-help industry's claims on how to achieve happiness, is in truth, silently destroying our happiness.
• Why the process of self-discovery is important to our mental health, and how this can help us find fulfilment in life.
• What destructive ideas led to the Joker's madness, and what similar
ideas are present in our society.
Register now to learn the unique tools that will help you start thinking clearly and build a fulfilled life that you can be proud of.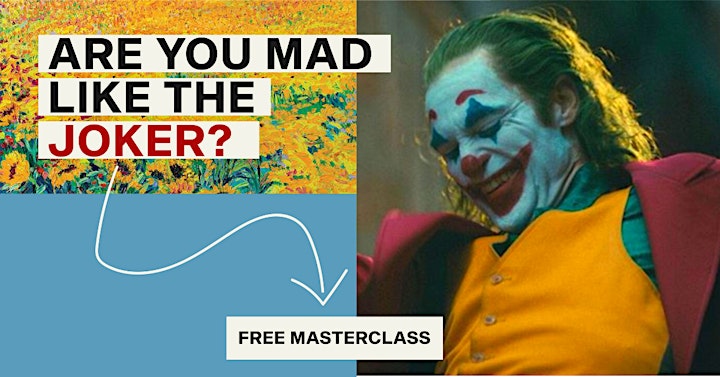 Related Events