Indie Folk Fest 2019
February 16, 2019 @ 12:00 pm

-

5:00 pm

Various prices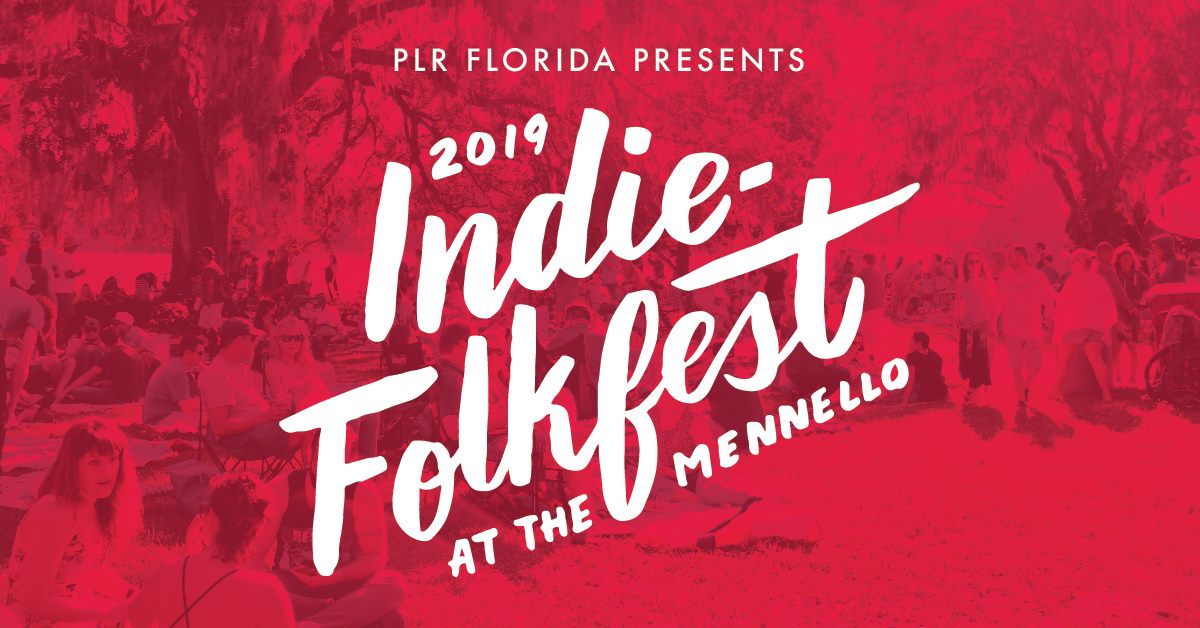 Get ready for the 5th annual Indie-Folkfest presented by PLR Florida at The Mennello Museum of American Art! This annual FREE family-and pet-friendly event takes place on February 16, 2019, from 12 to 5 p.m. The Mennello Museum is excited to bring the community together again in our lakeside sculpture garden to showcase local, national and regional art, music and culinary talent.
Our 2019 festival promises to be the biggest yet! This past February, we welcomed over 5,000 guests to the museum grounds for Indie-Folkfest 2018. Guests enjoyed beautiful weather, local music, food, beverages, and art.
Interested in becoming a sponsor, vendor, artist or volunteer? Visit www.mennellomuseum.org/iff. All applications are due by Dec. 31, 2018.
______________________
Indie-Folkfest 2019 EmCees: Brendan O' Connor (Bungalower), Jenny DeWitt (Townie Tourist) and Jon Busdeker!
Throughout the afternoon participate in raffles and live auctions featuring gifts generously donated by local businesses.
Don't forget to bring the kids! There will be an art project station and a communal fence painting zone for young ones and the young at heart.
Festive live music will soundtrack the afternoon.
2019 MUSIC LINEUP: COMING SOON
And, don't miss your opportunity to snag a limited-edition Indie-Folkfest 2019 t-shirt and poster featuring artwork by a local artist — announcement coming soon!
Indie-Folkfest 2019 serves as a gift from the Museum's City-Appointed Board of Trustees in efforts to promote local art and community. A portion of all proceeds will benefit The Mennello Museum of American Art's education and family-friendly programs. The Museum's City-Appointed Board of Trustees members are Gretchen Hahn, Chair; Teresa Campbell, Vice Chair;Flynn Dobbs, Greg Mason, Joshua Romero, Meredith Smith, and Luis Zapata, Jr.
✨Indie-Folkfest 2019 Sponsors:
PLR Florida
Laughlin-Beers Foundation
City of Orlando
Orlando Weekly
Central Florida Lifestyle Magazine
Become a sponsor today at www.mennellomuseum.org/iff
The Friends of the Mennello Museum match all funds raised by the Museum's City-Appointed Board of Trustees.
_________________
We're super excited to share some of the awesome vendors, artists and artisans who have signed on for Indie-Folkfest 2019!
✨ 2019 VENDORS:
The Courtesy Bar
Maxine's on Shine
Olde Hearth Bread Company
The Thirsty Topher
Simply Foods by Courtney
Sugarbuzz Dezert Company
Hanson's Shoe Repair
Tapa Toro
La Femme du Fromage
Dawg Swim
…more to be added!
✨ 2019 ARTISTS & ARTISANS:
Lure Paper Goods
Just Okay & Leviathan Artworks
Lady Lion Creations
Kathy Ivers
Gypset
Chelsea Smith
Life's Palette
Flynn Dobb's Curated Booth
Annette King
Dawn Schreiner
John Baker
Jon Napoles
…more to be added!
Interested in being an artist or artisan? Learn more »
mennellomuseum.org/iff-artist-info/
Volunteer at Indie-Folkfest »
mennellomuseum.org/iff-volunteer-info/
_________________
For more information, visit:
mennellomuseum.org/iff
Interested in sponsorship? Learn more » mennellomuseum.org/iff-sponsor-info/