Pillowlando 2019
April 13, 2019 @ 1:00 pm

-

2:30 pm

FREE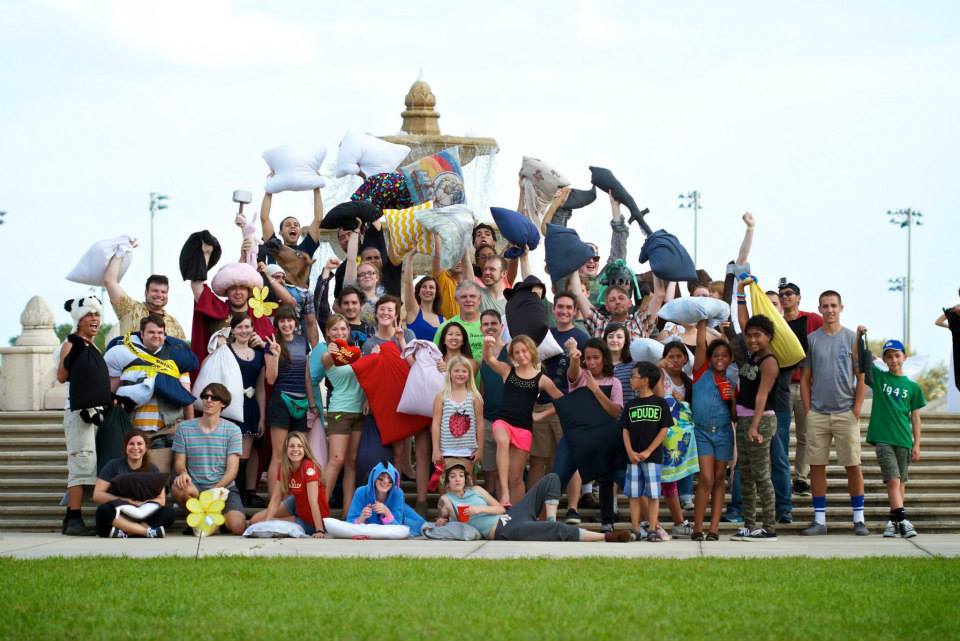 Lake Eola Park corner of Robinson and Eola.
***GRASSY AREA NEAR THE PAGODA***
In solidarity with International Pillow Fight Day, Orlando takes up soft armaments to engage in the most knock-down, drag-out, 60 minutes of harmless fun all year!
12:30-1:00pm – Rally at Lake Eola Park (corner of Robinson and Eola)
1:00pm SHARP – Listen for the official whistle to begin the Pillow Fight! The soft battle begins!
2:00pm SHARP – Peace is declared: stop swinging.
2:00pm Onward – Bask in glory: get a snow cone or beer from a nearby establishment with your brothers and sisters in arms.
RULES OF ENGAGEMENT:
Fight Featherless – Feather pillows can make a feathery mess– also, some people are allergic
Fight Nice – It's a pillow fight, dummy.
Fight In Style – We strongly encourage costumes
Fight Safe – If you can break it or lose it, don't bring it. Keep jewelry, watches, mobile devices, and the like off the battlefield. That stuff can scratch you or others while you swing that pillow wildly.
Fight Fit – Hydrate, stretch, rest when you need to. Pillow fighting is harder than you think. It is highly recommended that you bring a cooler and some drinks. If you want to be awesome, bring drinks to share!
Fight Family Friendly – There'll be kids in the mix, do your part to make it fun for all.
Please post photos here and hashtag #Pillowlando2019
Related Events