RESHEDULED – Sofas & Suds Registration to Race 1/22/23!
January 22 @ 2:00 pm

-

6:00 pm

Various prices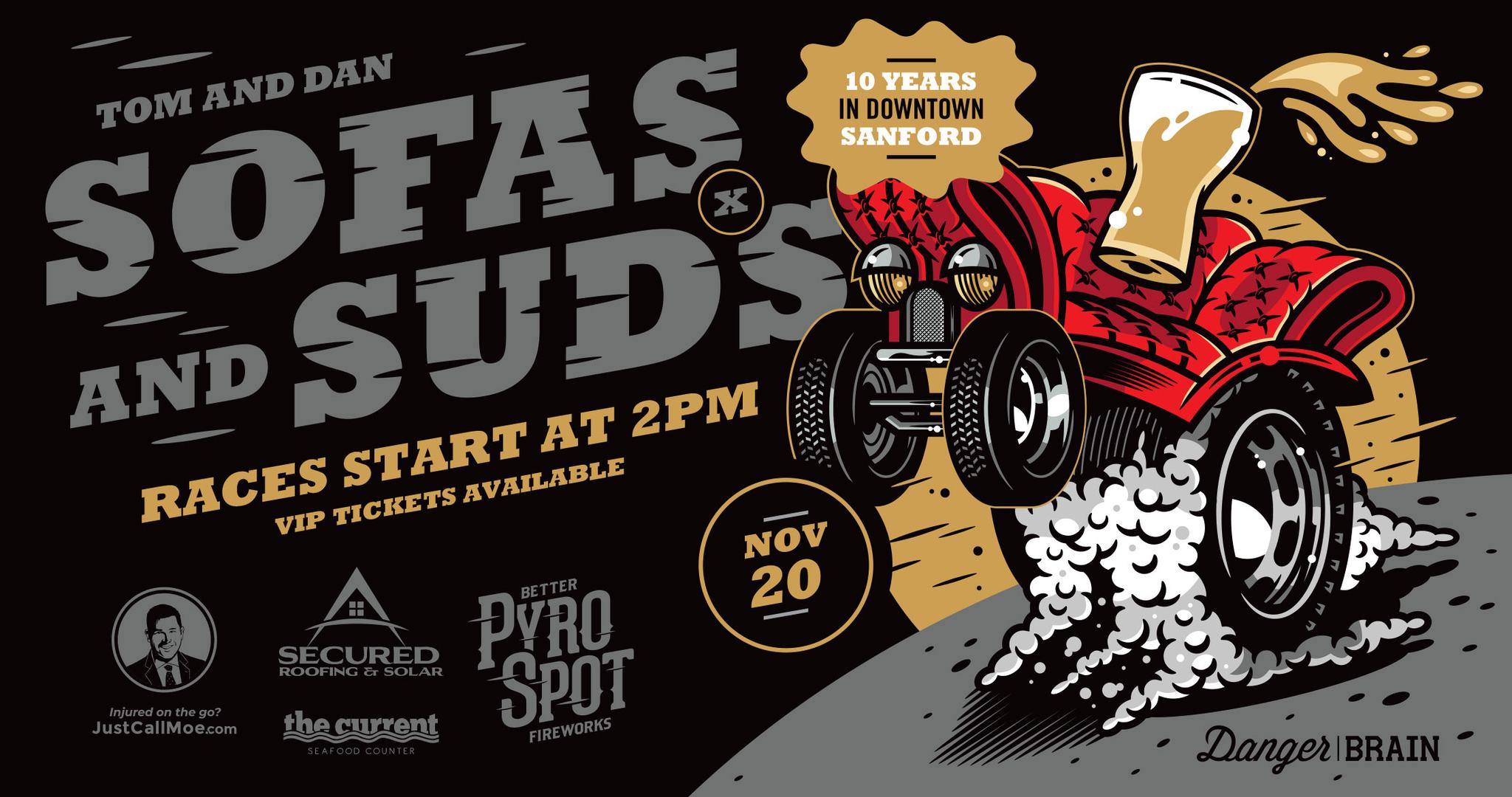 Sofas & Suds! RESCHEDULE FROM 11/20/22!
Now coming to Sanford Janurary 22, 2023!
Rules and Regulations
What the hell is this? Sofas and Suds is a Couch Racing and Beer Chasing event taking place in Sanford, FL on Sunday, January 22, 2023 (2-6pm). It will be local businesses pitting their racing outfitted sofas against one another to determine who is really the best at pushing a sofa up and down the street . . . or who is the worst but yet the crowd favorite. Duh.
Who is participating in the races? We are encouraging small businesses in (but not necessarily limited to) Sanford to field a couch-racing team and enter. You will be entered into a bracket-style (16 teams) single-elimination race format to determine couch-pushing supremacy.
Why should we enter? Well, besides all of the glory? Winning business gets possession of the Champions trophy (see photos on Facebook page) for half of the duration of their reign to show off to their customers. The Champions Trophy will represent both the crowd-favorite Couch Team and the actual winning racers. Severe bragging rights go along with that. Also, it will be a huge team-building exercise as your staff comes together to "compete" with one of your neighbors.
Is there an entry fee? Yes. Yes there is. To offset costs and ensure teams show up, we ask them for an entry fee. We are shooting for having exactly 16 teams enter (and show up) for this event. Having all 16 teams signed-up and paid in advance allows us to get set up a little better in advance. But, more importantly, it allows us to run the races according to a 16 team single elimination bracket, which makes the event run so much smoother. . . which is more enjoyable to the event-goers who come out, as well as the participants! We are asking for $225 per team, which includes six (five for the team, one for a "coach") VIP wristbands (a $294 value) for your team. VIP gets you beer, wine, liquor, and bathroom access during the race. So really, it's a free event if you enjoy some beverages! (Any other friends or family who wish to hang out with you guys must purchase a VIP wristband. No exceptions!) VIP this year is 21+, also no exceptions!. Also included with your entry fee will be several mentions of your business on all advertising platforms we will be using this year. Your business will also be featured prominently that day during the event!
How do we enter? First of all, we are only accepting sign ups from local Sanford Businesses or returning teams until November 1st. After that date, if there are still openings we will accept other teams to fill them to the 16 needed to race. By filling out the attached form and submitting it to Mike Smith at The Current Seafood Counter at Henrys Depot at 212 W. First St. in Sanford (along with $225 cash or make check payable to Mike Smith), you are committing to entering the competition (and MUST show up to race). We will announce all new teams on the Sofas and Suds Facebook Page as they enroll and your business will be mentioned several times leading up to the event. Teams will be registered in the order that they are submitted. Once we get our 16th entrant, registration for couch racing will be closed.
(Check out the rules/registration for the recliner division, no cap on number of teams!)
Upon check in on the day of, you will be asked to sign a disclaimer waiving the organizers of any liability for any mishaps that may happen (sorry for the buzzkill, but no-one has been (seriously) injured as of yet!).
What does a Team consist of? A team consists of 5 persons, with at least one person on the sofa at all times. The team of five is permanent throughout the event, which means NO SUBSTITUTIONS! Unfortunately this is necessary to keep things fair. By allowing any substitutions at all opens up a large number of ways for teams to bend the rules for their advantage, and thus, making the event less fun for all. You may race with less than the starting five if necessary, as long as one person is always on the sofa at all times.
What about the Sofa? Well, we suggest you start to keep a lookout for a couch that could potentially take you to the top. It could be that old pleather thing in the den that you have thought of getting rid of. It could be that plaid one on the curb you just drove by today. It might be the one that's on Craigslist right now for free! As for the regulations, well we will keep it simple:
1. Couch must be at least 70 inches in length (original outer armrest to original outer armrest). This is to prevent anyone from taking a short-cut and rolling up in a loveseat. Your sofa will be subject to measuring at check –in. Also, the width must be original factory width and cannot be altered. The cushions need to be in place, because it has to look like, and be, a couch! Oh, no wicker sofas, no day beds, no pieces of a sofa, and . . . NO FUTONS!!!!! If you show up with anything less than a full-size and legitimate sofa, you will be allowed to race, but in the event that you win that race, the other team can ask that you be disqualified (as long as their sofa is legit of course!). This rule has to be enforced, if you have any doubts about your sofa, please message us ahead of time.
2. SAFETY! Please always consider safety, both for yourself and your opponents in mind when designing your racing vehicle. Please avoid any and all sharp edges. Any and all protruding parts must be padded, if not avoided all-together. Always try to avoid collisions with the other teams to minimize the chances to cause injury.
3. The only other rule is that it must stay 100% human powered. No sort of engines, drive-trains, or assistance other than caffeine or alcohol will be allowed (we don't drug test, yet). This is serious and the playing field must stay even. It's also a safety issue . . . someone getting hit by an errant sofa at 9mph is a lot better than someone getting hit at 19 mph . . . These things we just already know.
4. We recommend a trip to the hardware store right away to start getting some ideas. Also, we learned from past experiences, that wheels that inflate, swivel, and have treads are a HUGE plus (what with the brick streets and all). Also, anticipate needing to make some basic repairs if you continue to advance. Hint: Zip ties were worth gold at past races!
5. There will be TWO spots on the Champions trophy up for grabs: The first of course is for the event champion/fastest couch! The other one will be for Crowd favorite team which will be decided by a very scientific voting process . . . crowd applause. So winning the attendees over from the get-go is a wise idea. The Crowd Favorite Team and the Fastest Team split possession of the Champions Trophy until the next Sofas and Suds.
6. PLEASE! No political statements are to be made during this event. This event was brought to Sanford to unify our town, not further divide. We appreciate your adherence to this new rule.
7. No physical contact is to be made against the opposing team. Allowing for contact between teams is a huge can of worms that has to be sealed back up. That goes for projectiles of any sort directed toward the opposing team!
What if I have more questions? Good Question! Check the facebook page first at /sofasandsuds to see if it can be answered there. Otherwise, email
[email protected]
with your questions and we will get back to you right away.
Registration for Sofas & Suds 2022
Business Name:____________________________________
Team Captain:_____________________________________
Racer 2:____________________________________________
Racer 3:____________________________________________
Racer 4:____________________________________________
Racer 5:____________________________________________
Captain Phone Number:__________________________
Email Address:____________________________________
ATTENTION, if your team registered for the races originally scheduled for 11/20/22, you just have to re-confirm your participation for the new date.
If you hadn't previously signed up and wish to race now, please print this out, fill out, and drop off with your cash or check for $225 (made out to Mike Smith) at The Current Seafood Counter (212 W 1st Street, ATTN: Mike Smith), to secure the next open spot. Once we receive our 16th team, registration for the sofa races closes.
Thanks!