Tail Break Rave
August 22, 2020 @ 1:00 pm

-

August 23, 2020 @ 1:00 am
Best of Breaks Promotions bring you an all new concept for safe raving! Join us at Ace Cafe Orlando for Our Tail Break Rave outdoor event
Best of Breaks Promotions, Fully Loaded Entertainment and Ace Cafe Orlando proudly present:
**TAIL BREAK RAVE**
SATURDAY AUGUST 22, 2020
1pm – 12 pm
ACE CAFE PARKING LOT
WE'RE BACK!!
Join us we bring you an all-new concept in raving! The Tail Gate Rave! We have teamed up with Ace Cafe Orlando to bring you the safest way to rave in today's times!
Featuring DJ's on Stage:
THE GODFATHER OF BASS – DJ MAGIC MIKE
HUDA HUDIA
ONDAMIKE
GN – G$MONTANA & NEUROZIZ
SWEET CHARLIE
TOOLTIME
JIMMY JOSLIN
JASON BROWN
DYNASTY
AFRODISIAX
SISCO
SWAGGER
G-FORCE
JEFF JUSTICE
LISA LOYD 4REAL
AND YOUR HOST ROB-E THE DJ!
Limited Early Bird Tickets on sale now for $20 / person
Monday 7/27 to the day of show – Tickets $25 / person
VIP Tickets $40 (VIP gets you exclusive access to the back patio at Ace Cafe – These tickets are VERY limited – get them while you can!)
Here is how this new concept works.
This event is utilizing the Ace Cafe parking lot, drive-in movie style. All cars will be directed to front-facing parking towards the stage. 1st cars to arrive get the best parking spots up front to the stage. We can hold a total of 80 cars, so 1st come, 1st served. Once you are parked, you must remain there for the duration of the event.
Upon first arriving at the gate, everyone in the vehicle MUST have their ticket, whether it is printed, or on your phone to be scanned. EVERYONE will be getting their temperature checked in their cars before the car can enter, EVERYONE should be wearing a face mask.
We will have Sanitation stations with hand sanitizer throughout the grounds.
All Ace Cafe & Best of Breaks Promotions team members will have their temperature taken before the event begins, and all will be wearing face masks as per CDC guidelines.
All Ace Cafe team members inside will be wearing face masks and gloves in the event you want to go inside to dine. Ace Cafe will also have their outside bars and grill open.
The restrooms are located inside Ace Cafe. All restrooms, door handles, and table & bar tops will be sanitized frequently throughout the event as per CDC guidelines.
All Ace Cafe & Best of Breaks Promotions team members will practice CDC handwashing guidelines throughout the event.
All social distancing rules apply to this event – cars will be at least 6 feet apart.
Now to make this comfortable for you!:
Bring your beach/ lawn chairs/Umbrellas unless you plan on sitting in your car the whole event.
Of course, dancing is permitted, and encouraged! Please make sure you stay within close distance of your vehicle that you arrived in.
If you will be sitting next to your car, feel free to wear your swimsuit, as it will be HOT!
We will have an FM transmitter transmitting so you can listen on your car stereo, along with the MASSIVE sound system on the main stage!
ABSOLUTELY NO OUTSIDE COOLERS WITH DRINKS OR FOOD TO BE BROUGHT ONTO THE EVENT GROUNDS. ALL CARS/BAGS WILL BE CHECKED BEFORE ENTRY – NO EXCEPTIONS
We are following the CDC guidelines by the book, so this can be a safe event for you, anded everyone involved.
Tail Gate Rave
Ace Cafe Orlando
100 West Livingston Street
Downtown O-Town
Gates open at 1 pm sharp!
Thank You Rob Tatarko | Owner Rob-E TheDJ Entertainment Group Fully Loaded Audio & Lighting 321-426-8384 [email protected] Robethedj.net
…
View entire message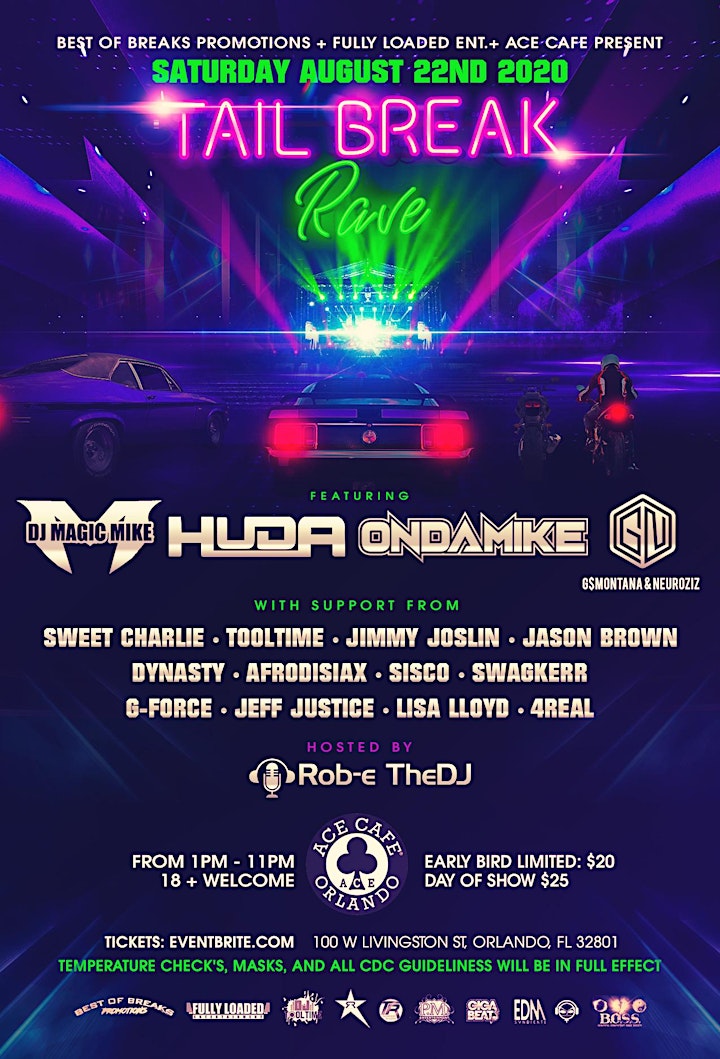 Related Events