Zymarium Meadery Grand Opening – 8/19
August 19 @ 12:00 pm

-

11:30 pm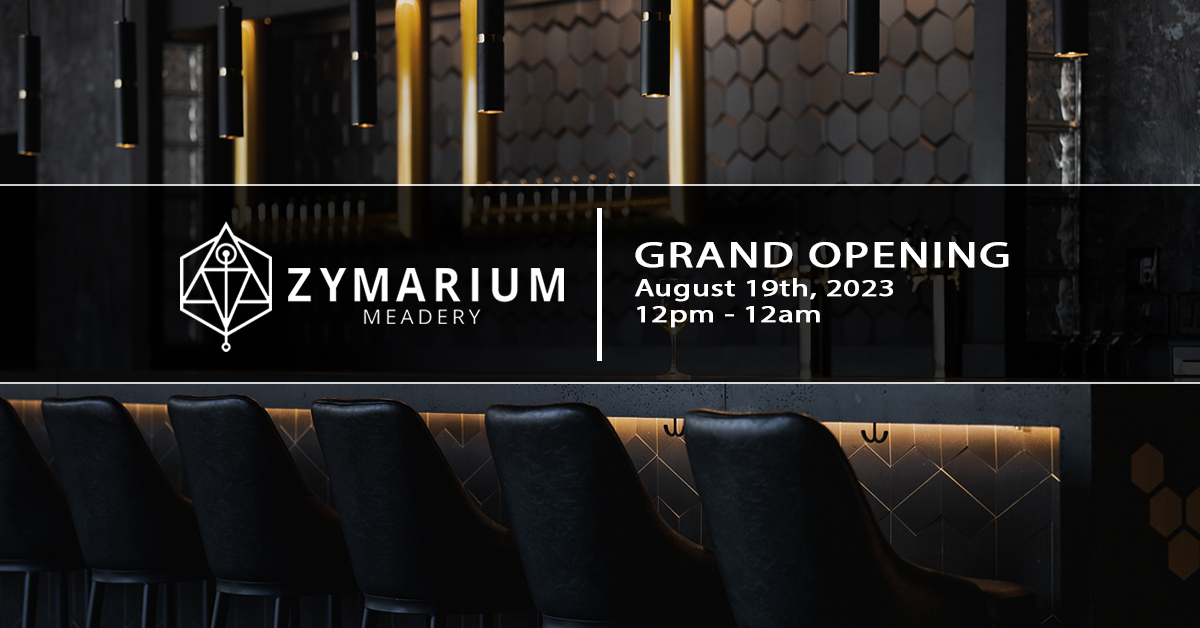 Zymarium Meadery is finally opening its doors on 8/19 and we look forward to sharing lots of mead with all of you in celebration!
Grand Opening Party!!!
Noon – Midnight
Free entry, no RSVP needed!
18+ different meads on tap, special one-off kegs, limited bottles for sale, amazing food trucks!
*IMPORTANT DETAILS*
In order to allow more people to enjoy the grand opening throughout the day and do our best to not have to turn people away or have people wait in the heat, WE WILL BE LETTING GROUPS INTO THE TAPROOM IN 2 HOUR BLOCKS, starting at 12pm (noon).
We will be using colored wristbands for each 2-hour block, which will be given away at the door on a first-to-arrive basis. Once all wristbands for a 2-hour block are given out, we will cycle to the next color, and so on.
– Each two hour block is a set time (12pm-2pm, 2pm-4pm, 4pm-6pm, etc.), so we encourage you to arrive at the beginning to take full advantage of the 2 hours, which should be plenty of time to enjoy a variety of great meads! At the beginning of each block we will let in the next colored-wristbands, so we will be asking everyone from the previous block to settle any tabs and make your way outside
– If a group leaves early before the 2 hour block has ended, we will let people from the next block in early to fill their spot (until we reach capacity).
Bottle Release:
We reserved a limited amount of previously released meads to have available at our Grand Opening!
– Bottles go on sale at NOON, and each mead has a different limit per person (
#pp
).
Endless Blueberry (2pp)
Endless Blueberry Vanilla (1pp)
Endless Cherry Pie (2pp)
Endless Raspberry: Tupelo Reserve (1pp)
Existential Magnetism (2pp)
– There will be a separate bottle line, bottles will not be sold at the bar.
– These bottles are to-go only, and not for on-site consumption.
Limited Kegs:
We will be tapping two special one-off mead kegs at noon, with an additional two one-offs to replace them once they kick!
Food:
– Ceylon Roti Hut will be out front from Noon – 4pm
– Pizza Slut will be out back from 5pm – Sellout
More Important Details:
– Our off-site parking lot is located at 1021 Lake Highland Dr.
– We highly recommend riding a bike, carpooling, uber/lyfting
– There will be a cash-only line at the far end of the bar, along with a cash discount
– All seating is communal, make some new mead friends
– No flights on Grand Opening Weekend
– No outside alcohol please
– We will also be open Sunday August 20th, from 2pm – 8pm!