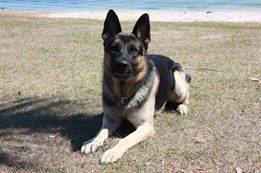 Photo of OPD K9 Seabee from OPD's Facebook Page
UPDATE: Seabee and his partner are doing well and are back on the job!
Police responded to a home burglary on Chelsea Street yesterday afternoon. When the Orlando Police Department showed up, the suspect ran from and was tracked to a swampy area where he was hiding in the water and grassy area. The Orlando Police Department posted on Facebook that:
He resisted all efforts to surrender and K9 Seabee went into apprehend him. The suspect grabbed the police K9 and the suspect attempted to kill the dog by drowning him. Seabee has spent the night in the Animal Hospital and we are waiting an update on his condition. The suspect was taken to jail.
We'll post any updates on Seabee we get from OPD.