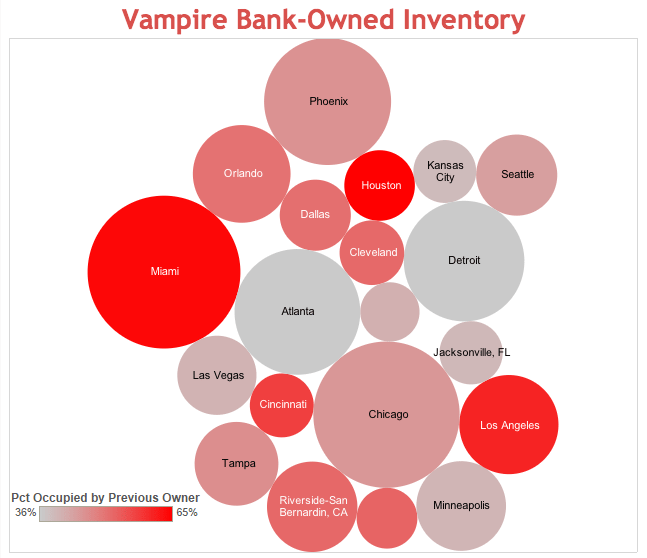 OK well not actual vampires but that's the term RealtyTrac is using to describe bank-owned homes that are still occupied by the previous homeowner who was foreclosed on.
"On the surface these properties often will look like normal, non-distressed homes, but beneath the surface they represent a shadow inventory that is becoming more imminent as rising home prices motivate banks to sell off these homes to try to recoup their losses on soured loans," RealtyTrac VP Daren Blomquist said.
RealtyTrac estimates that 50% of REO properties in the Orlando area are occupied by the previous owner. That's slightly higher than the national average of 47%.
And while we're on the topic of monsters living in homes, RealtyTrac also estimates that 20% of the foreclosed homes in the Orlando area are Zombie foreclosures. Those are homes that are still in the foreclosure process but have been vacated by the homeowner being foreclosed.
Blomquist told Bungalower, "both of these housing situations are a bit scary for the housing market as they represent an often unrealized distressed inventory that has yet to be disposed of but eventually will need to be dealt with. The holding back of this distressed inventory has allowed the housing market to recover more quickly than many suspected, particularly in terms of home prices, but as these homes are listed and sold over the next couple years it will likely slow the torrid pace of the housing recovery that we've seen over the past 18 months."
The complete report from RealtyTrac on Zombies and Vampires in the housing market can be found here.