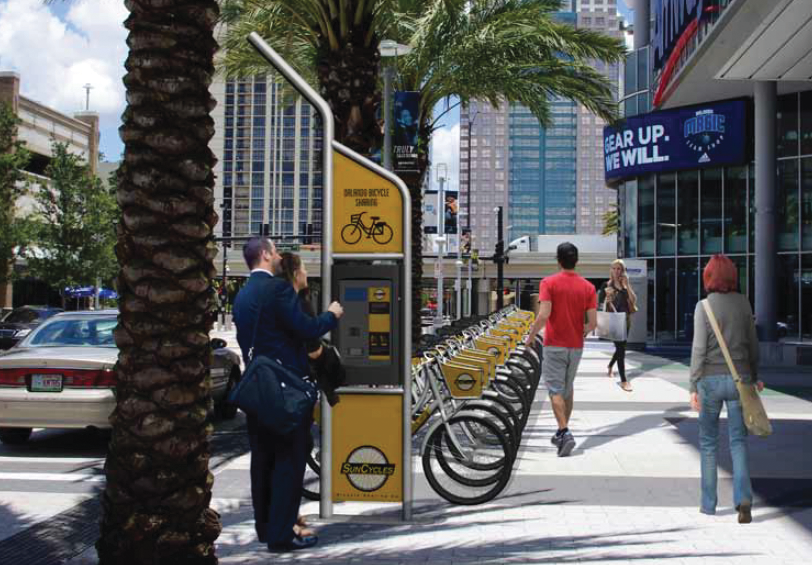 The City of Orlando notified the two companies who bid to set up and manage a bike share program in the city that CycleHop (Website), who recently purchased Orlando based SunCycles, ranked the highest.
The City will now work to establish a contract with CycleHop and get final City Council approval.
CycleHop's proposal included a setup where users will pay a monthly, weekly or daily membership fee to rent the bikes. Members would then get one hour of free bike rental each day. After that they would pay a small fee.
Peter Martinez Program Director at CycleHop says the goal of the program is to make "biking a viable option as far as transportation."
The company proposed 30 locations with 200 bikes for the first phase. We covered their proposed bike hub locations in a previous post. The proposal allows for 1,000 bikes at 94 hubs in phase three.
Martinez said picking the correct locations is key to the system, "we took into account what people really wanted and where they really wanted it to be and I think that's vital for a successful bike share system."
The exact pricing will be determined in negotiations with the city. Other city's bike share memberships range from $45 to $95 annually. With options at the month, week and day level.
CycleHop uses the Social Bicycle platform which will allow members to rent bikes via their mobile phones or kiosks at the hub. If they want to, riders can return to a non-hub location and pay a bit more. The amount that they pay to return to a non-hub could then be used to incentivize the next rider to rent that bike and return to a hub. They would use the bikes' GPS' to locate and re-distribute their bikes each evening.
Martinez says the bike technology goes beyond just reserving and riding. Because the bikes are tracked using GPS, that data can be shared with City planners in aggregate. "That will allow them to target what routes people takes and know where to invest the money for improvements to the bike infrastructure."
In the proposal the name of the Orlando bike share was SunCycles. However, Martinez told Bungalower that they're looking for potential title sponsors to help underwrite the program. This would be similar to the setup in New York where the program is sponsored by Citi Bank and it's called Citi Bike.
He says now they are focused on working with the City to sign a contract based on their proposal, but that they have committed to getting the program running within six months. As he points out that will be just in time for SunRail.
"Within 180 days we'll have bikes on the ground but we are looking to do it sooner than that." He added, "we're ready to hit the ground running as far as getting bikes on the road and we are currently pursuing station and title sponsors."
Orlando's car share program is expected to launch this month.