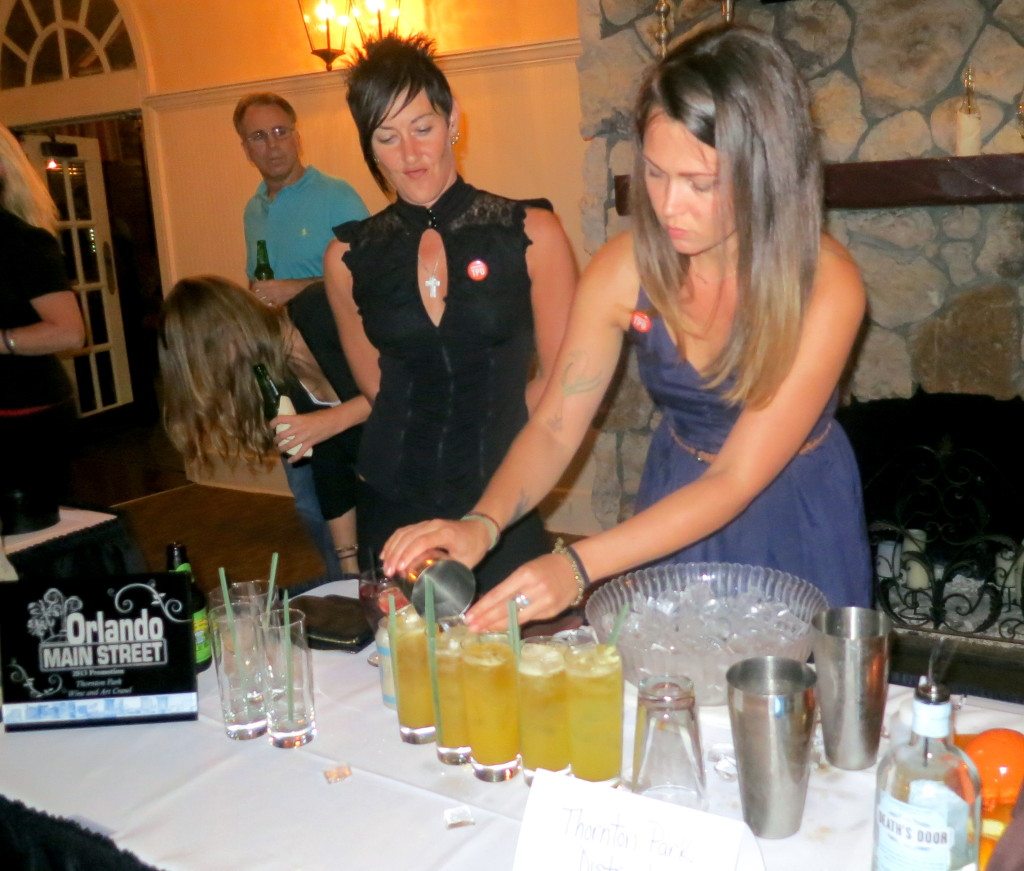 At last nights Orlando Main Street Awards the eight main streets participated in the Battle of the Main Streets: Mixology.
As we've covered before each main street entered in a cocktail that represents their area. Of the eight Orlando Main Streets seven are within the Bungalower area; Audubon Park Garden District, Church Street District, College Park, Downtown South, Ivanhoe Village, Mills 50 and Thornton Park District.
I was fortunate enough to try out all of the drinks and help judge for the winner along with four other guest judges.
The winning cocktail was "The Bungalow" from the Thornton Park District created by CityFish.
And while we do love the name (although it could have use an "er" at the end) that only played slightly into my ranking.
Here are the recipes from each of the cocktails. Which one looks the best to you?
If you see one you like made by a restaurant or bar you can order it next time you are there.
Audubon Park Garden District
Audubon Flip
2 oz orange or tangerine juice
2 oz Genus vodka by Winter Park Distilling (if unavailable, substitute Crop Organic Vodka)
1 oz St Germain
1 egg white from a backyard chicken  (if unavailable, substitute egg white from a Lake Meadows egg)
Shake vigorously with ice, serve strained.
Church Street District
Church Street Tavern Avocado Margarita
A gold tequila margarita shaken with agave nectar, fresh lime, and pureed avocado makes this cocktail as unique as it is amazing!
College Park
Jack Kerouac by Ollie's
Clover Honey
Fresh squeezed Florida orange juice
Dash of ground cloves
Jack Daniels Tennessee Whiskey
A Blackberry and orange slice garnish
Measure to taste
Downtown South
Chocolate Blood Orange Martini by Doc's Streetside Grill
2.5 oz Vanilla vodka
1.5 oz Citron vodka
1.5 oz Kinky Blood Orange Liqueur
.5 oz Creme de Cocoa
Fresh squeezed Orange Juice
Splash of Grenadine (for color)
Chocolate syrup swirl on a martini glass
Ivanhoe Village
Afternoon Showers
1.5 oz. Scarlet Ibis Rum
.5 oz Orange blossom & lime infused American Harvest Organic Vodka
.5 oz Velve Falenum
.5 oz Fresh lime juice
.75 oz Wildflower Honey Shrub
Shake ingredients and strain over crushed ice. Top with Bitters and garnish with mint sprig.
Mills 50
Left on Colonial Lemonade
Club soda
1 oz Lemon juice
1 oz Green Chartreuse
2 oz Gin
.5 oz Simple syrup
Lemons for garnish
Fill glass with ice and fill half way with club soda. Mix juice, gin, Chartreuse and simple syrup and add to glass. Swizzle and garnish with lemon round.
Semoran Business Partnership
Very Vera Banana
1 pint fresh or frozen strawberries
1 Banana, peeled and sliced
4 oz Limeade concentrate
4 oz Simple Syrup
5 oz Rum
2 trays of ice (enough to fill rest of blender)
Thorn Park District
The Bungalow (by CityFish)
5 oz Death's Door Gin
5 oz Lemongrass syrup
5 oz Freshly squeezed orange juice
2 dashes House made orange bitters
5 oz Cigar City Florida Cracker
Orange peel and lemongrass garnish