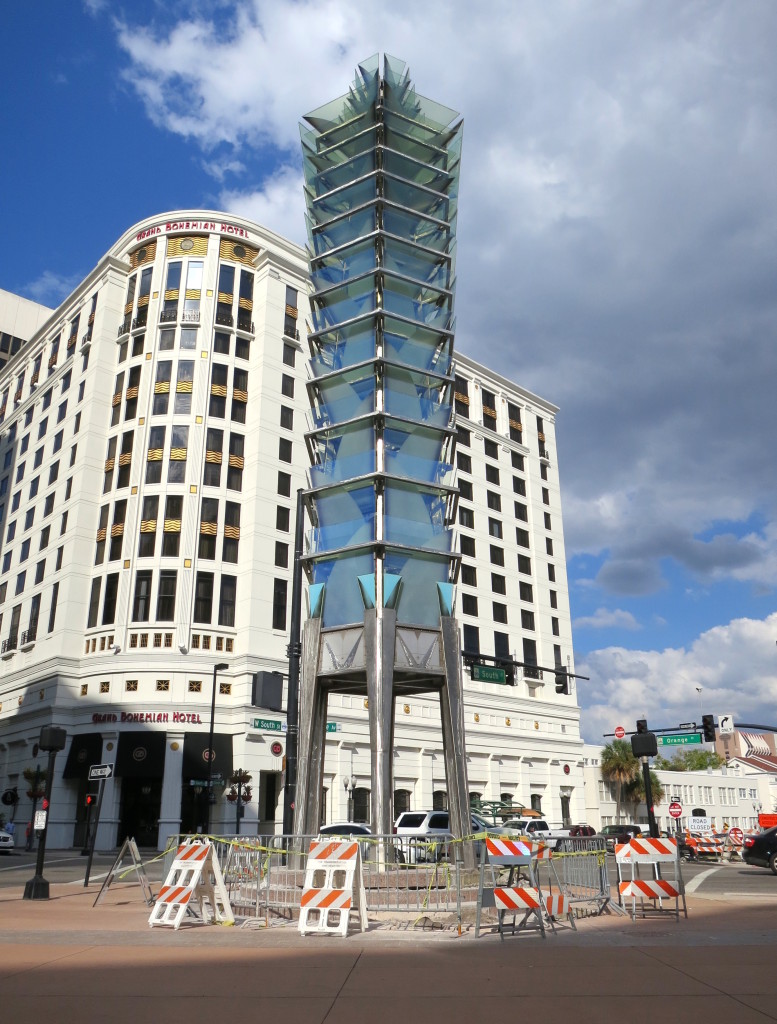 A private group helped to raise money to restore the Tower of Light sculpture that sits outside City Hall in City Hall Plaza. The sculpture will be re-lit at a ceremony on November 12.
The Tower of Light sculpture was originally installed in 1992. The original halogen lighting failed two years after installation.
The Commercial Real Estate Women (CREW) Orlando Board met to discuss the idea of funding a restoration effort for the Tower of Light to time with the City's See Art Orlando project.
"The CREW organization felt, as do many downtown businesses and residents, that it would be almost criminal to celebrate the installation of so many new public pieces of art in the core business district and ignore this once proud public art installation," said Doris Wasson, CREW Orlando project team member.
In January of 2013, CREW formally committed to the City that they would foster a fundraising project to clean the Tower, relamp it and repair or redesign the basin. The City secured permission from the artist, Ed Carpenter, to restore the piece.
CREW was able to complete the restoration for $52,792, just over a third of the retail cost thanks to in-kind donations. City funding was not used in the project.
"The piece itself, and the artist, also deserve credit. The Tower has withstood three hurricanes, countless thunder and lightning storms, years of unintentional neglect and a few acts of vandalism. Like the City Beautiful, it remains proud and undaunted. The 21st-century improvements add to the one-of-a-kind beauty of the piece. We believe the new & improved Tower of Light will be a true focal point for the downtown center, as iconic as the Lake Eola fountain a few blocks to the east," Wasson said.
Click here for more information on the Tower of Light Illumination Ceremony.