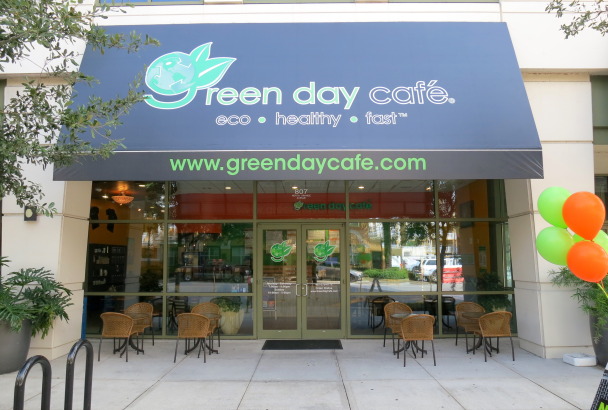 Green Day Cafe (Website | Facebook) opened their first downtown location today.
The café is located at 807 N Orange Ave in the Uptown District in the former Virgin Olive Market location.
Their menu includes wraps and bowls for breakfast, homemade soups, wraps, salads,  quesadillas, loaded potatoes and stuffed green peppers.
They serve a variety of teas and coffee and the plan to add beer and wine later this week.
As the name implies everything about the café is green from the paper products that are biodegradable to the healthy food.
But they plan to take it even further with their new location by offering 12-week courses on Sunday starting with weight loss and healthy eating.
The classes will take place in their community room.
The café also offers online ordering and delivery from their website.
Green Day Cafe in the North Quarter of Downtown Orlando is open Monday to Saturday from 7:00 a.m. to 9:00 p.m. and on Sunday from 10:00 a.m. to 5:00 p.m.
Here's a look inside Green Day Cafe: