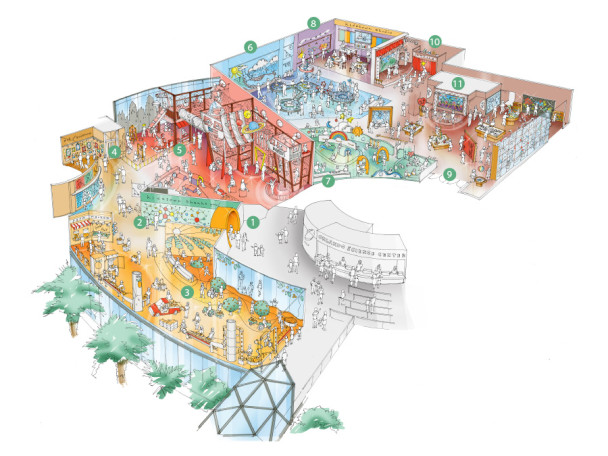 The Orlando Science Center's (Website | Facebook) KidsTown exhibit has been a staple in the community since the opening of the Science Center in 1997.
The specialized 3,000sf early-childhood exhibit and play area has gone through several changes through the years to keep up with the number and age of children it serves. However many parts of the exhibit, including the most popular section the Orange Grove Factory, have remained largely the same.
With 65% attendance growth in the past six years, and 60% of member households with children under age seven, the Orlando Science Center has decided to move and expand KidsTown into a state-of-the-art New KidsTown area on the second floor. The focus of this expansion is on high-quality opportunities for collaborative play and critical thinking.
The move to the second floor will eliminate a currently mandatory ride on the elevator for families of young children with strollers on their way to visit KidsTown.
The first phase of New KidsTown includes pouring additional concrete on the second floor next to OSC's main lobby. Additionally, to help with the flow of traffic, the box office will switch places with the store to receive and greet visitors when they arrive at the Science Center.
New KidsTown will be nearly triple the size of the original exhibit. It is expected to be completed by the end of 2015 and cost $5 million.
New KidsTown will feature specialized areas, including a greatly expanded Orange Grove Factory at its entrance. While serving children under 8 throughout the new space, there will also be a specified play area for toddlers and their parents.
Take a look around the New KidsTown: