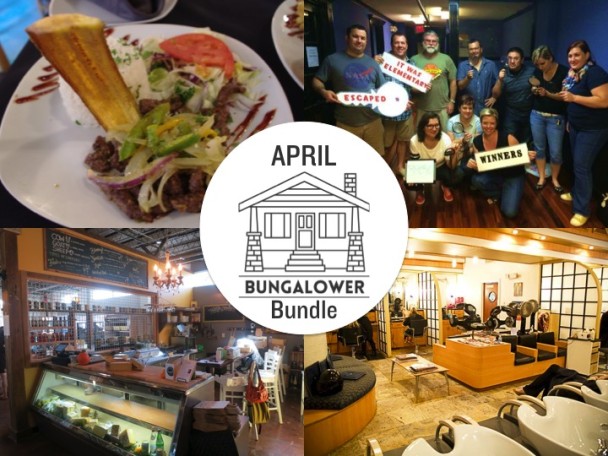 We're thrilled to announce that it is time for our April Bungalower Bundle full of great deals, offers and gift certificates. This month includes over $40 to some of the great places we've written about on Bungalower for just $9.95 . 100% of your membership goes to support Bungalower.
Plus we're always working on new surprises for our members each month.
[button link="http://bundle.bungalower.com/"]Join Today[/button]
Sign up today and use the code "APRILBUNDLE" to get your first Bundle for 99¢!
$10 Gift Certificate to Isla Verde (Website) – Downtown – Isla Verde is serving great Puerto Rican cuisine in the heart of Downtown Orlando. Their dishes are presented with extraordinary flair and flavor. In addition to delicious food, their location on the ground floor of the Chase Plaza Building includes an indoor balcony to feature live bands.
$25 off salon services at Nube Nove (Facebook | Website) – Thornton Park – Nube Nove is a full service salon located in the heart of Thornton Park. You'll find the salon nestled in the neighborhood on Washington Street, just a few blocks east of Lake Eola Park. They offer tons of great services for both women and men! While individuals get $25 off their salon services, couples get 30% off. Don't forget your products. Those are $5 off with this offer as well.
$5 off admission to The Great Escape Room (Facebook | Website)– Downtown – The Great Escape Room is part scavenger hunt and puzzle game. With 60 minutes on the clock, it's a fun, team-building, brain-busting experience. You'll work together as a group to find clues and solve puzzles that will lead you to your escape. It is part scavenger hunt and part puzzle game. Only about 20% of teams are able to escape in time! Do you think you and your friends can meet the challenge?
15% off at La Femme Du Fromage (Facebook | Website) – Audubon Park –  La Femme du Fromage is Orlando's hub for premier artisan cheeses. Check out their selection of high quality, hand-crafted, and unique cheeses. Don't be afraid to ask questions while you're there. La Femme du Fromage is committed to education. Figure out what your favorite cheese is or learn more about delicious varieties you've never heard of before.