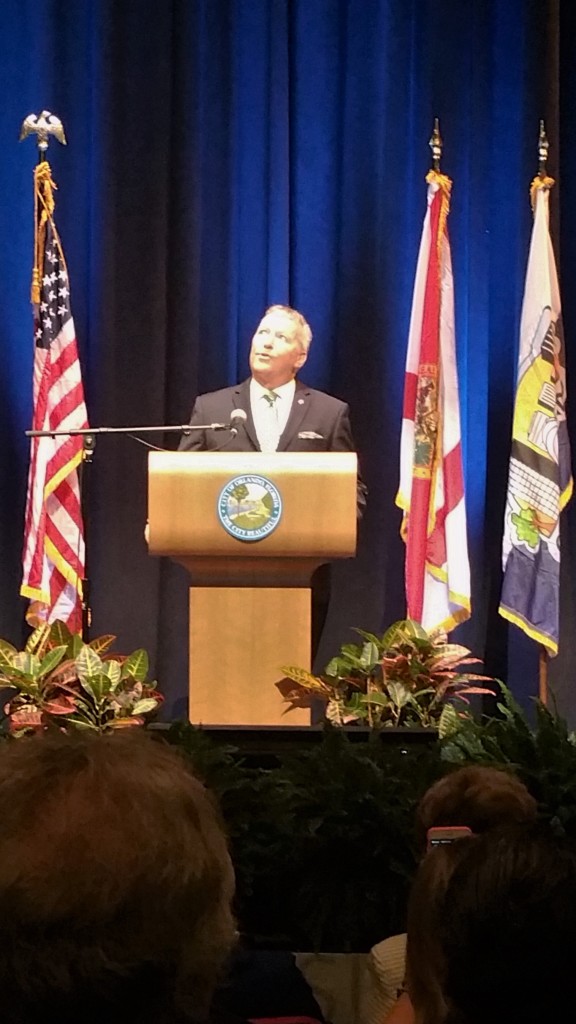 Mayor Buddy Dyer held his annual State of the City today at the Dr. Phillips Center of the Performing Arts, and according to him, Orlando is "stronger than ever."
The hall was filled with viewers and there were even 100 people in an overflow area watching the livestream video in a room nearby.
Major talking points that we noted in Mayor Dyer's speech included:
 Residential crime in the City has dropped by 27%.
The City added 138 officers and firefighters.
The OPD will be increasing the amount of body cameras used by officers in the field.
Resident participation in the City recycling program has increased by 10%.
Through the American Recovery and Reinvestment Act grant, the City invested $1.76M in energy efficiency improvements in 24 City-owned buildings resulting in a 30% energy savings. That computes to $1.1M in avoided energy costs that can be spent on other programs.
Orlando is the "most sustainable City in the Southeastern United States.
The City will be launching a One Person, One Tree campaign that will encourage each resident to plant a tree, resulting in an increase of the City's canopy from 25% to 40% by 2040.
The City will be adding a paddleboard and canoe launch to Lake Ivanhoe.
There will be a new app that will allow residents to report issues, ask questions and get updates directly from the City.
The City will be adding a "pop-up dog park" to Downtown Orlando. (Editor's Note: we hope this was inspired by our installation at One Less Car, One More Park).
The City will try to end veteran homelessness by the end of the year.
At the end of the Mayor's address, he declared that he would again be running for office at the end of his current term.
For a full breakdown of the City's accomplishments and key focus areas, and vision for the future, click HERE.