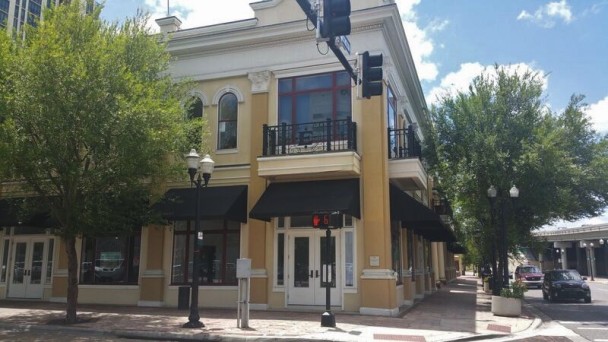 The Church Street Exchange building [Gmap] is quickly filling up with some of the best tech minds of Orlando. The Canvs co-working space (Website), a Bumble and Bumble school, Trend Studios, and a juice bar are some of the gems  within this historic building. Yet there are still some holes we'd like to see filled.
Namely this space on the corner of Pine and Garland. Some may recall that a few years ago it lived on as an art space. Lately it has been sitting empty. We wish it was occupied by an anchor store, something that played on the strengths of the neighbors … like tech.
We wish this shop was an Apple Store.
With all of the techies under one building like this, it could potentially become ground zero for tech-preneurs, this could be a great opportunity to build relationships with new up-and-comers, sponsor new companies, and experiment with new tech.
It also has the added benefit of bringing more retail to downtown.
Editor's Note: If all else fails, we'd also be fine with a Sweet Tomatoes.