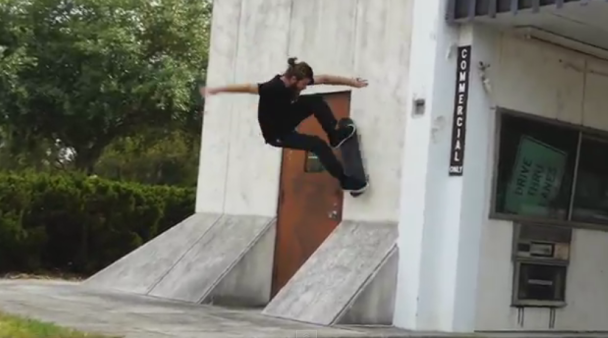 By Frank Flanagan
Filmmaker and Orlando resident, John Marello, will unveil his latest project, The Keepers, this Sunday, June 21 at the Venue (Facebook  | Website). 
The Keepers is a skate video featuring some of Orlando's finest boarders such as Chris Blake, Dalton Dern, Japhey Dow, Rob Wooton, and Chad Poore. The film explores the Orlando skate scene in what Marello deems "a really peculiar city for skateboarding."
Tickets are on sale for the event at Plus Skateshop (Website) for $3, located at 1646 E. Colonial Drive [Gmap]. The screening will begin at 9 p.m.

Bungalower caught up with John to get his take on the film and his process.
When did you first get the idea to make "the Keepers?" Is this your first full-length skate video?
I finished my first video back in 2013, called Visual:Stimulus, and work on The Keepers began almost immediately afterwards. For awhile we didn't have any particular plans for what we were filming for, but it wasn't long until the video began to take shape and I decided on a title and overall aesthetic.
Have you always been into skateboarding?
Skateboarding became a big part of my life around 5th and 6th grade. I never really had aspirations to go Pro or anything, but it hooked me pretty quickly and I've been obsessed ever sense. If it wasn't for skateboarding I would've never picked up a camera.
Is Orlando a good city for Skateboarding? 
Orlando is a really peculiar city for skateboarding. I always say it's a great place for out-of-towners to come visit, but can be really challenging when it comes living here and trying to skate and film. Unfortunately, skateboarding is illegal in all of downtown Orlando and there's no free skate park in the city (Editor's Note: you can get a day pass to Orlando Skate Park for $5) so it turns into a game of cat and mouse with the police pretty fast. However, the skateboard scene here is awesome, there's plenty of great spots regardless if they're a bust, and there's been a lot of really talented guys who have come out of here. I contribute a lot of it to Plus Skate shop and what they do for the skateboard community.
Did you enjoy working with the skaters you worked with?
Absolutely. I always talk about the bond that a skateboarder and filmmaker develop, sort of like being down in the trenches or literally in the gutter together, and with any long-term project those connections only grow as time goes on. Some of these guys I've known for years, but a few others I was introduced to only a year or two ago and we've all grown really close since then. I guess you don't really have much of a choice when you're traveling all around the country together in confined spaces.
How was the film financed?
That's funny you ask, because it wasn't. There was no budget or timeline or any corporate sponsors for this project. Ultimately it was paid for entirely out of pocket. When it came to trips, we all split the gas prices and took turns driving and any equipment needed was paid for through part-time gigs and filming jobs I've had over the years. Again I have to thank Plus Skate Shop though, those guys have really helped out a lot in every way possible. Hooking the guys up with product, helping us on trips, promoting the video, etc. There's no way we could've done it without them.
Was there ever a point where the film's feature looked bleak?
The biggest setback was timing. I'm moving to California in a month and it was really important to have this project all finished before then, so crunch-time definitely creeped up on us quick. The guys all worked their asses off and I'm really proud of them and how the video turned out.
How long have you been working on this project?
Its been almost exactly two years. Visual: Stimulus premiered June 28th, 2013 and work on "The Keepers" began as soon as that video hit the web.
I watched The Vessel, (one of John's short films) and I loved it. It was fantastically dark, and really Lynchian. Especially what you did with the sounds, and the white noise. Can we expect to see any of that darkness in The Keepers?
That's awesome you found that, but yeah absolutely. I try to keep a consistent aesthetic throughout all my work and there's no doubt that my skateboard filmmaking is inspired by the cinema. There's definitely a lot of darkness visually and sonically, but also in the overall theme. The idea behind the title is that we, as skateboarders, are The Keepers of some sort of secret, or higher power, by how we look at the world. Through the eyes of a skateboarder the world is a totally different place than to other people and I really wanted to try and explore that idea, particularly through the B-Roll that's juxtaposed with the skating.
Who are your influences as far as art and filmmaking go?
Well it's no secret that David Lynch is a huge inspiration, but outside of him there are plenty of filmmakers that influence me like Greg Hunt, Bill Strobeck, Spike Jonze, a lot of the old Alien Workshop videos and graphics, and even local artists like my friend Joshua Stone. And definitely Pontus Alv, his work to me transcends traditional skateboard videos and is really something of a work of art. I mean who else is willing to go full-frontal nude in the intro of their own video? Who knows, maybe I'll try that out next.
You mentioned your moving to California pretty soon. What will you miss about Orlando? 
There's a lot I'm going to miss about Orlando. I love how even though the city is quite sprawling, there's a tight-knitness in the community that really can't be beat. The skateboard scene here is really awesome and will be tough to leave. It'll be nice to finally have a hassle-free skate park at my disposal, though.
Besides moving, what's next for John Marello?
Moving to Cali, chasing the American dream [laughs]. But really just pushing myself and developing myself as a filmmaker and artist, both inside and outside of the skateboarding world. There's so much that the two can learn from each other and I feel it's my job to help further that bond.