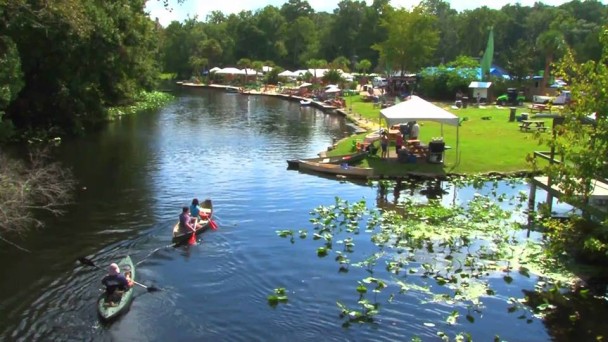 Here's a look at some of the events taking place this weekend.
Visit the complete events calendar by clicking on "Events" in our main menu.
Friday, July 24
The Daily City's 3rd Annual Cardboard Art Festival 2015
July 23 @ 6:00 pm

–

July 26 @ 4:00 pm
Cardboard is something we pack up, ship off or store away. But did you know it's one of the most-loved mediums to work in for artists all over the world? Celebrate cardboard art for the third year in a row with 4 days of parties, kids events, and open gallery hours inside an empty storefront in Downtown South Orlando, Florida.
Free live screen printed art prints by Mama's Sauce Gourmet Ice Pops for the first 100 attendees from The Hyppo – $3 pops all weekend long Up to 75 percent off all samples
Saturday, July 26
The Center for Contemporary Dance, Orlando Ballet School, and NDDO Founder/Creative Director, Holly Harris, have partnered together to present this year's Orlando dance celebration on Saturday, July 25, 2015. Activities include: NDDO Community Celebration at Cultural Park 530 E. Princeton St. Orlando, FL 32803 8:30-11:00AM Families and friends can actively celebrate dance together! Local dance instructors will engage the community in stretches, cardio, and the two official national dance day routines choreographed by So You Think You Can Dance celebrities,…
It's prime time for some dank florida spring hangs. Imagine hanging out with all your favorite party people in a sunny daytime oasis. This is a free community event hosted by Body//Talk and IDEAS For Us. You dream it, we make it happen. It's that simple. Canoe clean-up participants MUST RSVP using this link: http://www.eventbrite.com/e/wekiva-island-canoe-clean-up-tickets-17823767368 What to bring: frisbees, soccer balls, speedos, guitars, hand drums, sunscreen, good vibes, towels, pub-subs. *Please note the following important info:* – You must get…
The Orlando SketchCrawl falls on National Dance Day. Artists should meet in Cultural Park in the morning. Text me (Thor) when you arrive so I can be sure you find the group. (407) 760-2813. Tentative schedule of events should you arrive late… COMMUNITY CELEBRATION – CULTURAL PARK (lawn in front of the Loch Haven Neighborhood Center) NDDO Community Celebration at Cultural Park July 25 – 8:30-11AM 530 E. Princeton St. Orlando, FL 32803 Opening 8:30am – Holly Harris – NDDO…
Snap! Orlando presents an engaging presentation and discussion with Los Angeles based photographer/advocate SEAN BLACK, and RETHINK HOMELESSNESS lead advocate JOSHUA JOHNSON. Saturday, July 25, 5-7pm at Snap! Space. No cover. RSVP ► https://www.eventbrite.com/e/snap-orlando-presents-snap-talk-w-rethink-homelessness-tickets-17560019491 SEAN BLACK's body of work, Human Nature, "explores the socio-economic dilemma of homelessness. Specifically seeking out those individuals who retreat into the natural terrain, he imbues his approach with a psychological awareness of what Existentialists refer to as 'the uncanny'. While conveying this uneasy sensation of…
Saturday, July 25, 2015 Show time: 8:00 PM Walt Disney Theater Tickets starting at $55 Tony-Award Winning Broadway powerhouse Idina Menzel has a diverse career on the stage, in film and television, and in music. Menzel, lauded for her strong yet emotional performances, recently culminated a highly successful international orchestra tour. Accompanied by world-renowned symphonies, Menzel played to sold-out audiences and demonstrated why she is one of the great performers of her time. The Denver Post dubbed her "The Streisand…
Join us for the crowning of a special 40th Anniversary week edition of Little Miss Parliament House. World famous toddler pageant creator Lionel Del Frisco is your host for America's most heavily pre-screened and rehearsed "Little Miss" pageant in existence. As Mr. Del Frisco says about everything he does "Perfection is my middle name".* *Please note, Little Miss Parliament House is NOT a real pageant. If you LIKE the Little Miss Perfect and Toddlers & Tiras pageants you will certainly…
ARK is: Ark Calkins, Katy Bradford, Erin Butler, Dave Hanson, and Bob Hellmuth. https://ark-music.bandcamp.com/releases ~~~~~~~~~~~~~~~~~~~~~~~~~~~~~~~~~~~~~~~~~~~~~~~~ Join us in the unveiling of our mobile light installation, GROWTH (created by Katy Bradford, Winter Calkins, Anders Ackerman, and Cortex) ~> Inspired by the human brain. ~> Controlled by SOUNDwaves and BRAINwaves. GROWTH is something new, entirely. ~~~~~~~~~~~~~~~~~~~~~~~~~~~~~~~~~~~~~~~~~~~~~~~~ Joining us will be… [] PLEASURES [] https://pleasuresbandcamp.bandcamp.com/ PLEASURES [] WHEELER NEWMAN AND THE [] [] COSMIC ROOTS COLLECTIVE [] https://wheelernewmanandcrc.bandcamp.com/ Wheeler Newman and The Cosmic…
Sunday, July 26
The Breakthrough Theatre of Winter Park celebrates their 6 year anniversary on Sunday, July 26, at 7 p.m. Tickets: $20.00 general admission $10.00 for award nominees *ALL tickets must be purchased online. We are not taking reservations or cash at the door. There are only 100 tickets available. Dress is dressy casual! The evening will consist of performances from season 6 (plus a sneak peak at season 7), awards, and a buffet dinner from Ali Baba House of Kabob. The…
Come join us for a fun time at the DoubleTree Hotel Downtown with DJ Edil Hernandez. $10 at the door and cash bar at the pool (ATM available on site). Orlando Pride is raffling away two tickets to Riptide 2016 thanks to One Magical Weekend as well as other great prizes. Swimwear by Mojoman will be showcased and available to purchase on the pool deck. Free parking available to first 70 guests at 1030 North Orange Ave Thanks to our…
Sundays @ 11am, Lake Eola Park (corner of E. Washington St. and N. Eola Dr., under the big oak tree). It's free and for all levels. Check it. Yo, yogis! Namaste. It's 'Yoga in Lake Eola Park' every Sunday @ 11am – corner of E. Washington St. and N. Eola Dr. (across from the playground and under the big oak tree). It's free and for all-levels.Donation based, all levels yoga! Join us in learning how to channel your freedom of…