Here's a look at some of the events taking place this weekend.
Visit the complete events calendar by clicking on "Events" in our main menu.
If you'd like to have your event added to our calendar, simply send a link to your Facebook event page to [email protected], it's that easy.
Friday, January 8
It's been five years since the very first PechaKucha Night held in Orlando. Now, 16 sold out events, and hundreds of amazing presentations later… we're excited to host our next event at the new Dr. Phillips Center for the Performing Arts, in the intimate and elegant Pugh Theater. Mark your calendar for PKN v17 on Friday, January 8, 2016. That night, we'll have TWO PERFORMANCES, at 6:30 and 10 p.m. Tickets will go on sale October 26, with pre-sale dates…
Sandwich Bar 5 Year Anniversary
January 8 @ 6 pm
Sandwich Bar, 24 E Robinson St., Orlando, FL 32803
5 years and counting….
Thanks a gain for another wild and super fast awesome year through the Milk and Into the Sandwich ! ! !
Some of our key players will be joining us as we launch what hopes to be even close to as much fun as last years Anniversary Jam;) see ya soon!
Paddy's Grand Opening
January 8 @ 7 pm
Paddy's
1566 W. Fairbanks Ave.,
Winter Park, FL 32789 United States
Come join us at paddys a new style gay bar in winter park enjoy our paino bar or our indoor and out door pool tables . We are the first bar to offer you rewards and loyalty program we also give back to the community every day a percentage of our profits go to a local charity or cause. Come out and celebrate with us and bring a friend
January 8 @ 7:30 pm
lil indies
1036 N. Mills Ave. (next door to Will's Pub), Orlando, FL 32803
As many of you have seen, Brett has been challenging himself over the last few months with a "Sketch a Day". Calling these pieces a "sketch" is a stretch. Full of detail, finished pencil renderings is more like it.
This is a showing of 61 of Brett's pieces from the last couple of months. Subject matter ranges greatly from friends to animals acting like humans, mermaids to musical instruments and so on …
The Breakthrough Theatre of Winter Park presents the Scott Z. Burns drama, "The Library", from January 8-17, 2016. THE STORY: After Caitlin Gabriel survives a deadly shooting at her high school, she struggles to tell her story to her parents, the authorities, and anyone who will listen. But there are other narratives that gain purchase in the media and paint her in a different light. Renowned Hollywood screenwriter Scott Z. Burns returns to the stage with this bold and chilling…
Saturday, January 9
Come join us and bring your best Rib recipe down! Time for ribs and beer! We will be waiting for you …….
In 2012, Mariah & Ben met at Orlando Brewing. Ben had a weekly acoustic gig and Mariah tended bar. The two shared a love of blues & craft beer and soon came together to create musical duo Mo'mo-Browne. Orlando Brewing celebrates local art, culture & community. Our Mo'mo-Browne Ale is a 6.8% brown crafted to tribute to all three. 1pm: Tapping of Mo'mo-Browne Ale 3pm-6pm: Mo'mo-Browne Live 6pm: Free brewery tour
Orlando Magic vs. Washington Wizards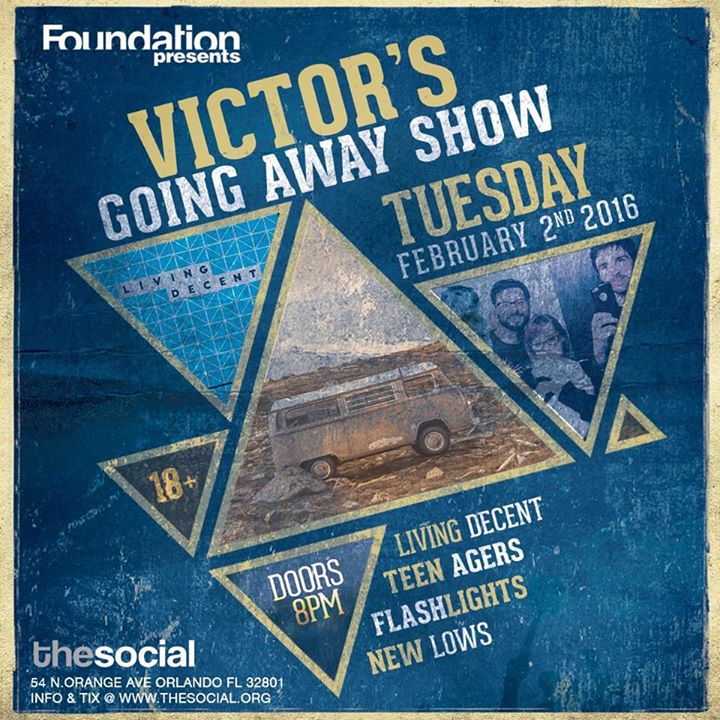 Get tickets: http://ticketf.ly/1QSewGb Details: Heart Shaped Box (Tribute to Nirvana) at The Social
January 9-January 10 @10 am-5 pm
Retromended Vintage
1231 N. Orange Ave., Orlando, Florida 32804
It's time to clear some things out of here to make room for all the new things! Stop by this weekend to browse the 40% Off Racks and the $5 Bins!
January 9 @ noon
Enzian Theater
1300 S. Orlando Ave., Maitland, FL 32751
Based on the novel by Richard Hooker, M*A*S*H follows a group of Mobile Army Surgical Hospital officers at they perform surgery and pass the time just miles from the front lines of the Korean Conflict. Led by Captains Hawkeye Pierce (Donald Sutherland) and Trapper John McIntyre (Elliott Gould), they add to the chaos and hilarity of the situation.
January 9 and January 16 @ 8 pm
Footlight Theatre at the Parliament House
410 N. Orange Blossom Trail, Orlando, FL 32805
TWO PERFORMANCES ONLY!
Broadway Veteran and Disenchanted Princess Michelle Knight comes to the Parliament House stage to share stories and songs about the ups and downs of her life. Ms. Knight will be accompanied by a live 10-piece orchestra lead by Jonathan Barr!
Sunday, January 10
Bring the whole crew or free admission on the second Sunday of the month. Activities include a make-and-take craft station and mini-tours from noon-2:30 p.m., and the galleries are open until 4:30 p.m. Pack a picnic and enjoy lunch in our Sculpture Garden.
January 10 @  9 am-12 pm
East End Market
3201 Corrine Drive, Orlando, FL 32803
Happy New Years! Join us for the first Swarm Ride of 2016!
Every other Sunday we invite the community to join us at East End Market where we tend to the Market Garden and embark on an informative, farming, and friending journey.