Like what you see? Consider supporting this series by clicking HERE.
Inhabit is a new series by local photographer David Lawrence (Website), that shares stories about the people who call Orlando home. It's an exploration of where people live and spend their days, whether that be at home, in an office, the streets of downtown, or anywhere in between. Lawrence explores who people are and how they ended there.

Every other week we will be sharing Lawrence's interviews, featuring a different Orlandoan and telling the story of the places they inhabit.
This interview was transcribed and edited from an audio interview on 4/19/2017
Who are you?
"My name is Jose Zouain. I go by Zouain, DJ Zouain, or "Audible Chocolate," as some have called me. I'm a local DJ, voice-over guy, radio producer, and all-around music and broadcast nerd. Right now, I am at my home radio studio. This is where I do most of my work as far as DJing, voice-over, and production. For the past four years I've had a studio in my house that I built from scratch, buying pieces at a time, and eventually putting together a studio worthy of being on air. I also work for other radio stations, production companies, and often do bilingual voice over work. I was offered a phone sex position once. I've never actually talked about this. I didn't turn it down for any moral reasons. The only reason I didn't do it was because I had previously worked for the telemarketing management agency when I was 18 or 19 and they already owed me several hundred dollars."
Can you give us the backstory of how you ended up here?
"I grew up in the Dominican Republic. I was nine years-old when I moved to Orlando in 1991. I've always been a tech nerd. I got into computers at very young age. I also got into a lot of music. I wanted to go school for music. I instead went to school for Gen Ed, dropped out, and started working on computers. After ten years I was hating my job. I knew I wanted to be in radio at the age of four, but I.T. paid well, and it's hard to quit when all your bills are paid for. I was doing voice-over work part time, DJing most weekends at clubs, bars, and weddings; I even DJed a wake once. One day in 2009, I remember praying, "God, I don't have the balls to quit." A week later, July 15th, I got laid-off. I was given a severance package and told, "Thank you for what you've done" and that was that. That's when I decided I was going to go for it full-time. I started picking up gigs in radio and DJing more. Some of the severance package paid for the swanky apartment I was at and then I moved in with an old friend. Since then I've done work for the Travel Channel, Univision, Orlando Magic, and a multitude of other large companies."
What is the most valuable thing to you, in this space?
"It really depends on the day. One of the things I often ask my friends when they are talking about how much they hate their job is, 'If you had a billion dollars and you could literally do whatever you want for a living, what would you do tomorrow?'"
"My answer is, 'This exact same thing, but with upgraded equipment.'"
"Today though, my favorite thing [would] probably be the turntables, because I'm about to jump on that. Tomorrow, it will be the microphone, when I record my radio show, The Hijack."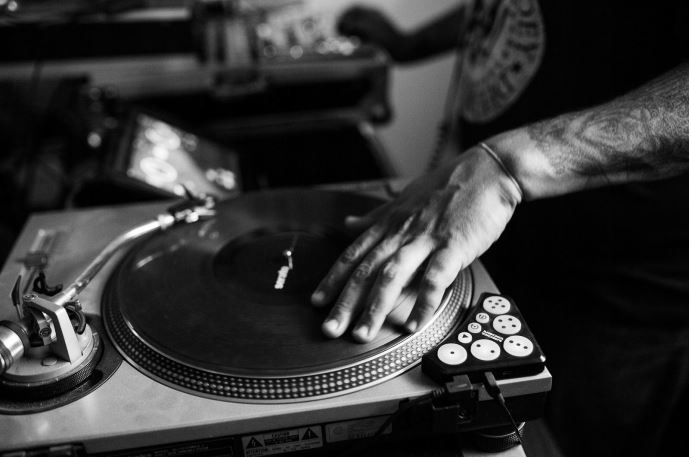 Before our interview you mentioned your father's passing. Can you tell me about him?
"He was Lebanese, parents straight off the boat. Accountant by trade, an entrepreneur, a great cook and the polar opposite of my mom. She was the loud woman that would yell at you. He was a strong guy, but he didn't have to be loud to show his strength. Because he made his own schedule, he was always there to take me to school, or swimming practice when my friends parents were at work."
"That also goes back to why I'm doing what I'm doing. It's my version of what he did."
Note: I loved listening to Zouain speak. As he shared about his dad, he reminded me that we should live and work in a way that is not just for ourselves, but for the good of others and our families. Whatever you are doing currently, I hope it allows you to find contentment and purpose.
If you're interested hearing any of Zouains radio shows, they can be found online on www.theend.fm
---
About the photographer:

David Lawrence is an Orlando-based photographer with a passion for people and storytelling. Lawrence lives in Colonialtown with his wife, Dawn, and when he's not taking photos he occasionally attends church, drinks a lot of coffee, and overall just tries to be a kind human.