Here is a look at some of the best events taking place this weekend. Remember, you can always visit the complete events calendar by clicking on "EVENTS" in our main menu. Don't forget that this weekend is Small Business Saturday so be sure to shop local!
The City of Orlando is working with Waze, a GPS software company, to table real-time traffic updates. Click HERE to get up-to-date road closure information before heading Downtown.
If you'd like to have your event added to our calendar, simply send a link to your Facebook event page to [email protected].
ONGOING
Orlando Ballet's The Nutcracker returns. A Christmas Eve gift of a toy nutcracker from her godfather transports Clara on a magical journey to a world of fantasy complete with the Mouse King, Sugar Plum Fairy, and Mother Ginger.
FRIDAY, DECEMBER 22
ART INSTALLATION MEETS CRAFT COCKTAILS A pop-up lounge with enigmatic decoration and ambiance
Winner! Best Actress (Sally Hawkins) and Best Director (Guillermo del Toro) – Los Angeles Film Critics Association An other-worldly fairy tale, set against the backdrop of Cold War era America circa 1962. In the hidden high-security government laboratory where she works, lonely Elisa (Sally Hawkins) is trapped in a life of isolation. Elisa's life is changed forever when she and co-worker Zelda (Octavia Spencer) discover a secret classified experiment — a mysterious, scaled creature from South America.
Experience the sights and sounds of the season when visiting Downtown for the Holidays. Throughout the entire month of December, Downtown Orlando is offering holiday events for all to enjoy! Grab a blanket and join the Downtown Development Board and MIX 105.1 on December 22, 2017 at Lake Eola Park to enjoy a free showing of the holiday movie The Nightmare Before Christmas.
The ultimate holiday party is Fri, Dec 22! Come dressed as Santa or an elf, rock an ugly sweater or be "Hannukah Harry." SANTAPALOOZA 2017 Info/tickets: BarCrawlNation.com/orlando-santapalooza EVENT EXPERIENCE: ● 8pm – 10pm Registration (Wall Street Plaza) ● Complete the crawl, get the Santapalooza T-shirt, free! (how it works: barcrawlnation.com/thechallenge ) ● Best holiday outfit contest for prizes ● Exclusive drink specials & free cover at every venue ● NEW app to check-in to each venue
SATURDAY, DECEMBER 23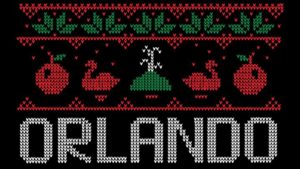 Christmas is coming! Get your last minute gifts. Last chance on discounts and limited edition items.
Eat, drink and be merry with us this holiday season at our backyard BBQ pop-up. Tito Jose (Mark's uncle) will be whipping up home cooked Filipino comfort food every Thursday-Saturday through the end of the year, 4:30pm until we sell out. We'll also have plenty of beer. Kain na! We'll be set up in the back parking lot, walk-ins only, super laid back.
SUNDAY, DECEMBER 24
For the past eight years, before Santa delivers toys and gifts, he's been breaking away to catch some waves in Cocoa Beach on Christmas Eve morning. Pretty cool, right? The Surfing Santas event is an annual Cocoa Beach tradition that brings hundreds of surfers dressed up as Santa. Watch them ride in on the waves and kick off your holiday weekend beach-side at this FREE event.
This Christmas Eve, we invite you to join our celebration of the Feast of the Seven Fishes as we blend one of the world's tastiest holiday traditions with fresh Florida seafood and warm Southern hospitality. Dinner includes a seven-course seafood and wine pairing featuring wines by Chateau Ste. Michelle and is limited to the first 25 guests.