PROMO: Opendoor (Website), the real estate tech company we wrote about last August, is now officially in Orlando and ready to shake up the market. You can see the homes they've currently acquired in the Orlando area by clicking HERE. Opendoor will be showcasing some of their for-sale homes on Bungalower.com in the coming months.
The tech startup invented the innovative online "sell your home in just a few clicks" model where they will purchase your current home on your timeline for a fair-market price. Once they've closed on your home and you have cash in-hand, they then make necessary repairs before providing all-day (6 a.m.-9 p.m.) access to their houses for prospective buyers, who can use the Opendoor app as the key to access the home. Homeowners sell directly to the company, rather than sell through a third-party agent, making them a middleman rather than a Yenta.
In exchange for the confirmed buyer, homeowners pay an average fee of 6.5%, which is close to parity with a real estate agent.
Opendoor also has an option where homeowners can "trade-in" their existing home for a new one, by selling it to the company and swapping/buying another one of their houses. Two stressful and uncertain transactions become one stress-free and streamlined deal, saving people money along the way.
Orlando is a thriving, high volume housing market where homes have appreciated nearly 10% in the last year, and Opendoor did their homework before coming to 'The City Beautiful.' Opendoor recently commissioned a survey of over 1,000 Orlando homeowners and shared the following results with us:
27 percent of Orlando homeowners would rather get a colonoscopy and 26 percent would rather get a root canal than to go through the process of selling a home.
Homeowners expect Orlando home values to rise in the next 12 months – 61 percent said they expect home values to increase, 32 percent said they would remain the same, and 7 percent felt that they would decrease.
Orlando homeowners said the following when asked "What would you do if moving was stress-free and simple?" – 35 percent would move to a bigger house, 22 percent would move to another city for a better lifestyle, 16 percent would move closer to family, 14 percent would move to another city for a new or better job, 13 percent would move to a smaller house.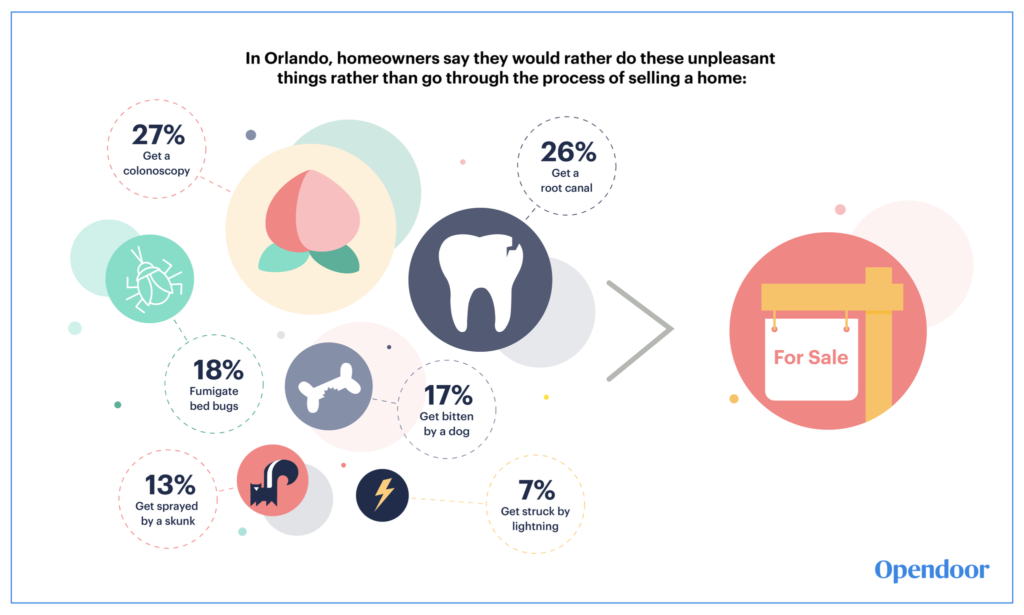 For more information on Opendoor, or to request an offer on your home, go to opendoor.com, and check back here for their homes in the coming weeks.