Inhabit is a series by local photographer David Lawrence (Website), that shares stories about the people who call Orlando home. It's an exploration of where people live and spend their days, whether that be at home, in an office, the streets of downtown, or anywhere in between. Lawrence explores who people are and how they ended up where they are.
Every other week we will be sharing Lawrence's interviews, featuring a different Orlandoan and telling the story of the places they inhabit. Lawrence is available for private photography projects and can be reached through his website, above.
Who are you?
Father Dave: My name is The Very Reverend Father David Bumsted. I'm 35 years old and I'm the rector of Emmanuel Episcopal church. I live right around here in Audubon Park.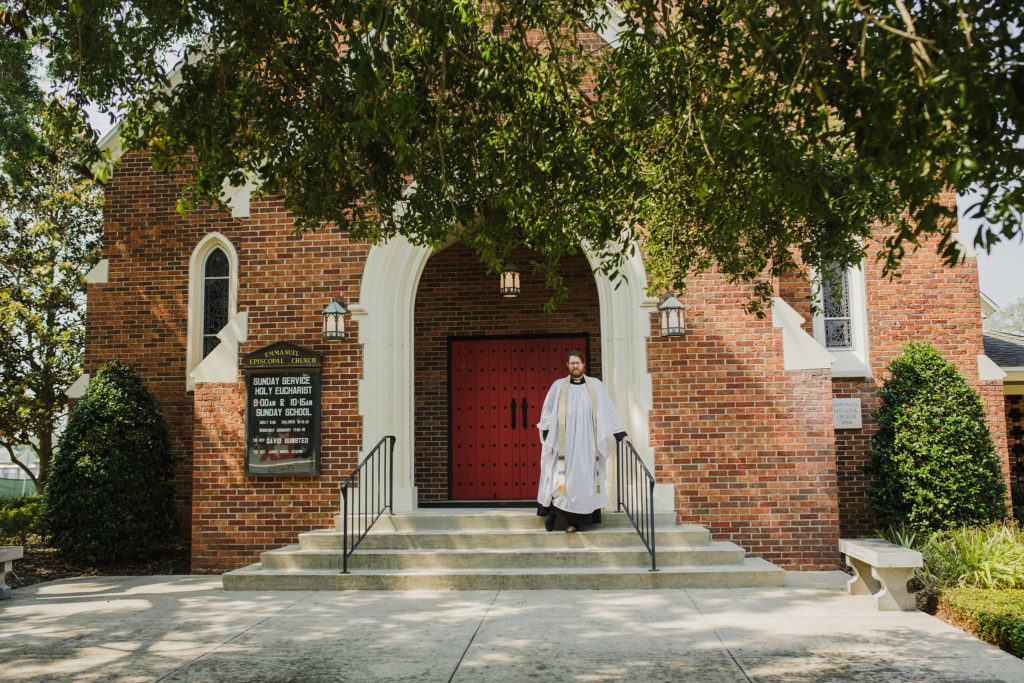 Where are we currently and what is important to you about this space?
Father Dave: This is Emmanuel Episcopal church. [We are] Inside the nave of the church, inside the chancel space. It's important to me because this is the congregation I lead and the space in which I pray.
Can you tell me what it looks like to lead a congregation?
Father Dave: It would take a long time but I can. [laughs]
Can you give me a simplified version of what you do?
Father Dave: For example, if I was meeting somebody who needed to talk one-on-one for, what's called "pastoral work," it's not therapy, it's not counseling, but it's in that kind of [realm]. Somebody who wants to just talk to help feel better. Talk about God, talk about their prayer life. Most of the time, it will probably be in my office or we'll go down to one of the many coffee shops here in Audubon Park.
Is meeting with people regularly a service that you offer to anyone; if someone in the community was looking for someone to talk with and they go online and find your church?
Father Dave: It happens, yes.
I'm a priest. I mean, in the in the old ways we looked at the parish, not just as the church that we meet in to pray and worship, but the parish was a geographical boundary. Smaller than a city but bigger than a house. In my eyes, I'm the parish priest so, yes, kind of like the priest to these folks in Audubon Park, whether they avail themselves or not to that, is up to them but I'm available as much as possible.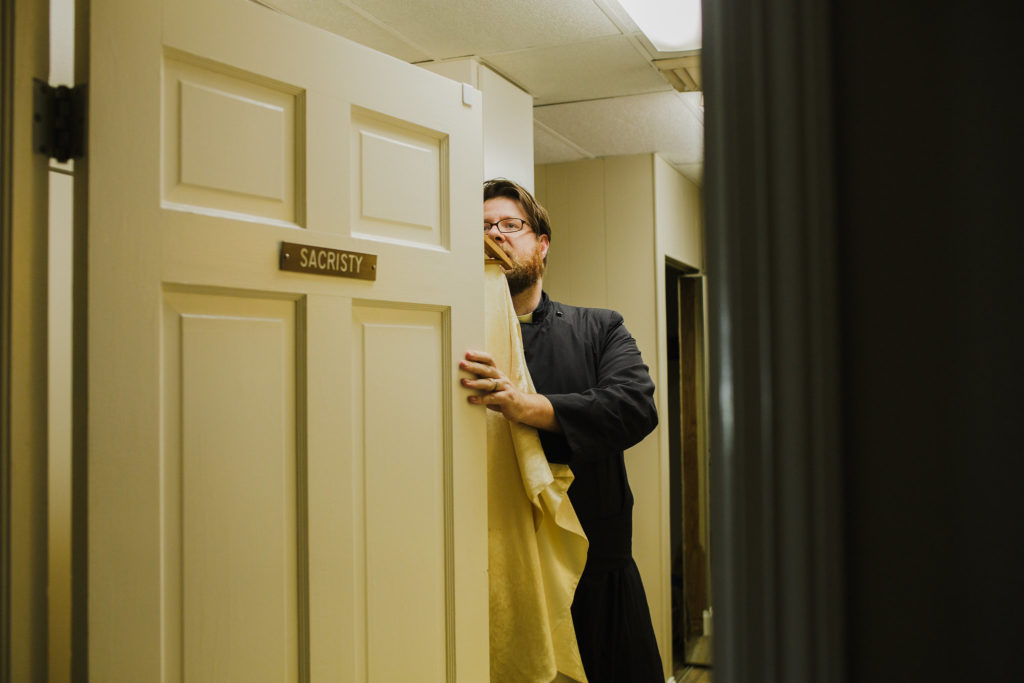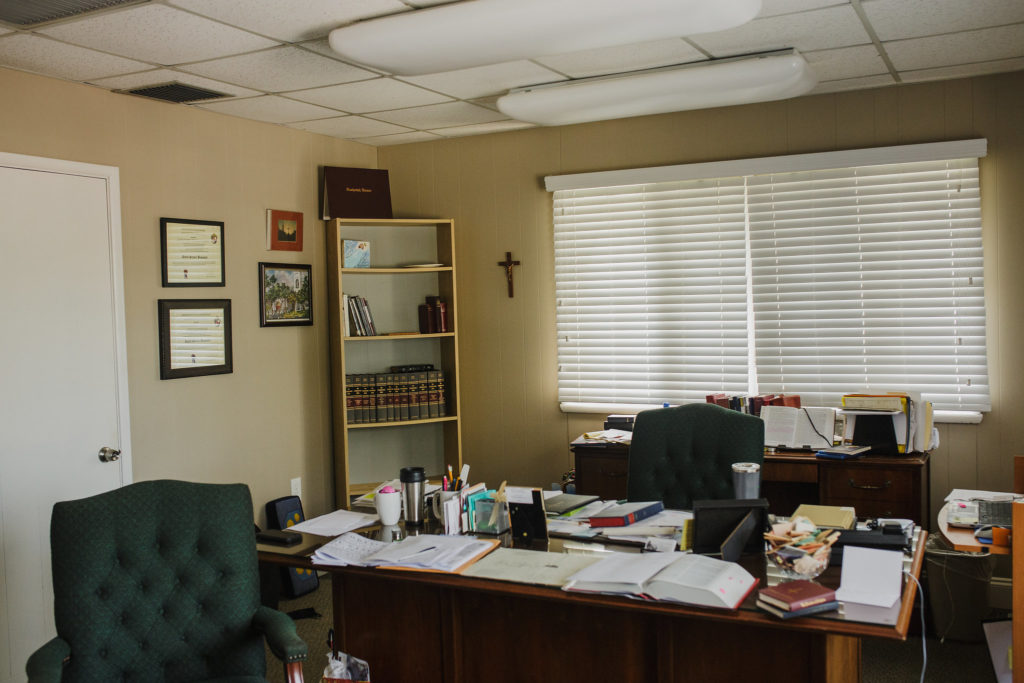 What's your favorite part about living in this neighborhood [Audubon Park]?
Father Dave: I really love the community, I love the vibe. In the early 2000s, I was in a small up-and-coming band and we used to play around here. We'd come back [here] from Tallahassee.
What was the band?
Father Dave: It's called Look Mexico and subsequent bands that nobody remembers, which is awesome. Orlando, and especially places around here like Stardust, for example, were places that were really fun to play and so coming back in my later years now as a professional and priest it's really cool to be part of this. You have a community. I love the vibe and the hustle around here. I love the entrepreneurial spirit. I love the creativity. People around here are just very kind and nice.
Did you plan to come back to the neighborhood that you used to hang out in?
Father Dave: Not all.
Is that shocking thing when you reflect on it? [laughs]
Father Dave: I can be surprised, and I'm not trying to make it sound super spiritual, but I believe that there's an aspect of,"Oh, I have kindred with this part of the community because God made that." [He] ordered my steps in that way.
For you, it's God putting together the pieces of your story into an almost perfect place, as perfect as humans can exist? It's connecting of the dots.
Father Dave: Connecting the dots. Yes, that's right.
You've conducted blessings at both P Is For Pie and Redlight Redlight.
Father Dave: I have.
Can you walk me through what a blessing looks like?
Father Dave: Sure. It's the same kind of idea of a blessing of a home. All we're doing is saying that "Here's a place that we're asking God to richly bless and its life and work". The service itself consists of an opening, some prayers. I'm usually vested in a certain way as a sign of God's blessing. We're not asking a God who might do things, we know that God blesses.
As a sign of that promise we fling holy water around to give a physical symbol of that sign.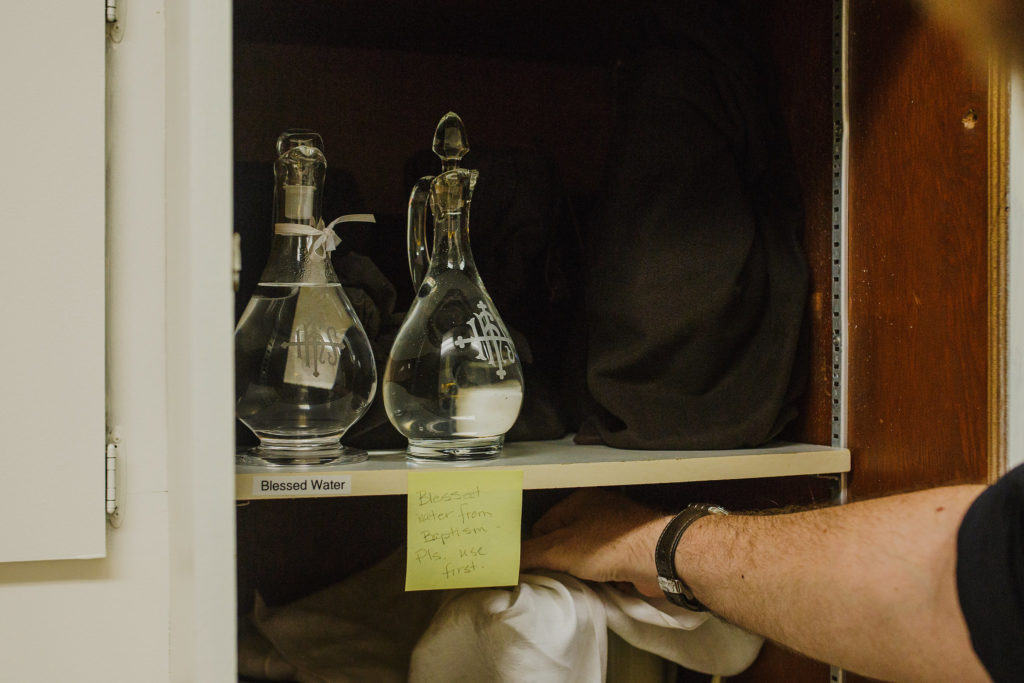 Father Dave and Redlight Redlight both shared images and video of this process a couple months back.
Will you offer a blessing to literally anyone or anything?
Father Dave: Yes. It's interesting that you ask "thing." Yes, a person may receive a blessing, sure. It's perhaps more helpful if one's baptized, just because of the mysterious relationship between the baptized Christian and their God, but not necessarily any kind of exclusion from that. A place, if somebody says, "Hey, will you come bless this place?" I'm like "Sure". So long as it's not someplace where people are hurt or evil happens [laughter], broadly speaking.
Maybe even sometimes a way to make a place less evil or less hurtful. We try to stay away from the supernatural piece of it. Thinking about it as a place of peace.
You had Redlight Redlight brew you a beer. Can you tell me briefly about that collaboration and where and when that's available?
Father Dave: Yes. I happen to know that Brent, the brewmaster over at Redlight is a beer nerd. I love beer but certainly would not count myself as anywhere near the authority as he is. I gave him a call last year, because in the western tradition, especially in the Anglican tradition of which we are part of, there's this idea of "Rogation Sunday," the sixth Sunday after Easter. It's a time that's set aside to basically ask for God's provision for the coming growing season.
I called Brent up to say, "Hey, we've got this thing, what do you know about it?" He's like, "I've heard of that, let me think on that." Within moments he called me, nerded out about how there's this English ale that's perfectly appropriate for this time of year and this particular thing.
What's the best way for the community to get in-touch with you and your church?
Father Dave: We are on Facebook at Emmanuel Episcopal Church. Orlando will come right up, or on Instagram @EmmanuelEpiscopalOrlando. I'm @therevsted on Instagram. Service times on Sunday are at 8:00 a.m. and 10:15 a.m. Our website, EmmanuelEpiscopal.net is newly refurbished and quite nice. Just drop by, send us a prayer, send a wave, I'm usually here.

P.S. Father Dave's beer is on tap RIGHT NOW at Redlight Redlight. Go get it before the keg runs out!
About the photographer: 

David Lawrence is an Orlando-based photographer with a passion for people and storytelling. Lawrence lives in Colonialtown with his wife, Dawn, and when he's not taking photos he occasionally attends church, drinks a lot of coffee, and overall just tries to be a kind human.