BART (Facebook | Website) announced on their Facebook page this Wednesday that they will be closing their Mills 50 bar/arcade space this fall.
The bar, which opened in 2012 at 1205 N. Mills Avenue [GMap], specialized in craft beer and vintage arcade games which guests could play for free. BART owner, Chris Brown, told Bungalower that, " … the craft beer scene has changed, and so has Mills 50. When we opened there were just a few venues and now there are tons." Hinting towards a critical mass of night spots and watering holes in the Main Street District that made it hard to compete. See their announcement below.
Adrian, co-brain of BART who happens to be married to Chris, told us they weren't pursuing a buyer for the brand and company, but would rather be choosing to bench the concept until they found a better home for it in the near future. But there is no rush and the two are going to take their time to find the right home.
The arcade games will be kept for special side projects and events.
BART will be closing by the end of September, with a big "blow out bash" planned for mid-September. Details on that event will be released at a later date.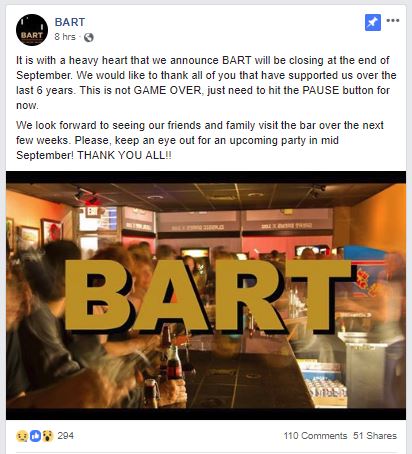 Chris Brown sits on the board of Free Play Florida (Website), a three-day arcade-driven event series, and is part of a new business that builds custom game cabinets for vintage arcade games.