SPONSORED: "Great Reads" is a regular roundup of books that the Orange County Public Library System thinks you should peruse that month.
For the All Hallows season, the staff at Orange County Library System has selected some books to devour…with all the lights in the house on. Your library card is also your ticket to horror films with free streaming services and DVD delivered to your door. Visit ocls.info for more.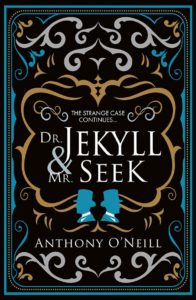 Dr. Jekyll and Mr. Seek
By Anthony O'Neill
Dr. Jekyll has returned — or at least someone claiming to be the honorable doctor. But, Gabriel Utterson, Jekyll's barrister, friend, and long-awaited beneficiary, knows better. O'Neill crafts a fitting complement to Stevenson's vintage gothic novella.
The Frighteners: A Journey Through our Cultural Fascination with the Macabre
By Reverend Peter Laws
A self-professed horrorphile, Peter Laws guides readers through their worst imaginings with tales of his explorations of Transylvania and zombie and ghost adventures. A staunch atheist turned ordained minister, Laws not only destigmatizes morbid fascinations but argues we are invigorated when we seek out the things most terrifying to us.
Grim Lovelies
By Megan Shepherd
From New York Times bestselling author comes the start of a new series set in a magical world. Anouk is a beastie, an animal turned into a human servant to the witches that rule the world. When Anouk's master is found dead and Anouk is blamed for the crime she is thrown into a race against the clock to find the real killer.
The Agony House
By Cherie Priest & Tara O'Connor
Arriving back to New Orleans in an attempt to start over after Hurricane Katrina, Denise Farber and her family soon realize that something sinister lurks in their new home and that they must do everything in their power to defeat it. The book is a unique mash-up that combines Priest's chilling prose with beautifully illustrated sections of comic book panels by O'Connor.
The Spellbook of Katrina Van Tassel: A Story of Sleepy Hollow
by Alyssa Palombo
Everyone knows Ichabod Crane's side of the Sleepy Hollow legend, but what of Katrina Van Tassel's perspective. Having fallen for her new teacher, Katrina is looking forward to her future life with him.  When he mysteriously disappears, however, she takes it upon herself to discover the truth behind what happened, and in the process discovers that the mysteries of her town are darker than she ever could have realized.