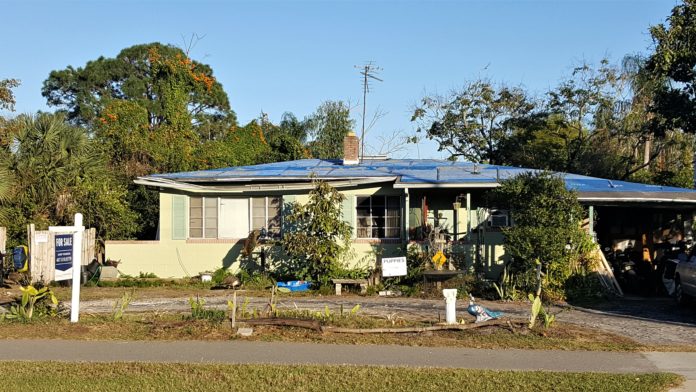 "I love your blog. I wanted to make sure you heard about this: I live in Colonialtown North and noticed the "peacock house" on Bumby was up for sale. The Zillow listing makes it sound like the peacocks (among other birds) come with the house." – Bungalower reader
1101 Bumby Avenue has been affectionately, and unaffectionately, referred to as the "peacock house" for years, in reference to the home being used as a de facto home for the free-range neighborhood peacocks in Audubon Park.
The owner of the home, Michael Housel, has been feeding and sheltering the showy birds for as long as any of his neighbors can remember. His lot, measuring in at roughly 3/4 of an acre, is a mixture of fruit trees and dense native plants and has been the ideal home for the birds who wander the nearby streets during the day and then return as the sun sets.
We have been informed that Housel does not intend to take the peacocks with him when he moves.
An estimated 30 peacocks live and move freely through Colonialtown North and Audubon Park. Despite reports of the birds causing noise complaints and some property damage last year, the City of Orlando told Bungalower that they do not have any official regulations regarding 
peafowl
.
Editor's Note:
That being said, WFTV ran a story on the peacocks back in July 2018 stating peacocks fell under the City's chicken ordinance
.
The two-bedroom, one bath home is currently listed for sale
HERE
and is asking $395,000. It measures in at 912 SF but the large lot and access to lake Druid make it a likely candidate for redevelopment.