Professor Bobby Fokidis, Associate Professor and Department Chair of the Rollins College Department of Biology has uncovered something special with his Vertebrate Zoology students.
Professor Fokidis is currently researching animals that live in urban environments to see what he can discover in how they interact with their environment. Part of that study involved installing a series of trail cameras around Winter Park, namely in the Genius Preserve, located on the eastern side of Lake Virginia from the Rollins College campus.
The preserve is a real slice of authentic old Florida that is owned and maintained by the Elizabeth Morse Genius Foundation of Winter Park that is closed to the public but used as an open-air laboratory for a number of programs at Rollins College. It was once an active citrus plantation and has an in-tact orange sorting plant located on the property and some historic home and is one of the largest tracts of undeveloped property in the area – ideal for wildlife. In fact, the property is a major stepping stone for migrating bird species.
Fokidis' students discovered footage of a number of weedy species while reviewing the trail footage, namely raccoons, peacocks, and armadillos, but they've also been treated to some coyote sightings, including a rare black coyote.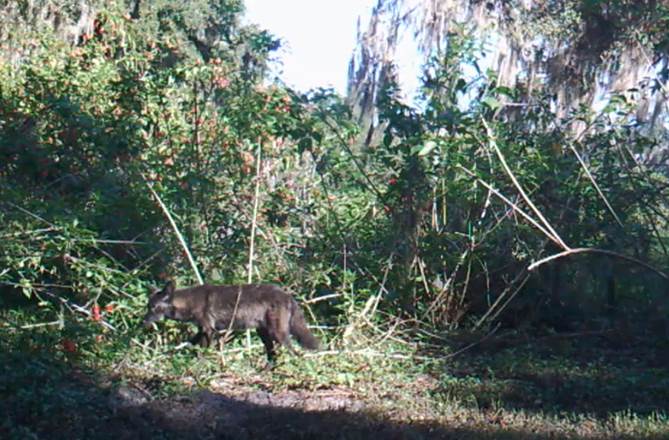 Black coyotes are the same species as other coyotes but have more melanin in their fur, making them considerably darker, which is rare, as most coyotes tend to be tan and beige in color. It's estimated that only 6 percent of coyotes are black and it's likely seen as a result of breeding with dogs but that's just a theory at the moment.
Fokidis and his students are simply observing the habits of the creatures on their cameras at the moment, but they hope to discover where the coyotes are living in the near future.
You can follow Fokidis' YouTube channel HERE to stay updated on what the class encounters.
Coyotes are well-suited to urban living and are considered to be a naturalized species in much of the state, which includes Orlando and Winter Park. The best way to protect family pets is to not allow them to roam freely near dusk or dawn, when coyotes are active and to be exceptionally careful when walking in wooded areas where coyotes can hide.
The diet of a coyote includes fruits, insects, rats, mice, rabbits, livestock, birds, and carrion. Coyotes are attracted by garbage and food left outside. You should eliminate attractants and secure your trash to remove any temptation for coyotes to enter your property.
If you see one, you should make loud noises and wave your arms. Loud noises and "hazing" behavior should get it to retreat. You may have to take a step towards it to let it know you mean business, and you should continue to make noise until it has left the area, or it may come back. Don't try to hurt it, or it will defend itself. Running could encourage it to chase you. It's best to teach young children about the differences between a coyote and a dog so they know not to approach one; a good rule of thumb being, that if it doesn't have a collar, don't pet it.