"Did you see that M Lounge is closed and has a tax lien notice on their door?"

– HOLLY
For a little context, according to a 2018 report by GrowthSpotter's Laura Kinsler, Timothy Majors, the Australian businessman behind the development, was involved in a tenant fraud case with California-based Griffin Capital for allegedly faking tenant leases in order to sell some of his properties.
Portland insurance company Standard Insurance Co. filed a foreclosure lawsuit against a company related to Majors in 2021 claiming that Majors was in default on a loan claiming it was owed $7 million, according to a report by Jack Witthaus, who was with Orlando Business Journal at the time.
Notices were taped to windows of Major's Ivanhoe Village properties for the past few months and activity ceased within the venues earlier in the year with none of the social platforms of M Lounge or M Bar having been updated since New Year's Eve. A reader recently shared with us that they had planned to host an event there but were forced to look elsewhere as early as last fall.
"We were planning on having a wedding rehearsal dinner there in January. The downstairs was closed to renovate the bar. They said they were doing renovations to make sure it was up to code and would be reopened by mid-November. That turned into December and then by January they had signs on the door that they weren't open :("

– @mondonea
But another reader who lived nearby reached out earlier this week to say that they had seen some recent activity in the building.
"I know a little about a little at M Lounge since I live on the street. No business there the past six weeks or so. Cars leaving and signs taken down."

– @weezel514
The Lounge and the car collection within the building were allegedly seized by one of the lenders which then negotiated a sale and release of some of the vehicles to private investors. We spoke with a local realtor, who wished to remain anonymous, who told us that he and an associate purchased some of the cars from the building and said the following.
"I'm assuming from my limited knowledge of his business affairs that he plans to continue in his real estate ventures once his liquidity issue is resolved. I'm not sure if that location will remain under his control, as he still needs to agree to any sale as foreclosure has not happened. I doubt however if we'll see the lounge resurrected."

– ANONYMOUS
We spoke with a former bartender who also wished to remain anonymous who shared with us that bar management informed staff that they would all be taking a temporary break just four days after sold-out New Year's Eve celebrations took place at the venue and shared the following.
"There was talk of a sale to the Parliament House people, but nothing had really happened with that. Four days after the New Years Eve party [the management] said they were closing for maintenance and would be reopening soon but like a couple months later they remained closed due to some tax issues. They treated the bar as a last priority, and [the property] was really just their offices with a fun venue attached. I think they're still trying to sell it."

– ANONYMOUS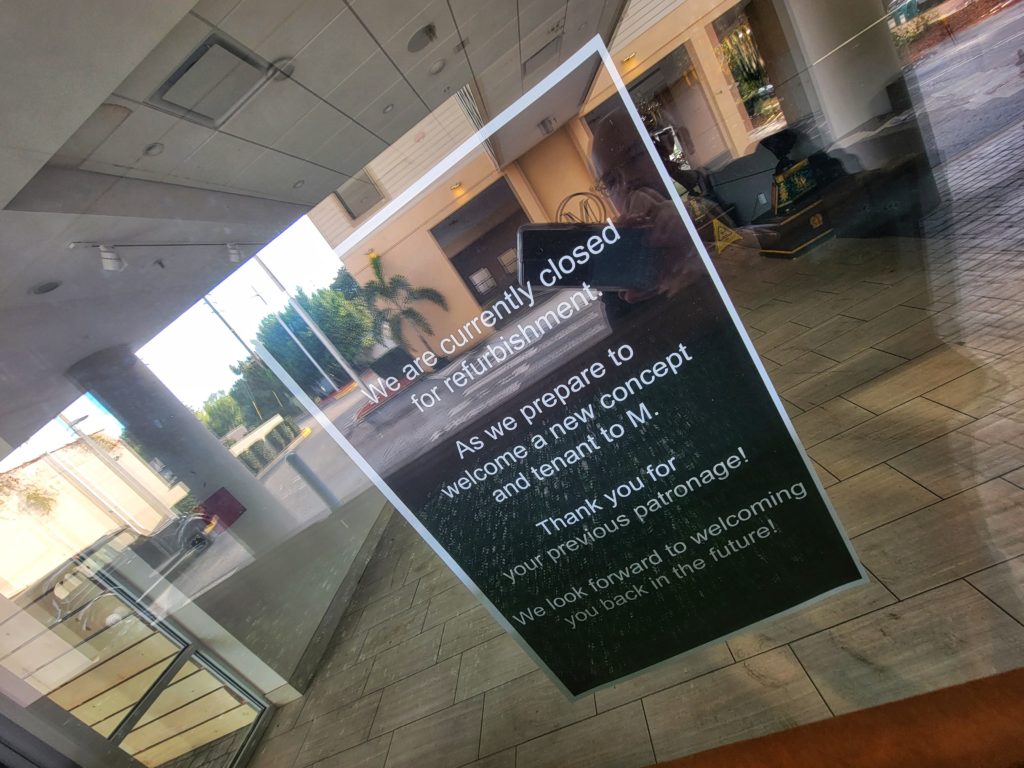 Former Winter Springs mayor, Paul Partyka, is representing Majors in the sale of his Ivanhoe properties and told Bungalower that it's not all as bad as it seems and that sometimes no news is good news.
"M Lounge as we know it is closed. My client was too leveraged with too many properties when COVID hit and it really set him back. He was trying to open a second M Bar in Daytona and the pandemic caused him to be overextended. I've been working with him to put the main properties on sale there and we sold the law office last year. We've refinanced the properties and are closing on some new tenants for the main building and the upstairs right now. Once we have new tenants in place we'll be placing the properties back on sale but he may still be involved with the first-floor space in some way, but we're still working on the paperwork."

– PAUL PARTYKA, NAI GLOBAL
While Partyka couldn't share who the new tenants were at this point, he said that they're looking to keep the rooftop bar and add a private club to the second floor and that neither of the tenants are affiliated with The Parliament House. The entire property will be transformed into an event center in the near future, and Partyka stated that he expected it all to be finalized and open by St. Patrick's Day so we'll just have to wait and see.

Do you have something you want us to look into for you? Send your question to [email protected] and we'll check it out!