We often get photographs and tips from our Bungalower readers of things that are happening around town, so we have started featuring them on the site in a series called "Eyes on the Street," in honor of our favorite urbanist Jane Jacobs.


"The private school wants full ownership of the public bike/pedestrian facilities just one block off Robinson. The school is claiming safety issues, but the City isn't closing down Robinson for the Howard Middle School students that cross the street every day to access the track! Lake Highland Prep isn't shutting down Highland St. for their use. It is an overreach and hurts the Complete Streets mantra the bungalow neighborhoods need to thrive. "

– TIM HAYES
A community meeting has been scheduled for Tuesday, February 21, to discuss an application by St. James Cathedral School (Website) to take over a public right-of-way along Ridgewood Street in Lake Eola Heights.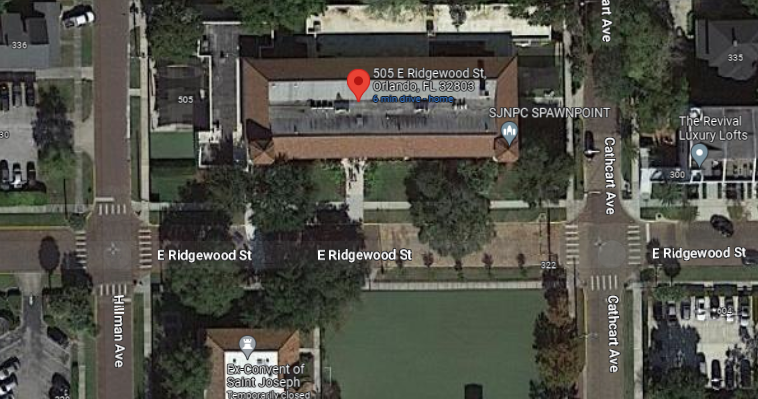 The private school blocked off a section of Ridgewood Street between Hillman Avenue and Cathcart Avenue in 1996 from vehicular traffic. The City of Orlando maintained rights for pedestrians and bicycles to continue to use the right-of-way on the street as a way to pass through the school campus. Still, the school is now asking the City to abandon the easement in an effort to "protect its students."
The catholic school currently serves children from Pre-K3 through 8th grade.
In paperwork filed with the City of Orlando, the school states that there has been a "significant increase in incidents of school violence since 1996." And that the easements being open to the public makes it impossible for the school to secure its campus, stating, "SJCS feels that the health, safety, and general welfare of the children that attend the school is of greater import than retaining the bicycle and pedestrian easements," and they are asking the city to allow them to completely close the street to the public so it can be fully integrated into their property.
The property currently has a Future Land Use designation of Residential Medium Intensity.
The public meeting is scheduled for 6-7 p.m. Tuesday, February 21, at the St. James Cathedral School Cafeteria, at 505 E. Ridgewood Street [GMap].

Do you have a question you'd like to ask us? Have you seen something that you'd like us to look into for you? Email our editor at [email protected]