We often get photographs and tips from our Bungalower readers of things that are happening around town, so we have started featuring them on the site in a series called "Eyes on the Street," in honor of our favorite urbanist Jane Jacobs.

"I got a scoop on a ghost kitchen trying to pass themselves off as Beefy King on UberEats. It's hours are totally different and they sell pizza and seafood. No roast beef … It's 100% someone pretending to be Beefy King lol."

– @ALECTARKINGTON
Beefy King (Instagram), the popular sandwich spot in Milk District, has been in Orlando since 1968. They were one of the first drive-thrus in the area, if not the first, and they've never really updated the interior since it opened – how can you improve upon perfection?
They're a family-run restaurant and they've stayed in business for so long because they don't mess with the special sauce. Jimmy Fallon famously visited Beefy King in 2013. It's that big of a deal. So it shouldn't be surprising that they've inspired an impersonator. Just like Dolly Parton and/or Cher.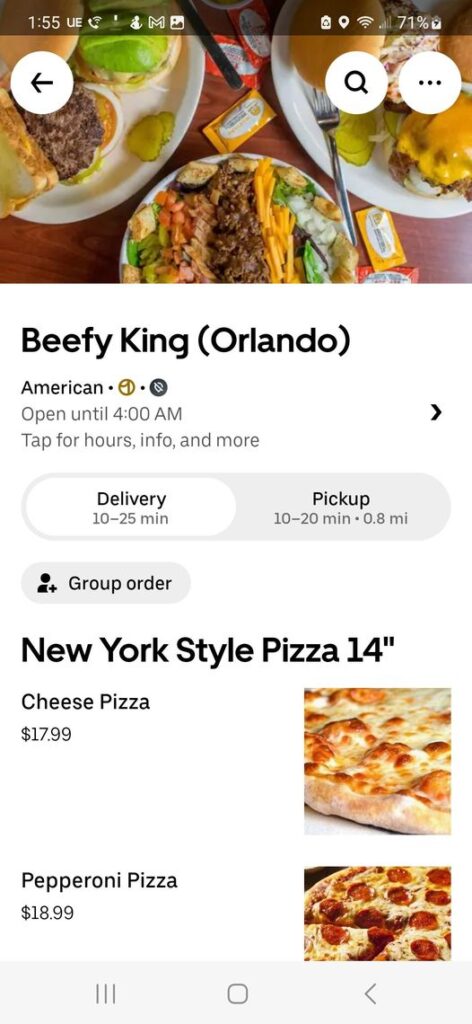 This screen capture, sent by a reader, was taken on the UberEats app, showing a Beefy King account selling burgers and pizzas and things. And while the thought of them adding to the menu is exciting, that's not them. Beefy King isn't even on the app.
"Ugh!! We have gotten a lot of messages today. It's for sure not us. Uber eats refuses to deliver us bc we said no to being partners. I'll try to figure how to get rid of it. Thank you. And Uber/Uber eats canceled my entire family bc we fought charges for 3 Ubers that canceled on us on the way and still charged us. So I can't even use the app to try to fix this! From what I'm reading these bogus Uber eats ghost restaurants are becoming more common."

– BEEFY KING REP
The listing even uses the Beefy King address at 424 N. Bumby Avenue [GMap], so you can't even pretend that it's just some Joe Schmoe who didn't know there was another Beefy King in town. According to the folks at 7 NEWS MIAMI, this sort of thing is becoming more and more common, with the common outcome being that the person who makes the order, doesn't get their food, or a refund. Read all about it HERE.
So consider this a public notice, the Beefy King on Uber Eats isn't real. You still need to get off your butt and go to the restaurant. Tell them I said "hello," and to get the horseradish sauce ready.


Do you have a question you'd like to ask us? Have you seen something that you'd like us to look into for you? Email our editor at [email protected]