Art in Odd Places (Website) will present its inaugural public visual and performance art festival this month along Magnolia Avenue, from September 17-20.
Last week we wrote about Black Bean Deli having a pop-up shop in the empty cafe space in Gallery at Avalon Island. Read more about that HERE.
The festival kickoff will be during the Downtown Art District's monthly Third Thursday Gallery Hop, and a special Taste of Downtown event hosted by the Downtown Orlando Partnership from 6-9 p.m. in the courtyard of the Orange County Regional History Center.
Friday the 18 will be Senior Day and will include performance groups like the Downtowners from Lutheran Towers and special programming for Florida retirees.
Saturday the 19 from 11 a.m.-3 p.m. will feature special family-friendly programming with activities from groups like ArtReach Orlando on the green in front of the Performing Arts Center.
Avalon will also be hosting a series of artist panels on Thursday and Saturday at 7 p.m.
See brief art exhibit descriptions and artist names below. Some photos included:
1001 Paper Bag Mushrooms – Doug Rhodehamel (Orlando, FL): Paper installation.
After the Tone – Brian Feldman Projects (Washington, DC): Phone and time-based performance.
Apparatus for Orchestral Knitting – Laure Drogoul (Baltimore, MD): Knitting, performance, and sound installation.
Artist in a Box Presents UVscapes – DeMarcus Purham (Chicago, IL): Ultraviolet light performance.
Audiograph – Nathan Selikoff (Orlando, FL): Clock and light installation.
Black Hands – Mario Schambon (Orlando, FL): Sculpture and mural installation.
The City Appluse – Emilie Finney and Rashaad Rosalle (Lake Worth, FL): Music and time-based installation.
Corner Mirror – Daniel Shieh (St. Louis, MO): Mirror installation.
Door Mat – Rokaya Mikhailenko (Orlando, FL): Mobile performance.
Dots and Lines – Adam Farcus (Baltimore, MD): Performance, painting, and public collaboration.
Dream Garden – Matt Roberts, Terri Witek and Michael Branton (DeLand, FL): Word cloud and technology installation.
Drum Machine Circle – Greg Leibowitz (Orlando, FL): Sound and community participation installment.
Earth Tones; Magnolia – Tory Tepp (St. Petersburg, FL): Sod and musical installation.
Faded Glory – Terry S. Hardy (Flowery Branch, GA): Portable sculpture.
Illumination – Nikki Pena (Winter Park, FL): Light and color performance. Community participation.
Interruptions – Ian Nolan (Leixlip, County Kildare, Ireland): Painted foliage installation.
Jukebox Dudule – Beju LeJobart (West Palm Beach, FL): Bicycle and music installation.
Kintsukuroi – Fahan Sky McDonagh (Orlando, FL): Sidewalk installation.
Last Day of Innocence – Vanessa Andrade (Orlando, FL): Free-standing sculpture.
The Magnolia Cup – J. Ashley Miller (Kansas City, MO): Ninja performance and community participation.
Meditating Woman Series: Self-portrait as Golden Statue – Masami Koshikwa (Orlando, FL): Origami butterflies and community participation installation.
Migration – Ivan Riascos (Apopka, FL): Audio installation.
My Resonant Interior – Scott Burland (Clarkston, GA): MRI installation.
New Friends Making Music Together – Jeff Ferree (Winter Park, FL): See-saw music installation.
NORMAN® – Aaron Gombar (Orlando, FL): Comic strip installation.
Opticks – Cody Zeigler (Orlando, FL): Interactive paint installation.
Out Top 100 – Jody Servon (Boone, NC): Music installation.
Picture Garden Presents: Reading Room, a Mobile Foundation for Reading and Learning – Paul Finch (Winter Park, FL): Reading and learning installation.
The Pied Pipers Payback – Klimchak (Atlanta, GA): Bicycle performance.
Pipe Balm – Mark McDonnell (West Palm Beach, FL): Performance and technology installation.
Plastic Stream – Danielle DeGuglimo (Winter Park, FL): Blue plastic drinking straw installation.
Project Darkroom – Dominic DiPaolo and Halee Sommer (Orlando, FL): Shipping container installation.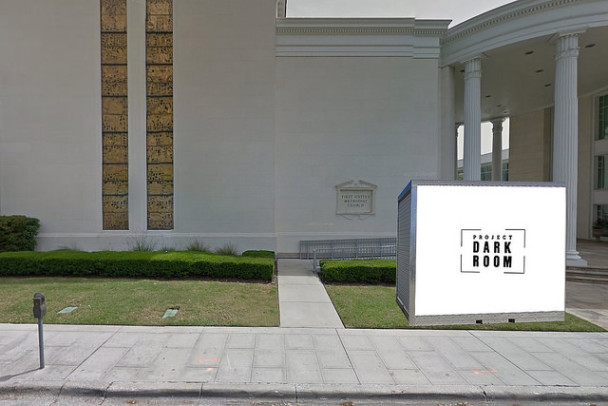 Pure/ORL/FL – Dina Mack (Longwood, FL): Small Sculpture installations.
Reverse River – Bruno Cardhenri (Kissimmee, FL): Sculpture installations.
Rick Scott is My Hero – David Matteson and Betsy Johnson (Orlando, FL): Satirical Performance.
Secular Community Call – Patrick Greene (Orlando, FL): Sound installation.
So Near, Yet So Far – Anna Berry (United Kingdom): Site-specific paper installations.
Sonify: Orlando – Jeff Knowlton (Newhall, CA): Mobile phone and sound installation.
Status Update – Katya Grokhovsky (Brooklyn, NY): Social media performance.
Storm Water – Forrest MacDonald (Tampa, FL): Hand sculpture.
Street Urchin – Brendan O'Connor (Orlando, FL): Free-standing sculpture.
This is a Safe Place – Ashley Inguanta and Tara Young (Orlando, FL): Wheat mural.
Tracker – Holly Kranker (Omaha, NE): Gym equipment installation.
TrIP Lymmo Soundtrack Project – Patrick Greene (Orlando, FL): Sound and transit installation.
Typographic Fencing – Lambchop (Defiance, OH): Flagging tape installations.
Wearable Tentacle Horn – Hannah G. Thompson and Arvid Tomayko (Providence, RI): Wearable musical sculpture.
We Don't Like Your Tone – Housewifes Collective – Leah Sandler, Cathleen Bota, Jessica Earley and Lucinda Rex (Maitland, FL): Performance, sculpture and installation.
When the Moon Wandered – Megan Boye (Orlando, FL): Shadow and underwater puppet   performance.
X-Ray Camper – Chris Scala (Orlando, FL): X-Ray installation and performance.