EDIT: We misread the attached permit. The actual fee collected was $1,250, not $1,250,000. We apologize for the mistake. But in our defense, who makes open-circle decimals? Filling in your dots is crucial.
According to Tree Removal Permits filed between the months of January and April of 2016, over 200 trees were allowed to be cut down within City limits. We sorted through those hand-written permit applications and used the data to make an interactive map with the help of our map-making friends at Sensarie (
Facebook
|
Website
) which you can use
HERE
.
According to the Public Information Office (PIO), permit fees are $25/acre for residential and $50/acre for commercial properties. No fee is imposed for invasive species or dead trees. The amount of money raised through by the City via the Tree Removal Permits was $1, 266, 000 $17,850.
The reason the number is so high, is because of one property owner, Dealer Property Holdings at 5725 Major Boulevard [GMap], was charged 1,250,000 to remove an indeterminate number of trees for New Construction
.
We've attached an example of a permit below.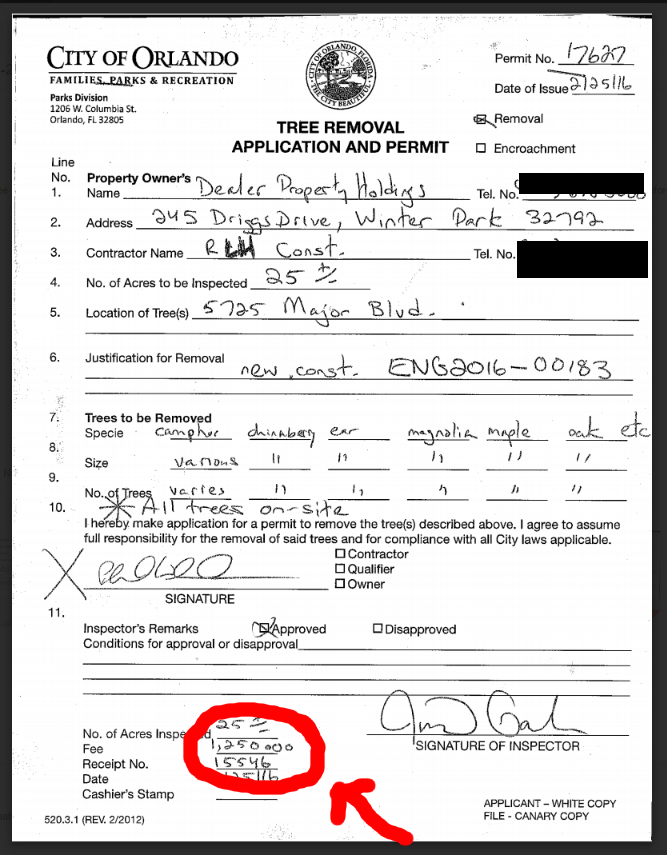 Permit fees, once collected, are directed into the City's General Fund.
The City does not keep track of how many permits are denied. According to the PIO, when the permitting office responds to a request for a permit, they perform a site visit and meet the requester or contractor.  City staff assess what criteria needs to be met and once they have been, a permit is issued.  Sometimes conditions for approval are discussed and the applicant will not move forward with the permit process until the property owner is ready to meet those conditions; then the application is filled out and approved.
Applicants may also have to pay remediation costs for loss of tree canopy.  Those fees are paid to the Street Tree Trust Fund, according to City Code Sec. 60.216. – Street Trees, which can be read
HERE
.  These fees are typically imposed when the comparable tree inches cannot be replaced on the site.  Those fees are then used to replace that canopy somewhere else in that area through the City's Public Tree program. Tree size is measured in DBH (diameter – breast high), which is generally measured at 48 inches above the ground.
All tree removals require a reason and approval is based on our City Code, 43.34.G. which you can read by clicking
HERE
. Most reasons listed in the applications were that the trees were diseased, dying, or dead. The most common tree listed was the Laurel Oak. The City has reported in the past that Orlando will be losing over 30 percent of its mature tree canopy in the coming years. Years ago the City mass-planted the notoriously prone-to-rot Laurel Oaks across town and now they are dying off.
We've written about a number of ideas concerning the tree die-off over the years; a Tree Reclamation Project
HERE
, past Ask Bungalower columns like this one
HERE
, the City's One Person, One Tree initiative
HERE
, a public tree sculpture program
HERE
, or even the possibility of building a tabebuia park
HERE
. Out of all of the tree permits that were issued in those few months, only 14 requested the applicant carry out any sort of action; like grinding down the stump or to replace the tree with something else.